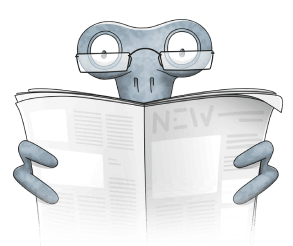 Newsletter sign-up ->
New in To Do: Widgets, Universe, Reminders, and More
Everything you need to know about the latest improvements

We've been quiet here on the blog, but that doesn't mean our dev team have stopped pushing out new features, updates, and improvements! We've been working hard since the launch of Zenkit To Do to build in all the features and functions you've requested and we've planned, as well as fix bugs, improve performance, and make tweaks here and there to make To Do the best it can be.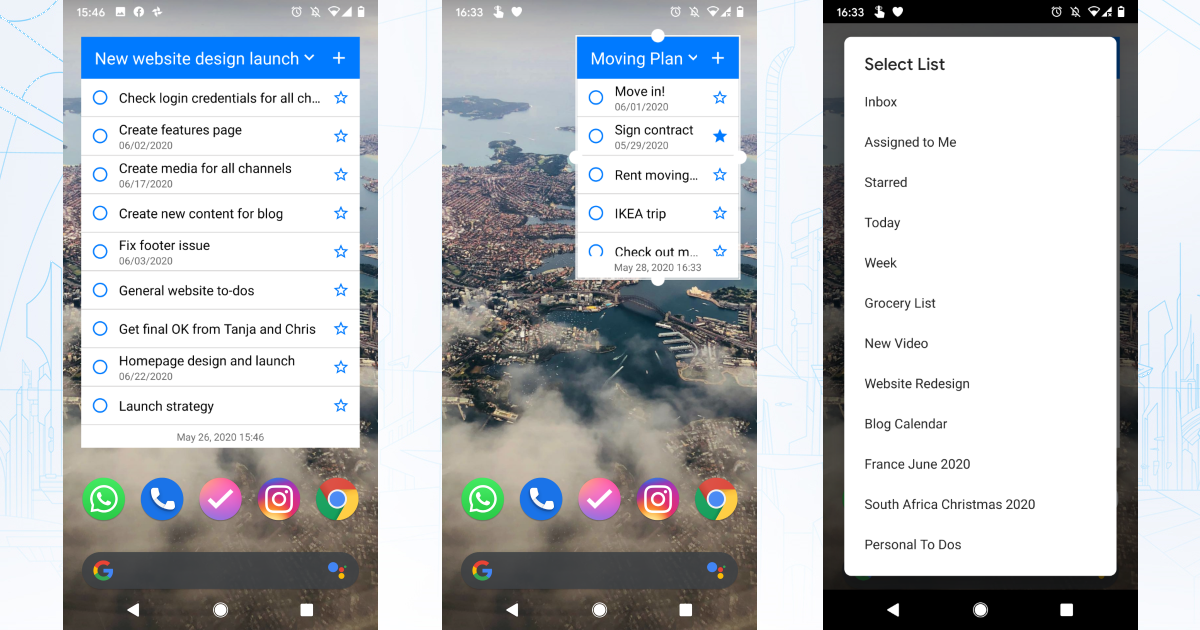 Here's everything that's new in Zenkit To Do since we last updated you here:
---
Android Widget for Zenkit To Do
First up, our most exciting piece of news: The first version of our Zenkit To Do widget for Android is now live! It is available in the latest Play Store update, version 1.0.4. If you don't see the To Do widget in your widget options, make sure you've updated Zenkit To Do via the Play Store.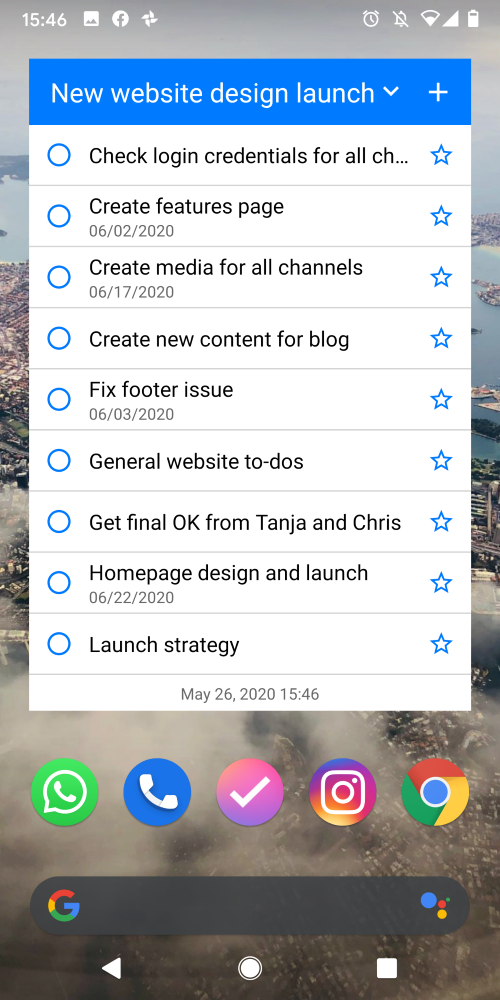 The Zenkit To Do Android widget shows you all tasks in any list of your choice on your home screen. You can easily adjust the size and shape of the widget to fill a whole page or simply take up a 2×2 square.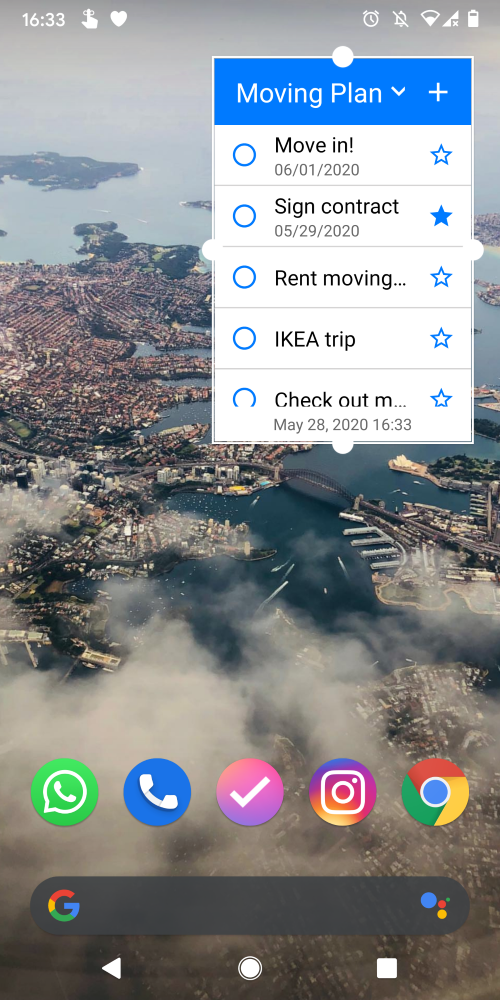 The widget is a brilliant way to quickly see what you have to do in any of your projects or lists. You can easily toggle between any of your lists, including your Inbox and smart lists like Today, Week, and Starred. Tap the + button to add a task, tap on a task to open it, tap the circle to mark a task as done, or tap a star to mark the task as starred.
Currently, these actions will open the To Do app and either show a confirmation message (like "Marked task as done") or open the new task dialogue to add a task to the list you have selected. We're aware this isn't the ideal scenario and are already working on version two of this widget to let you perform these functions from the widget itself, without the need to open the app.
---
How To Use the Zenkit To Do Widget
To use the widget, simply tap and hold on a blank space on your home screen and choose the option to add a widget (your OS may have slightly different ways to handle this).
Scroll down to find Zenkit To Do, then tap and hold to drag the widget to your home screen. You will be asked to log in: simply tap "Login" to open the Zenkit To Do app. You'll be logged in automatically. A long hold on the widget will allow you to resize it.
To switch between lists, simply tap the list name at the top of the widget header to select a new one. If you want to add a new task, the + button on the right-hand side of the header will open Zenkit To Do and add the task to the currently selected list.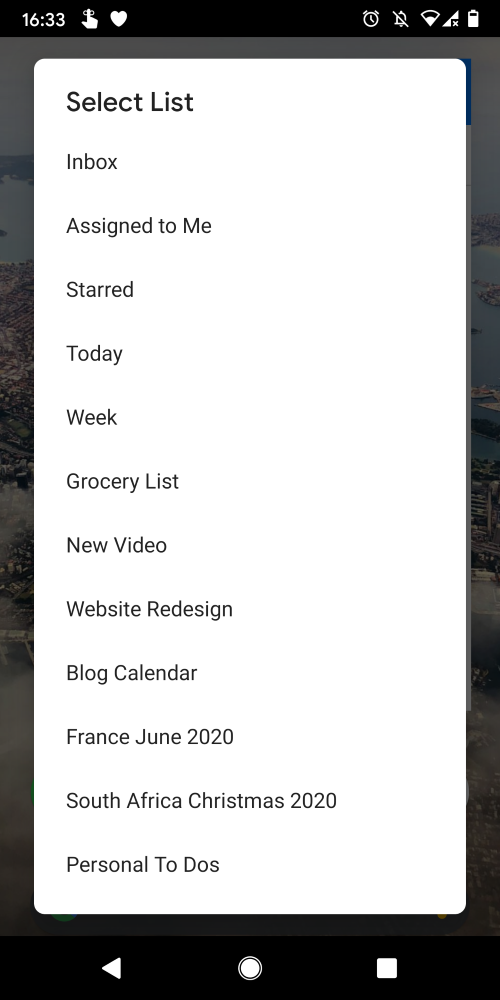 As stated before, actions like adding a task, marking a task complete, or marking a task as starred will open Zenkit To Do (for now). To access task details, you'll need to tap the task which will also open the app.
---
Zenkit Universe
We released the ability to connect Zenkit Base and Zenkit To Do to each other via the Zenkit Universe in version 4.0.11. The Zenkit Universe is the collection of Zenkit products that work together seamlessly through the sharing of resources. Each product can be thought of as giving you a different perspective or way to work with the same data. Many of you have already discovered this function, but here's the rundown for those who haven't.
---
Connecting Base and To Do
To connect a list to Base (or another Zenkit product), open the list settings for the list you want to connect. On a mobile device, swipe left on the list name then tap the "…" icon and "Settings". On open lists in the mobile and web/desktop apps, tap or click on the list name.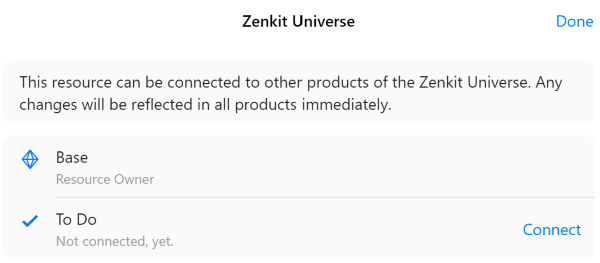 In the Zenkit Universe section of the settings, simply tap or click "Connect" next to "Base". The Zenkit Base app will open on your phone or in your browser and ask whether you want to connect it to Base. Tap or click "Connect" to finish. Simple as that!
Once connected, you'll see your list in Zenkit Base, and have all the additional options that are available to you there, such as adding views like Kanban or Calendar, adding more fields and labels, and more. It's important to note that any additional fields you add will not be visible in To Do.
You can learn more about the Zenkit Universe and what it entails in our To Do Knowledge Base (don't forget to open the navigation panel to see all articles related to the Universe (and everything else)).
You can connect a different number of lists based on your plan:
Free: 3 connections
Plus: 30 connections
Business: 300 connections
Enterprise: 3000 connections
To disconnect lists, go into the app you connected to (e.g. if you sent a list from To Do to Base, open it in Base), open the Zenkit Universe section of the list/collection settings, and then tap "Disconnect".
---
Other Updates
Knowledge Base and FAQ
Better late than never!
You can now find out everything you need to know about Zenkit To Do in the Zenkit To Do Knowledge Base! The base is structured hierarchically, meaning that articles are nested and when you click on a topic, other relevant articles or sub-articles will appear in the navigation panel. This means that the best way to get around the Knowledge Base is by using the navigation panel, which can be found in the top right-hand corner. Simply click the small panel icon to fix this panel to the left side of your screen.
We will keep the Knowledge Base up to date with the latest information as soon as updates occur. More images and diagrams will also be added over the next couple of weeks.
We have also published an FAQ, where you'll be able to find our official answers to many of your most frequently asked questions. We will regularly update this with questions you send us via our support or social media channels.
Both the Knowledge Base and FAQ can be accessed from the help section within the app. To find it, tap your name at the top of your home list / click on your profile icon, then choose "Help". We hope that these resources will be the first of many to help you make the most of Zenkit To Do, and will be your first port of call whenever you have a question or need some guidance.
Reminders and Notifications
Reminders and notifications are something we're aware need improvement and we're working hard to add new reminder and notification options and improve the existing ones. In the last few updates, here's what we've changed:
You can now subscribe to lists to get non-general notifications about them. For now, this is limited to notifications about comments being added to tasks. Notifications about tasks being added or completed are coming.
Reminders are marked as done as soon as a task is done (so they don't pop up for completed tasks anymore).
There's a new section for comment notifications, the "Conversations" menu, accessed by tapping or clicking the speech bubble. Get a numerical indicator for the number of unread comments by subscribing to your lists.
Recurring Tasks
Recurring tasks have been improved by changing when the new task gets created. In the past, it used to be that the next repetition was created when it passed midnight on the day of the previous task (this is how repetitions are handled in Base). That was understandably worrying and a little confusing to those used to other systems like Wunderlist's. The new recurrence rule is that a new task won't be created until the previous one is marked as complete.
Adding Tasks to the Top/Bottom of Lists
We've now made it possible to change whether new tasks get added to the top or the bottom of a list. Again, depending on the apps or systems you're used to, one option may make more sense to you than the other!
To change this setting, go to your Zenkit To Do options > General > "Add Tasks" and choose between Top of List and Bottom of List.
Increased Quotas
We increased quotas for the number of tasks and lists for all users! The new quotas (as of April 5th) are as follows:
Free: 10,000 Tasks, 100 Lists
Plus: 80,000 Tasks, 800 Lists
Business: 1 million Tasks, 10,000 Lists
Enterprise: Custom volumes
---
Of course, this is not an exhaustive list of every update, improvement, bug fix, or other change we've made since To Do was released. For that, please see our changelog! We hope your experience with Zenkit To Do (and Zenkit Base) has become better with each and every update we publish. We continue to look forward to hearing your feedback on our products, and we're working hard to incorporate it all in future updates.
What do you think of the Android widget? Have these latest updates had a positive impact on your use of Zenkit To Do? Let us know in the comments below!
Cheers,
Siobhan and The Zenkit Team