Spotlight on Offline Access
Use Zenkit at the office, on a plane, or on your daily commute

So in last week's announcement about the release of our Android app, I also shared the news that Zenkit is now available completely offline — in the iOS and Android apps, and on the web! I wanted to take the opportunity to dive a little deeper into this awesome new feature.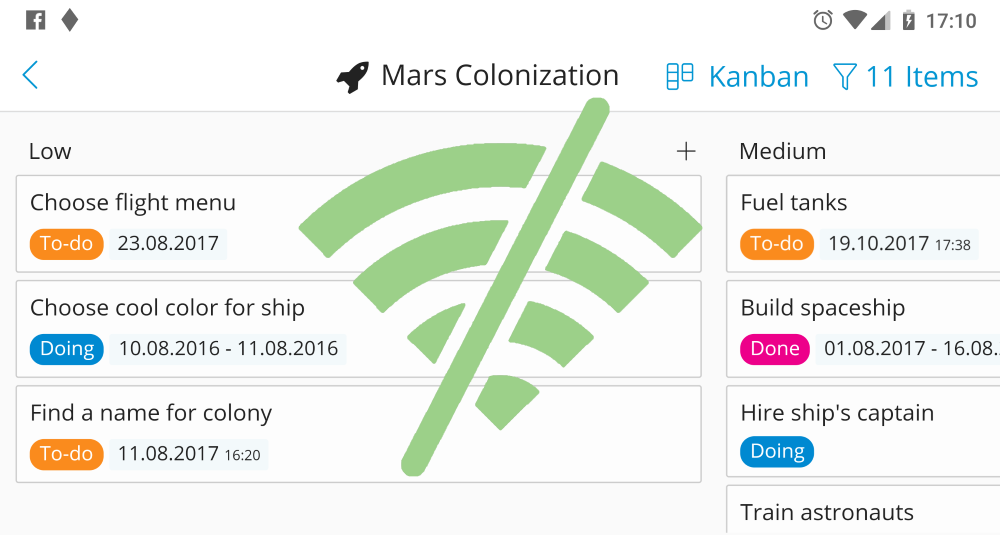 ---
How Does Using Zenkit Offline Help Me?
Well, whether you're camping with friends, sitting on the tube, flying en route to your favourite holiday destination, or you just can't get a decent signal, you can rest assured that all of your work in Zenkit will be saved & synced up when you're back online.
Here's a list of some of the things you can do with Zenkit offline:
✅ Add items to your offline collections
✍ Add descriptions, due dates, labels, or any other info you need
💡 Rearrange your workflows on the fly
💬 Share your feedback via comments
👥 Assign items to your team members (so they can get stuff done while you're relaxing on the beach)
And here's what you'll be able to do soon:
⭐ Use My Favorites, My Team, and My Calendar
📥 Add files and images offline
📚 Create teams and collections
---
But What Does "Offline Access" Mean Exactly?
Here's how it works:
When you open a collection in the Zenkit app or in your browser, it downloads your collection data and stores it locally on your device.
The first time you open a collection, it downloads everything, but the next time you open it, it only downloads or 'syncs' changes and additions to your collection, not the whole thing all over again (phew!). Currently, Zenkit also automatically syncs all of your offline collections when you reload the app, without you having to open each of them.
Once a collection has been saved locally, you can access everything in it, make changes, archive items, whatever you like! These changes are all saved in the local copy of your collection, then once you reconnect to the internet, they're synced with the cloud. This means that whether you access Zenkit from your phone or from the web, they'll stay perfectly in sync.
How do I know that I'm synced?
When you add a new item to a collection, you'll see a small cloud icon appear on the item. That means that the item has not been saved to the cloud yet and only you can see it. Once you're back online the cloud icon will disappear, which means that the item has been saved to the cloud and other people you're collaborating with will be able to see it, too.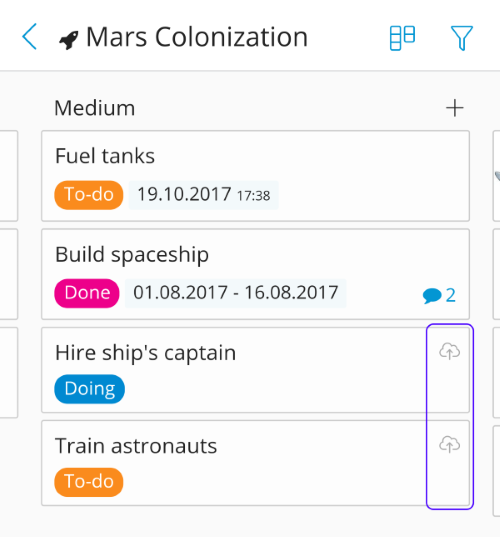 On the Android and iOS apps, you'll see a status notification in the bar at the bottom of the screen. When you're offline, it will display a little wifi symbol and 'Offline'. While you're connected to the internet, it will tell you which collections are currently syncing. Once it stops showing this, all of your collections are synced.
The way we notify users about sync status may change as we develop this feature further.
How do I delete the data stored offline?
You can delete all of your offline data from your profile:
Click on your profile image or initials,
Go to the 'Profile' section.
Scroll down to 'Offline Storage',
Click 'Clear Offline Storage'.
Done!
The next time you open a collection, it will be saved to your local device storage again. (This automatic storage is another thing that may change as we develop offline access!)
How do I find out how much data is stored on my device?
This one's easy! The amount of data stored on your device is shown on the 'Clear Offline Storage' button. In this case, the amount of data shown is related to downloaded collection data, and not the app itself.

---
Final Thoughts
As you can probably tell from last week, we're really excited about this! As far as we're aware, Zenkit is one of the first apps that lets you work offline in your browser, as well as on mobile apps! We know how important having offline access is to you, our users, and we are so proud to be able to fulfil our dream of being available to you, anywhere at any time!
We'll be building out our offline features to include the above-mentioned upcoming features in the near future, as well as more granular controls over what, where, and how offline access is used.
Do you love offline access as much as we do? We'd love to hear what you think!
Cheers,
Siobhan and the Zenkit Team
FREE 20 MIN. CONSULTATION WITH A PROJECT MANAGEMENT EXPERT
Wanna see how to simplify your workflow with Zenkit in less than a day?
Book a free demo
READY TO TAKE YOUR BUSINESS TO THE NEXT LEVEL?
Sign up for a free demo and receive an exclusive discount. Limited slots available, act now!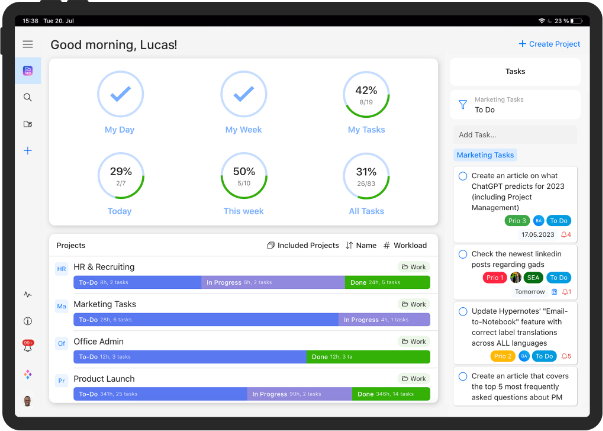 Book a free demo