Zenkit as a WorkFlowy Alternative
WorkFlowy is an organizational tool for note-taking and making lists.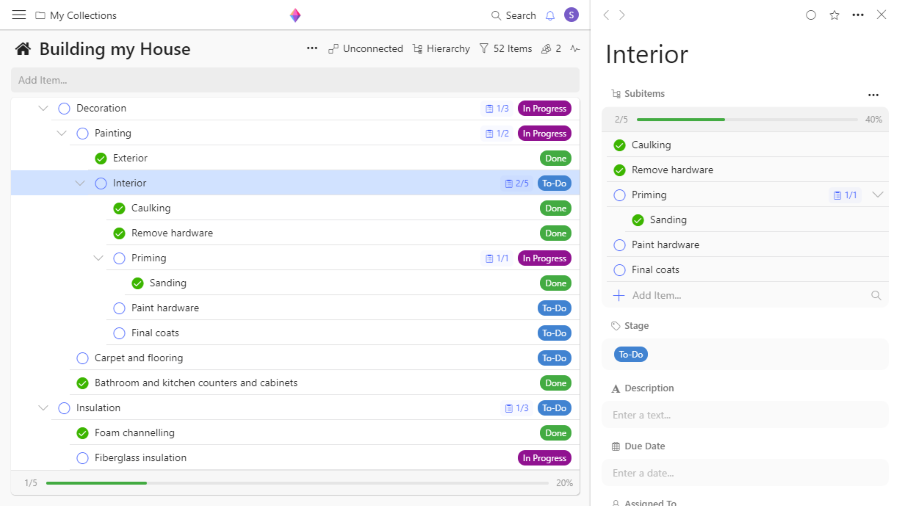 It is a single document that can contain more documents inside it, allowing users to store and keep track of all their information in one place. But what if you require a more powerful platform to help you collaborate and manage your ideas and projects?
With Zenkit, we've developed an online project management solution that supports teams as their projects grow and evolve. We believe in the power of having a strong framework that allows you to focus on accomplishing tasks. That is why we provide unlimited support in your workflow — giving you a structure that you can still customize to suit you. If you are looking for a more full-featured alternative to WorkFlowy, give Zenkit a try!
| Data Views | WorkFlowy | Zenkit |
| --- | --- | --- |
| Calendar View | | |
| Document View | | |
| Gantt Chart | | |
| Hierarchical List View | | |
| Kanban View | | |
| List View | | |
| Mindmap View | | |
| Spreadsheet View | | |
| Wiki View | | |
| Task Management | WorkFlowy | Zenkit |
| --- | --- | --- |
| Bulk Actions | | |
| Customizable Templates | | |
| Formulas & Aggregations | | |
| Offline Access | | |
| References | | |
| Reminders | | |
| View Switching | | |
| Zenkit Suite | WorkFlowy | Zenkit |
| --- | --- | --- |
| Dedicated To Do App | | |
| Dedicated Chat App | | |
| Dedicated Note App | | |
| Dedicated Project Management App | | |
| Technology & Data Protection | | |
| --- | --- | --- |
| Technology | SaaS | SaaS |
| Platforms | iOS, Android, Mac, Windows, Linux Apps and Web Browser | iOS, Android, Mac, Windows, Linux Apps and Web Browser |
| Hosted in Germany | | |
Pros WorkFlowy
Minimalist interface
Customizable templates
Cons WorkFlowy
No image or file attachments
Lack of collaboration features
Limited to document view
Pros Zenkit
Wide range of data views
Wide range of integrations
Supports image and file attachments