We've been attempting to create artificial intelligence (AI) that can compete with humans since the 1970s. With ChatGPT, the company OpenAI shocked the world at the end of November 2022. This is due to the language model's frighteningly close proximity to the desire for a working AI for texts. 
In this article, you'll learn what ChatGPT is, how it can help you, and how you can start using the new tool for your notes right away. 
Could ChatGPT truly be a viable Google replacement? 
---
What Is ChatGPT?
ChatGPT is an AI chatbot created by OpenAI that can generate human-like text. It was developed using a large dataset of human conversations. As such, it can understand and respond to natural language inputs in the same way that a human would.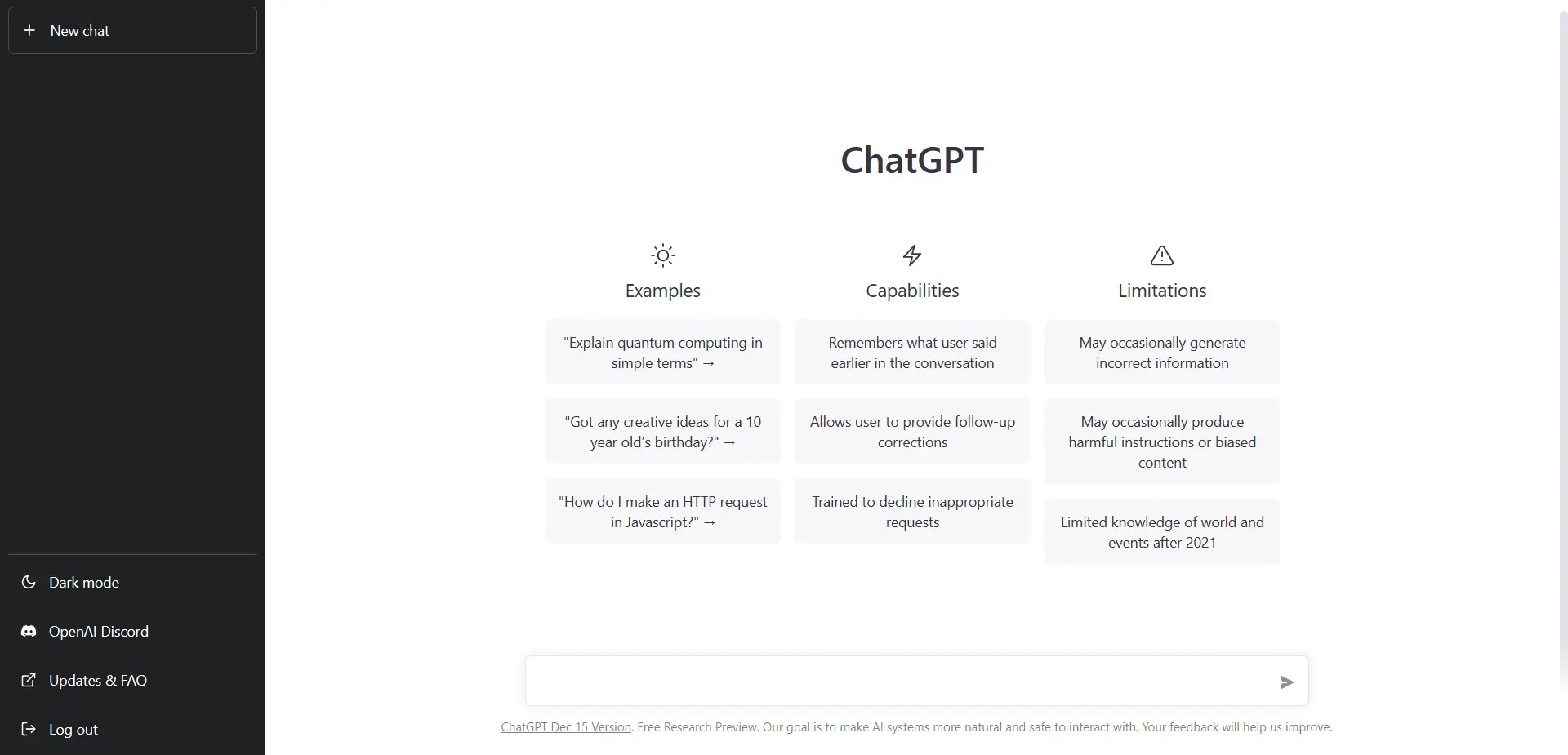 One of ChatGPT's distinguishing features (other than sending Google into a "Code Red" state of alert) is the ability to carry on a conversation or generate text in response to a specific prompt. For instance, if you ask ChatGPT "I want to take a trip to Italy. What should I do first?", it may respond with "First, you should learn about your travel options". Find out about flights and hotels, and think about the type of trip you want to take: do you want to visit historical sites, try new foods, or relax on the beach? ".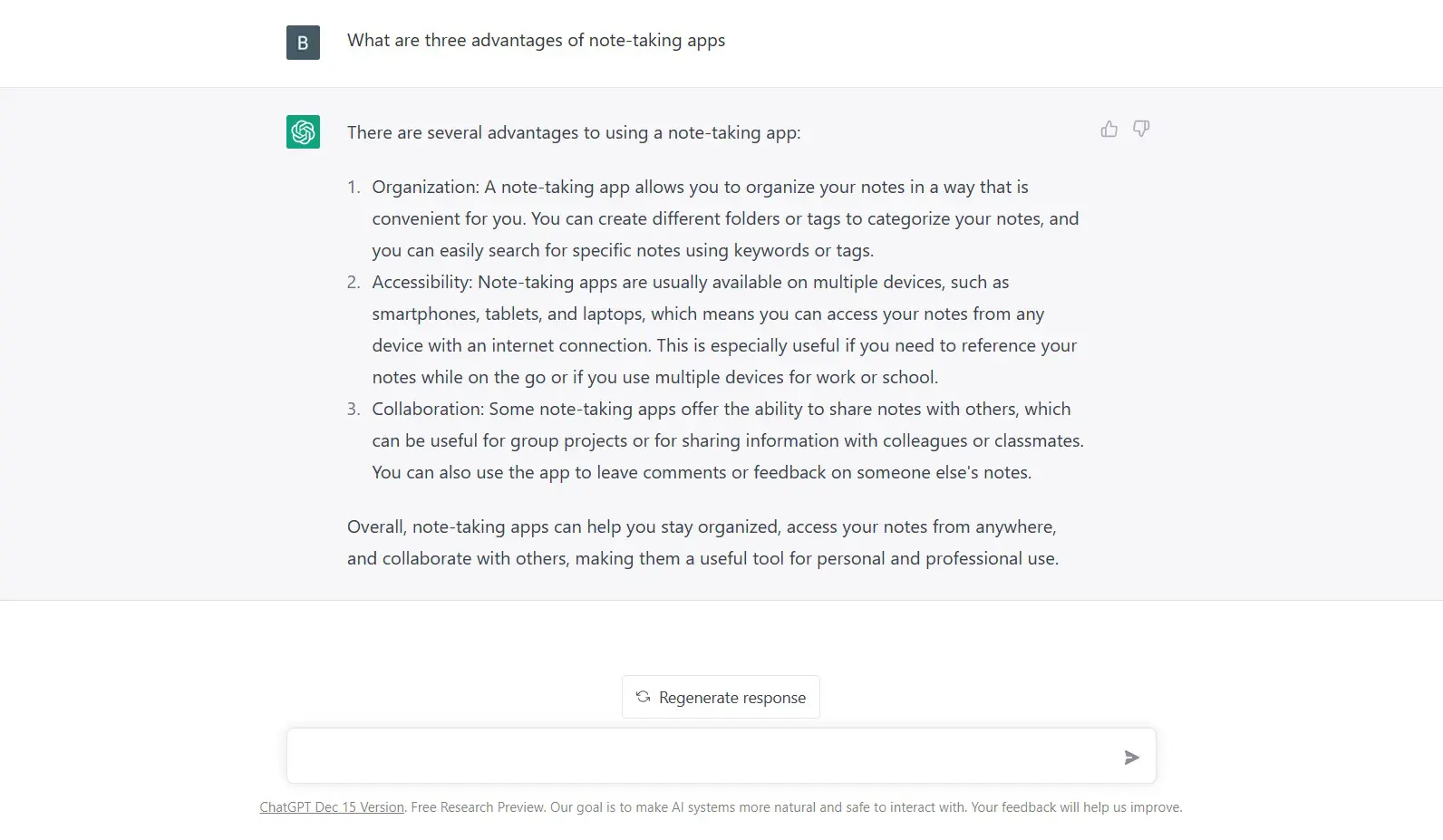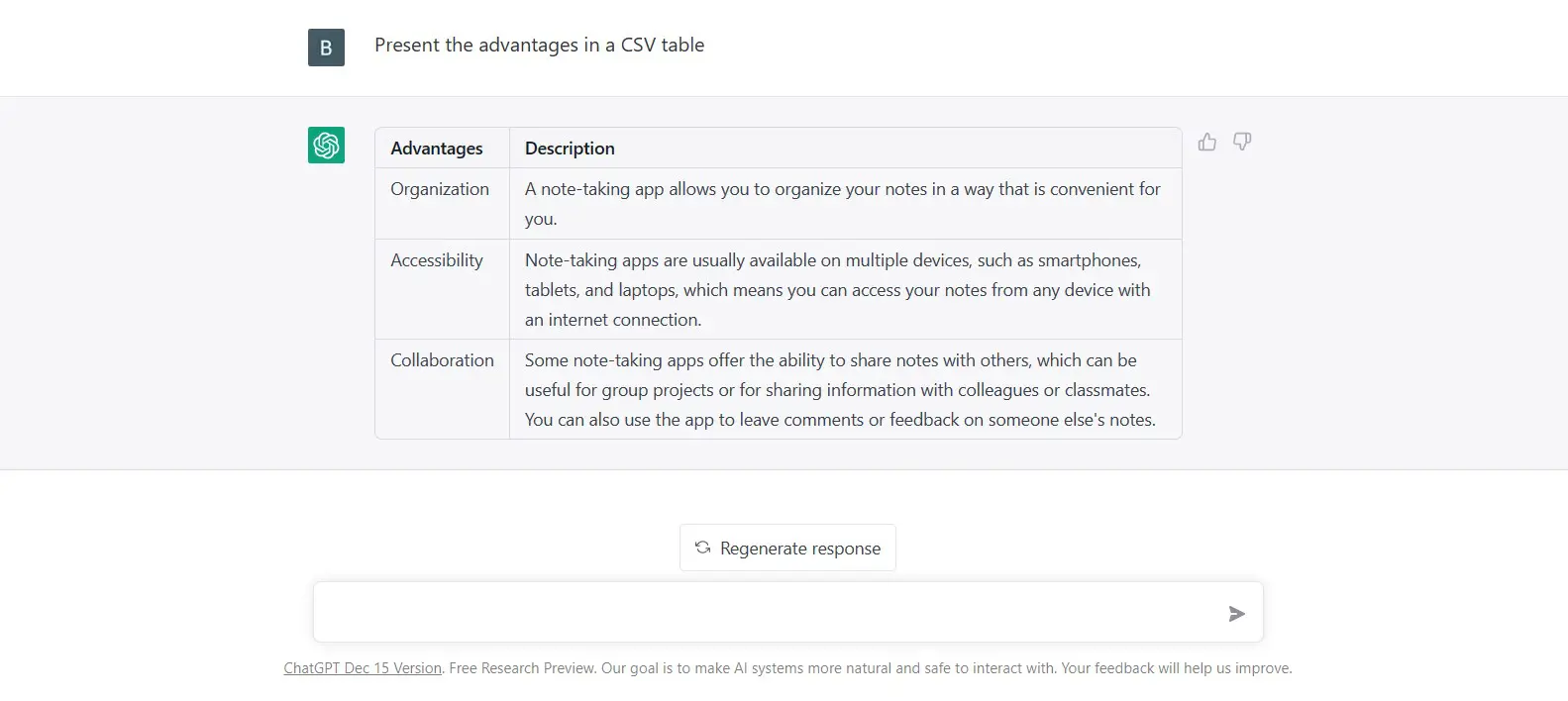 ChatGPT, in addition to its conversational capabilities, can generate texts on a wide range of topics and styles, making it an effective tool for tasks such as translation, summary, and content generation. As this technology advances, we can anticipate more and more innovative applications for ChatGPT in the future. 
---
ChatGPT: Benefits
To make the benefits of ChatGPT clearer to you, we asked ChatGPT to write us this section: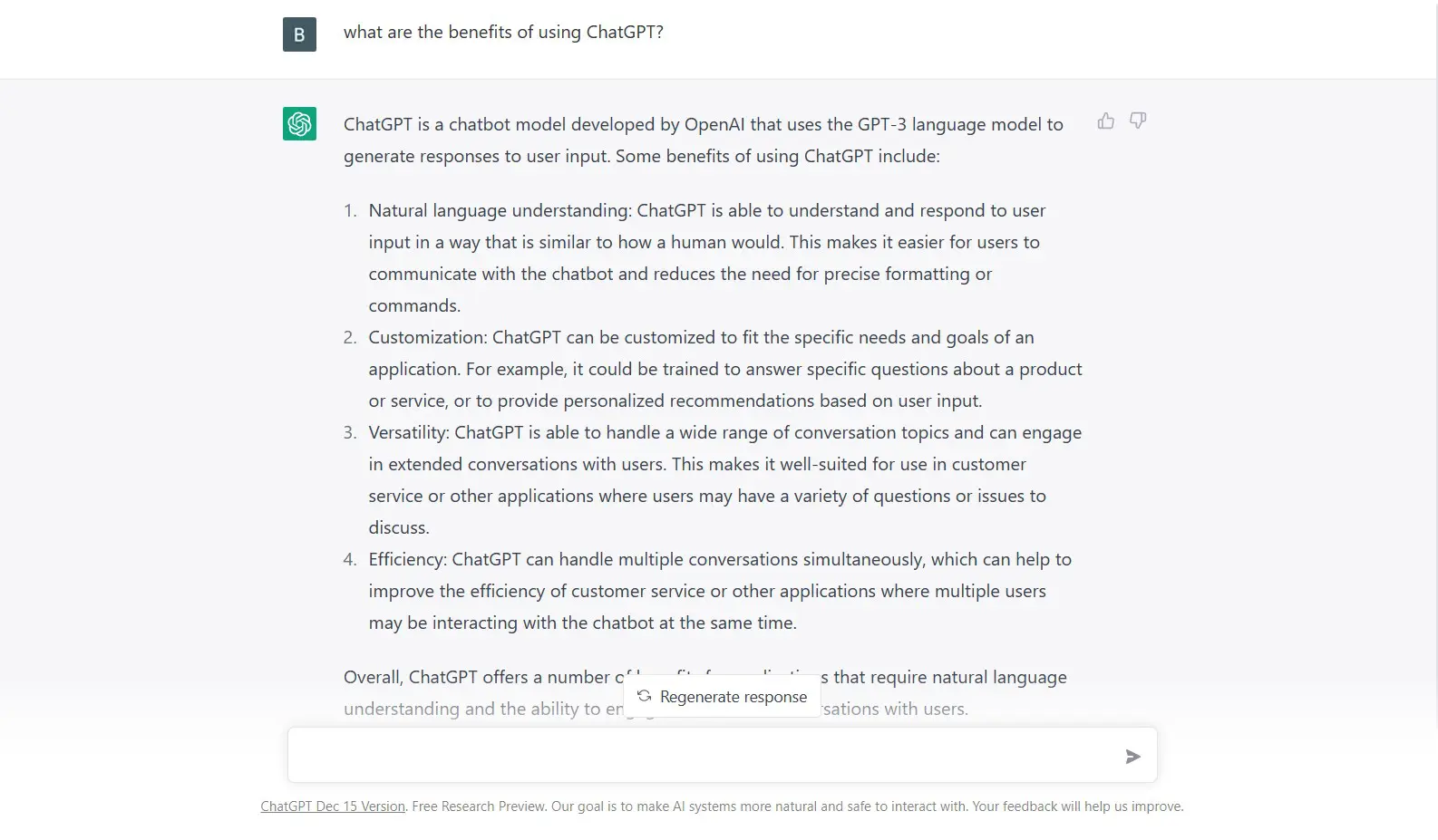 Me: "What are the benefits of using ChatGPT?" 
ChatGPT: "ChatGPT is a chatbot model developed by OpenAI that uses the GPT-3 language model to generate responses to user input. Some benefits of using ChatGPT include: 
Natural language understanding:

ChatGPT is able to understand and respond to user input in a way that is similar to how a human would. This makes it easier for users to communicate with the chatbot and reduces the need for precise formatting or commands.

 

Customization:

ChatGPT can be customized to fit the specific needs and goals of an application. For example, it could be trained to answer specific questions about a product or service or to provide personalized recommendations based on user input.

 

Versatility:

ChatGPT is able to handle a wide range of conversation topics and can engage in extended conversations with users. This makes it well-suited for use in customer service or other applications where users may have a variety of questions or issues to discuss.

 

Efficiency:

ChatGPT can handle multiple conversations simultaneously, which can help to improve the efficiency of customer service or other applications where multiple users may be interacting with the chatbot at the same time.

 
Overall, ChatGPT offers a number of benefits for applications that require natural language understanding and the ability to engage in extended conversations with users." 
---
ChatGPT for Note-Taking Apps 
ChatGPT's technology has the potential to transform the use of note-taking apps by making information collection and organisation easier and more efficient. 
Understanding and responding to natural voice input is one of ChatGPT's main advantages for note-taking apps. This means that users can simply speak or type their thoughts and ideas in a conversational manner, and ChatGPT will generate a structured and organised note based on that input. This is especially useful for people who prefer to take notes in a loose, unstructured manner, as they can capture their thoughts as they come without having to worry about formatting or organisation. 
ChatGPT also has the capability of learning from previous input. ChatGPT can understand the user's writing style and preferences by analysing previous notes and conversations, and then suggests appropriate tags or categories for new notes. This allows users to stay organised while working in note-taking apps and easily find information later. 
ChatGPT not only improves the process of note-taking, but it can also assist the user in more efficiently reviewing and summarising them. ChatGPT can create a summary or highlight the key points of a note by analysing its contents, saving users time and effort when reviewing their notes or presenting them to others. 
Overall, ChatGPT has the potential to significantly improve how we take notes by making it easier to capture and organise information as well as streamlining the review and summary process. We can expect even more innovative and useful applications in the future as this technology advances. 
---
OpenAI Integration with Zenkit
Zenkit now integrates with OpenAI!
If you use Zenkit Base to build your database and are looking for a way to use the power of UI to convert data into valuable insights, the Zapier integration between Zenkit Base and OpenAI could be the solution.
The integration with OpenAI opens up a world of possibilities for improving the functionality of any Zenkit-created database. OpenAI can assist in generating AI-generated content that is relevant to the specific context of the data in Zenkit, whether it's for storing ideas for blog articles, recipes, or tourist destinations.
---
Final Thoughts
As you can see from this article, the Zenkit team are very impressed with ChatGPT. That's why we're already working at full speed to find a solution to integrate artificial intelligence into Zenkit products.  
Nonetheless, we are still learning how to use this new tool. It's nice that it's currently available for free to everyone after completing registration. This definitely allows for a thorough understanding of ChatGPT. 
However, it's worth pointing out that, while this tool has great potential, ChatGPT warns that the provided answers are not always correct. As a result, before using or disseminating this information, you should always double-check the answers. Even if we wish AI would take care of the mundane tasks of life, they are still tools that should not take away our ability to think for ourselves.