You may have noticed some visual changes around Zenkit recently – smoother lines, more fluid animations, and a subtle polish here and there. We've been working on something big, and this is just the first part of it. While we've been taking this crisis a day at a time, our team has been very busy working away at this update, and a huge project that we can't wait to show you!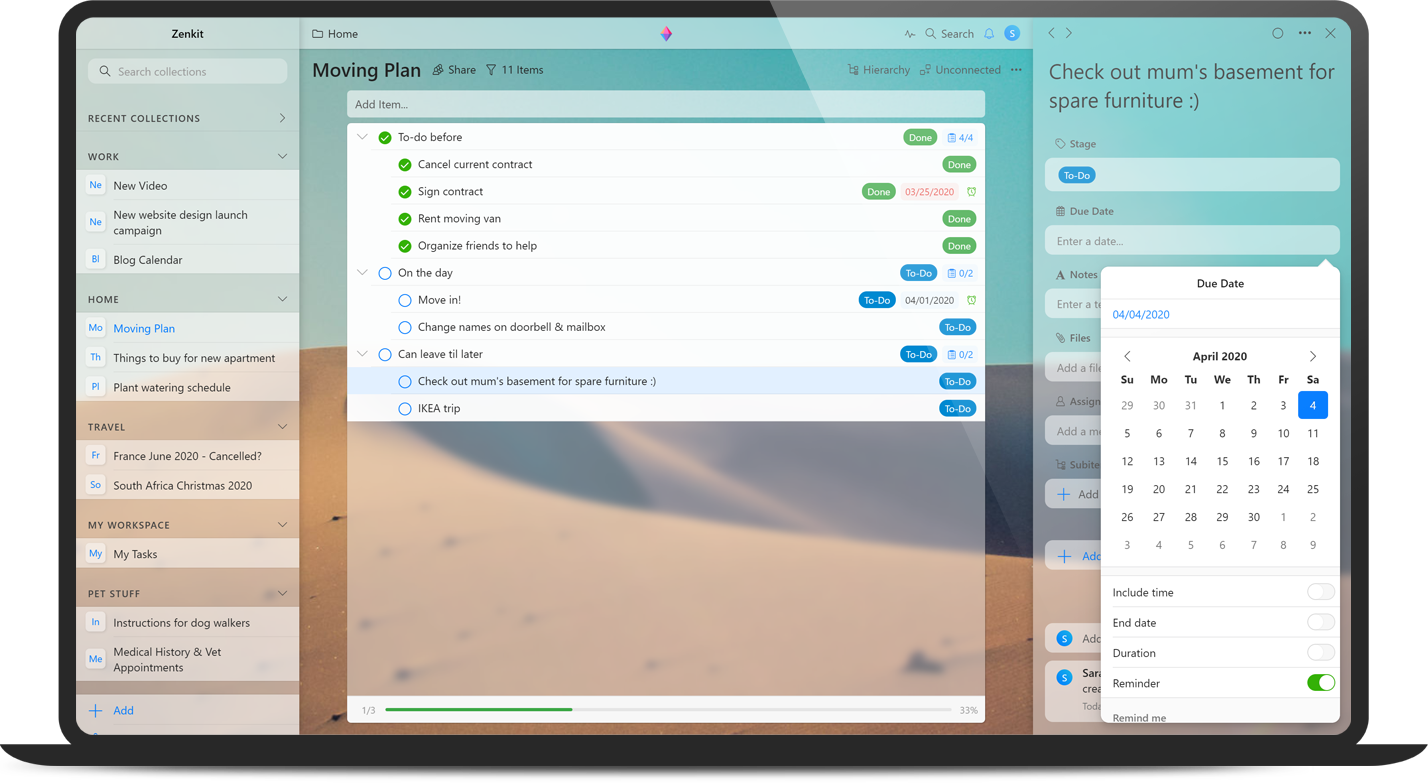 ---
First Things First: Some Changes and Updates
A lot of the change is primarily visual. Zenkit still does the amazing things it's always done, except now with a fresh look. We have built a couple of new features though, just to keep up with demand! (Don't worry, the Zenkit mobile apps will get this update later this week).
Same Name, New Domain
The Zenkit you know and love is the same as ever, but it will now be accessed via the URL base.https://zenkit.com. Just a small indicator of things to come 😉
If you have any collections bookmarked or linked anywhere, don't worry, you'll automatically be redirected to the right place!
Updated Profile and Settings
You can now access your Zenkit profile by clicking on your profile icon, then again on your name. Your profile manages your email address and password, language and date settings, authentication options and more. Other app settings, like theme, notifications, offline settings, and more, are accessed by the "Settings" menu.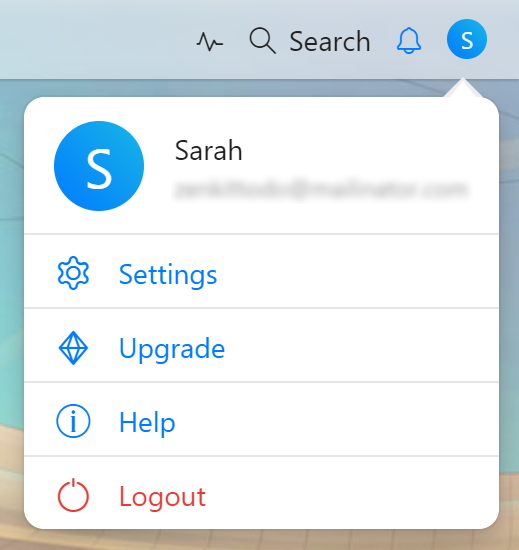 New and Updated Themes
We wouldn't let this design refresh without a few new theme options to choose from! The biggest difference you'll notice is in the transparent theme, and how you pick your theme.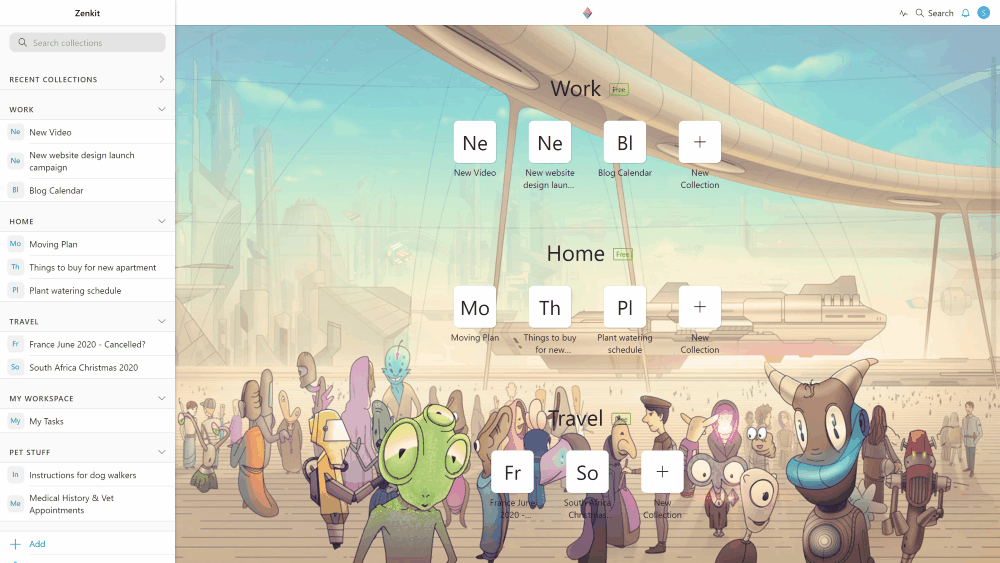 Transparent or not, light or dark, just click a toggle to switch between options. When you switch between light and dark, the appropriate backgrounds will appear underneath for you to choose from.
Filters for Gantt and Table Headers
Lastly, a little new feature that should make working in tables and in the Gantt view a little easier: You can now access filters for a specific field by clicking on the column name. This saves time by enabling you to quickly drill down into your data without losing context.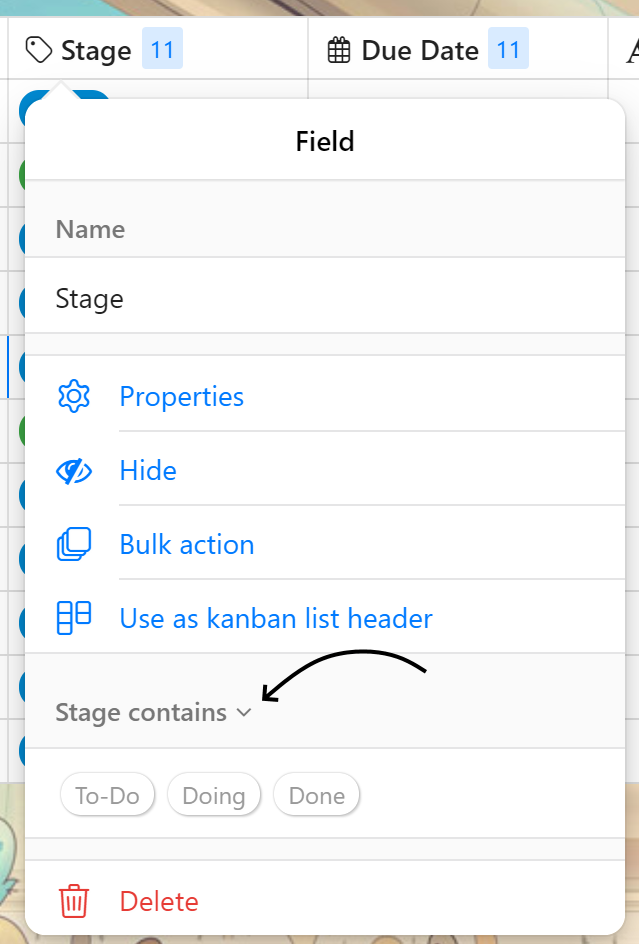 These are trying times. We hope you're all well, staying inside when possible, helping each other out, and getting help when needed! Working from home or under great pressure can be strenuous so we hope that these changes to the app make your work, wherever you are, that little bit more delightful.
---
A Sneak Peek at What's Coming Next…
On that note, we would like to introduce you to the newest member of the Zenkit family: Zenkit To Do.
Zenkit To Do was designed from the ground up to make managing tasks as easy as possible. With a beautiful, intuitive design, smart lists, reminders, and more, it enables you to collaborate with your team, family, and friends, wherever you are. (Update 06.04.20: Learn more about it here – Meet Zenkit To Do).
So you see, from now on we have two products: The original Zenkit product, now known as Zenkit Base, and Zenkit To Do, the first of many new products to come. Zenkit Base will be the centre of the new and evolving Zenkit Universe. You will learn a lot more about this in the weeks to come.
For now, the most important and wonderful thing to know about this is that they work seamlessly together. Zenkit Base and Zenkit To Do share the same data store. You log in with the same email address and password. The tasks you see in Zenkit To Do are the exact same tasks as they are in your collections in the original Zenkit app. There's no syncing, no imports, and no hassle. Mark something as "Done" in the To Do app, it will also be done in your Zenkit collection, and vice versa.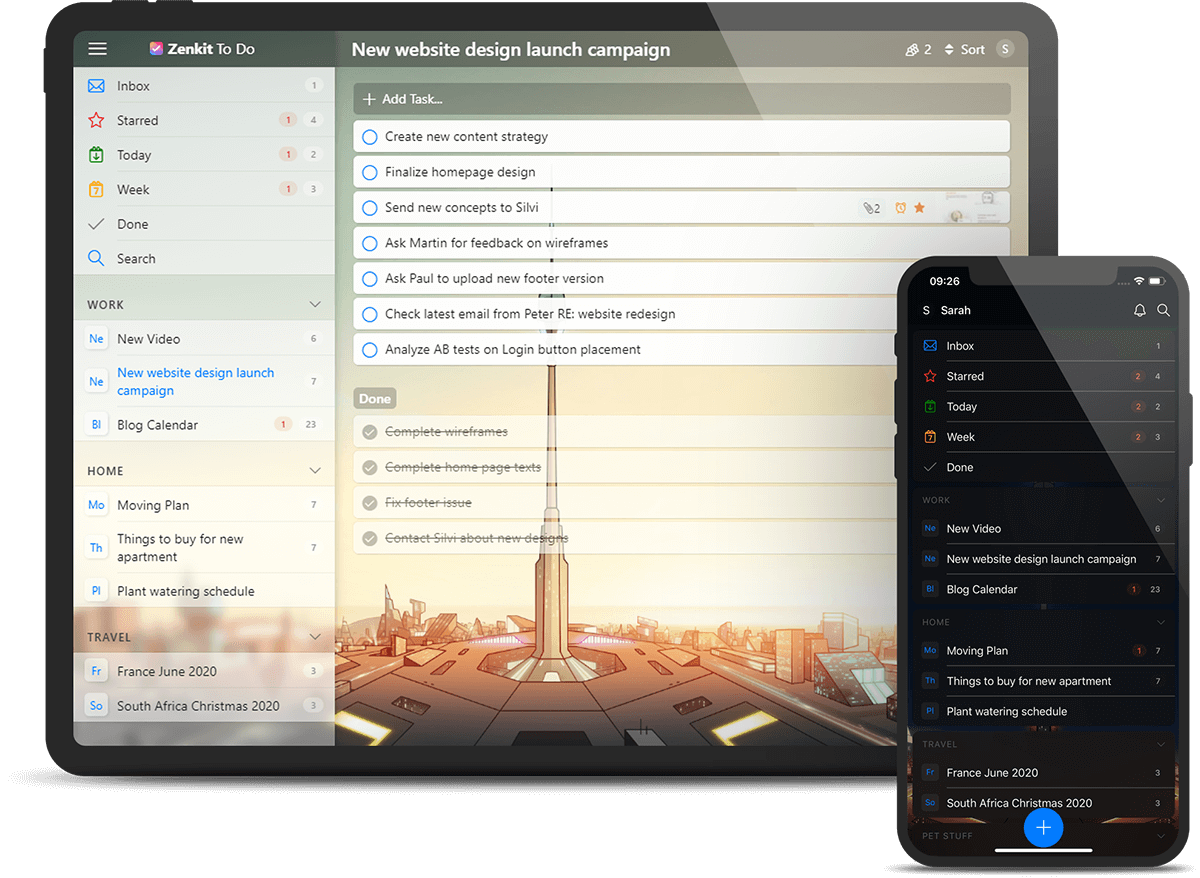 The beauty of this system is that different people need different types of tools. We tried to achieve this within the main Zenkit app, but of course, it got a bit too complex for some use cases. Now, a manager who needs a high-level overview of a project can create a Gantt chart, mind map or Kanban board, then link the collection to a Zenkit To Do list. From there, employees and other team members can work on their assigned tasks in a simple list, quickly find tasks due today or this week, and more, without having to deal with the more complex charts.
For those of you familiar with Wunderlist, some of the functions and features may ring a bell. We've taken inspiration from one of the most beloved task list apps around and wanted to offer a similar option for Wunderlist users looking for a new home as it's gone for good on May 6th.
We will release Zenkit To Do in early April. We hope you're as excited as we are!
Cheers,
Siobhan and the Zenkit Team