Zenkit as a Spreadsheet Solution
Zenkit is flexible enough to support any team and any workflow
Work with Data
Spreadsheets play an integral role in most businesses. Use Zenkit spreadsheets to store, manipulate, and edit your data online.
Collaboration
Collaborate on your spreadsheets with your team. Invite others to view, edit, and comment on your spreadsheet in real time.
Customization
Just like your favorite spreadsheet tool, the columns you create and the data they contain are yours. Track any information that matters to you.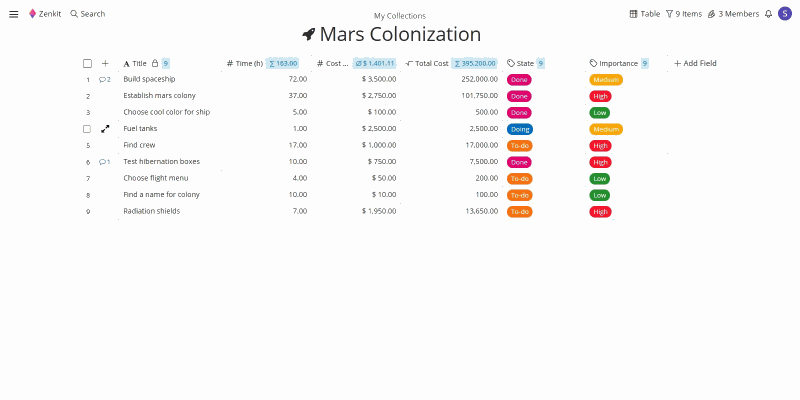 Get More Out of Your data
Make formulas and functions fun. Use Zenkit's simple formulas, aggregations, and sorting functions to get the results you need. Powerful filters help you view and analyse the data most relevant to you. Saved filters give you easy access to helpful information in a single click.
Collaborate in Real-Time
Stop emailing spreadsheets as attachments, creating multiple out-of-sync copies, or losing data as you transfer files. With Zenkit you can share your spreadsheet with colleagues and classmates, friends and family, to work together in the same spreadsheet at the same time.
Track who makes changes and when, correct and edit each other's work, comment on rows, or add new information, all in real-time.
More Than Just a Spreadsheet
Do more than just crunch numbers. With Zenkit you can switch between tools at any time so your data can live outside of rows and columns. Using your spreadsheet to track sales? Connect it with your customer table to create a database. Tracking your project in Zenkit spreadsheets? Quickly switch to Kanban view to visually track progress.
Ready When You Are
Import .csv files or paste tables from Excel or Google Sheets to start working with Zenkit immediately. Don't have any existing tables? Create a new one in Zenkit in only a couple of clicks.
All changes to your spreadsheets are automatically saved as you work, so you don't need to worry about hitting 'save' ever again! See who made changes to your spreadsheet, and when, to get an overview of your spreadsheet's history.
Access Anywhere
Work on your spreadsheets anywhere, anytime. Whether you're in the office, on your commute, or 30,000ft in the air, you can access your Zenkit spreadsheets from any device on the go. Offline support for phones, tablets, and computers means that even if you have no connection, you can still get things done.
Trusted by Thousands of Teams Around the World
Never waste time searching through emails, switching between apps, and duplicating work again. Track all of your projects in one place with Zenkit. Don't change the way you work to fit your tools. Work with a tool that changes to fit your workflow, your team, and your projects. Use a tool that not only helps you manage your projects but makes it easy to manage every aspect of your business.
Work with the Tools You Already Use
Zenkit can send and receive information from other apps you use, so your work is finally all in one place. Thanks to Zapier, Zenkit can connect with over 1000 other services.
Your Privacy Choices