The Eisenhower Matrix: A Task Prioritization Method
Time and task management made simple. Start prioritizing what matters.

Are there just too many tasks to do in a short amount of time? Don't even know where to begin, how to organize it all, or what to prioritize first? Find yourself working at a clean desk, but with a cluttered mind? You're definitely not alone. 
We live in an information overload society that is riddled with people, information, and tasks competing for our attention, making it extremely difficult to eliminate distractions and noise from our daily routine.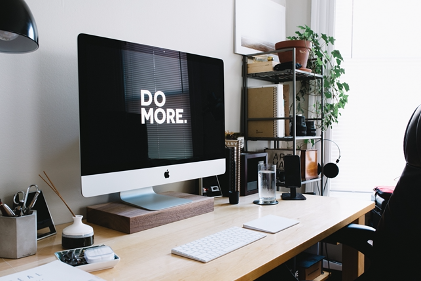 Prioritization is the key. The answer to doing more better lies in how we design our time. 
Time management solutions are efficient tools to measure and foster productivity. And because we can't make more time, we need to learn how to make better use of it. Instead of focusing on the number of tasks completed in a day, start prioritizing those that matter.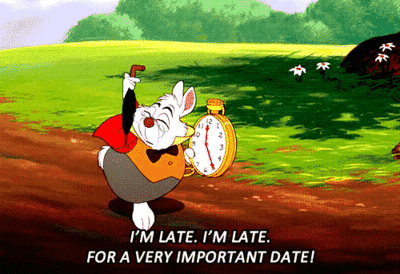 There are countless time and project management methods and techniques to boost your productivity and help you do your job more efficiently. A simple, yet powerful tool that does just that is the Eisenhower Matrix. The Eisenhower Matrix is an excellent task prioritization matrix for practising better time management. Even if you've never heard of the term, you have probably been using the method. 
It goes without saying that most successful people are adept time and project managers. As key skills in any industry, time and task management require focus, prioritization, and planning to increase productivity and achieve your goals. 
However, if we're honest, staying organized and on top of deadlines isn't always that simple. Keep reading to learn about how the Eisenhower Matrix can help you get things done…
---
What Is the Eisenhower Matrix?
The Eisenhower Matrix (also known as the Urgent-Important Matrix, Eisenhower Box, Eisenhower Method, and Time Management Matrix) is a decision-making method that helps you sort out tasks based on the criteria of urgency and importance.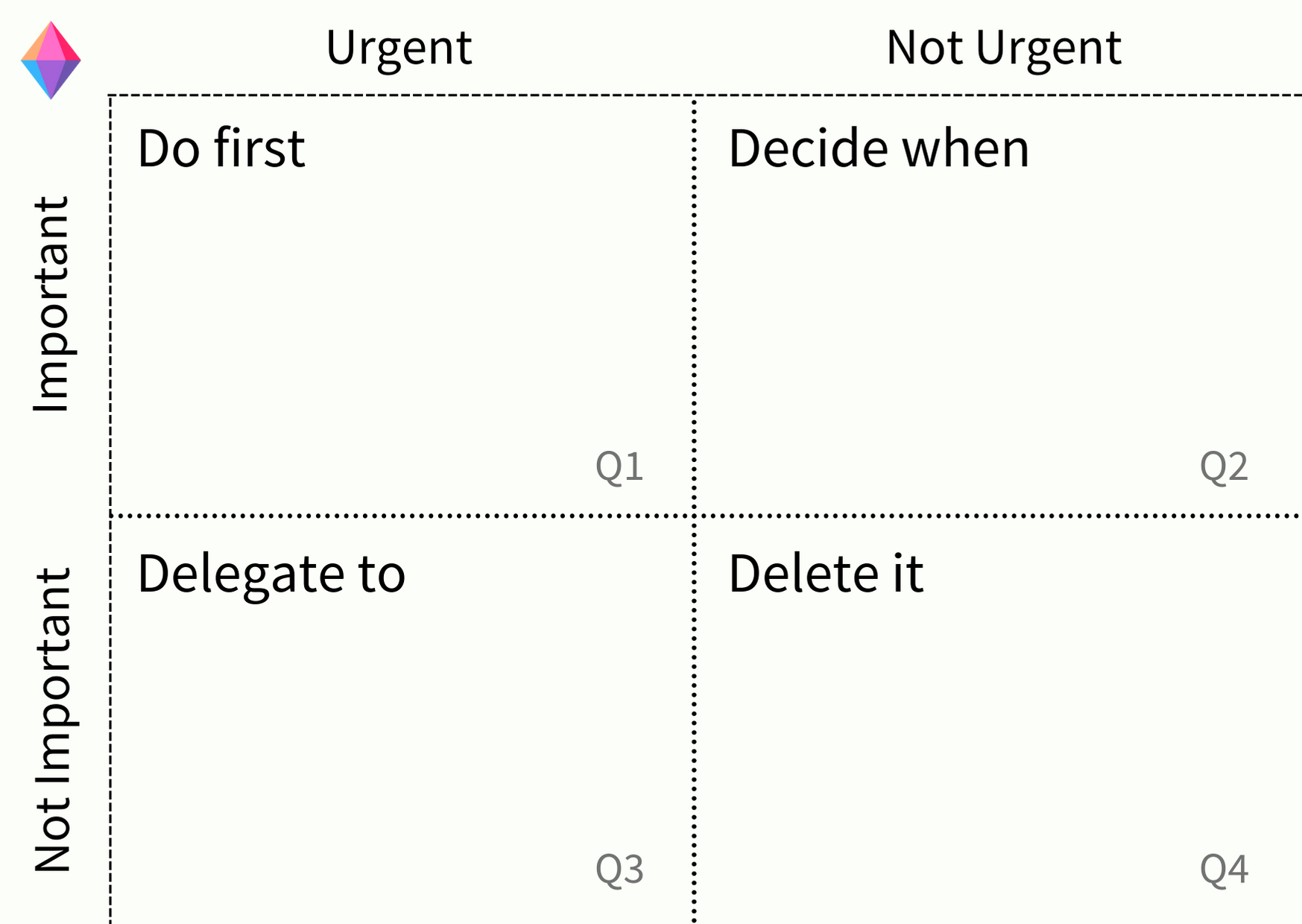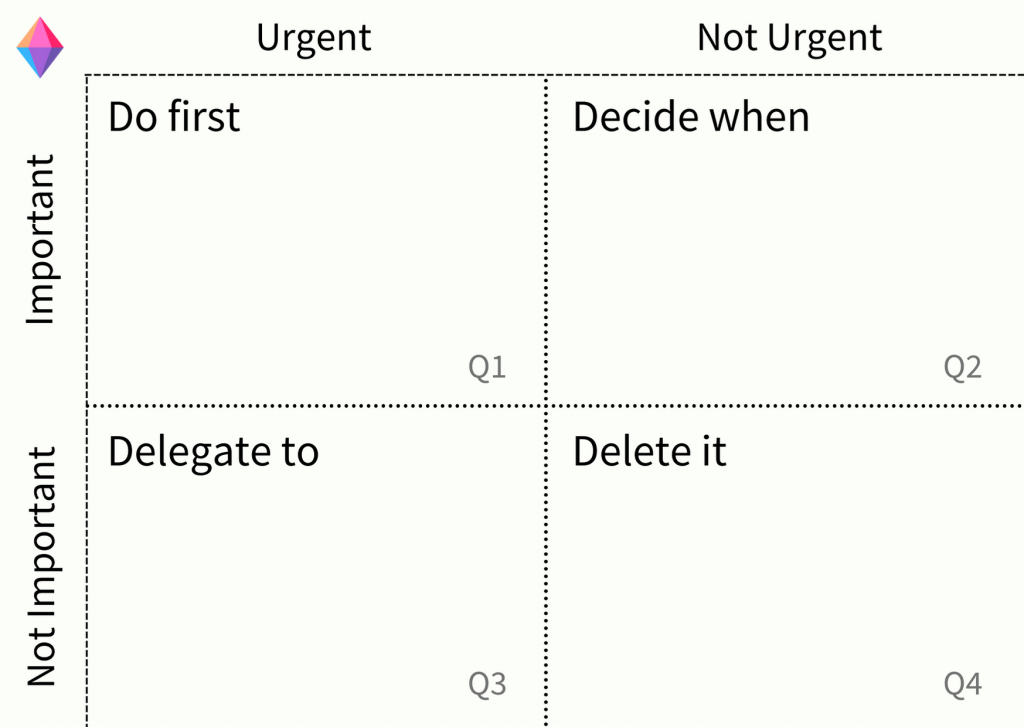 Although simple in its makeup, this prioritization matrix is powerful. Use it to eliminate the noise and time-wasting activities in your life, help you combat the "mere-urgency" effect (more on this later), and increase your mental legroom to make progress on your long-term goals.
This method is particularly useful for people who:
Find themselves merely running around handling daily crises 

Are busy but feel inefficient and ineffective

Have long-term goals but no time or energy to make progress on them

Have trouble delegating tasks or saying 'no'
With oodles of time management strategies and tools to choose from, what makes the Eisenhower Matrix so noteworthy? It is remarkable because, despite its simplicity, it has outlived the trends (having often been repackaged and sold as new!) and continues to produce results.
---
Where Does the Term Come from?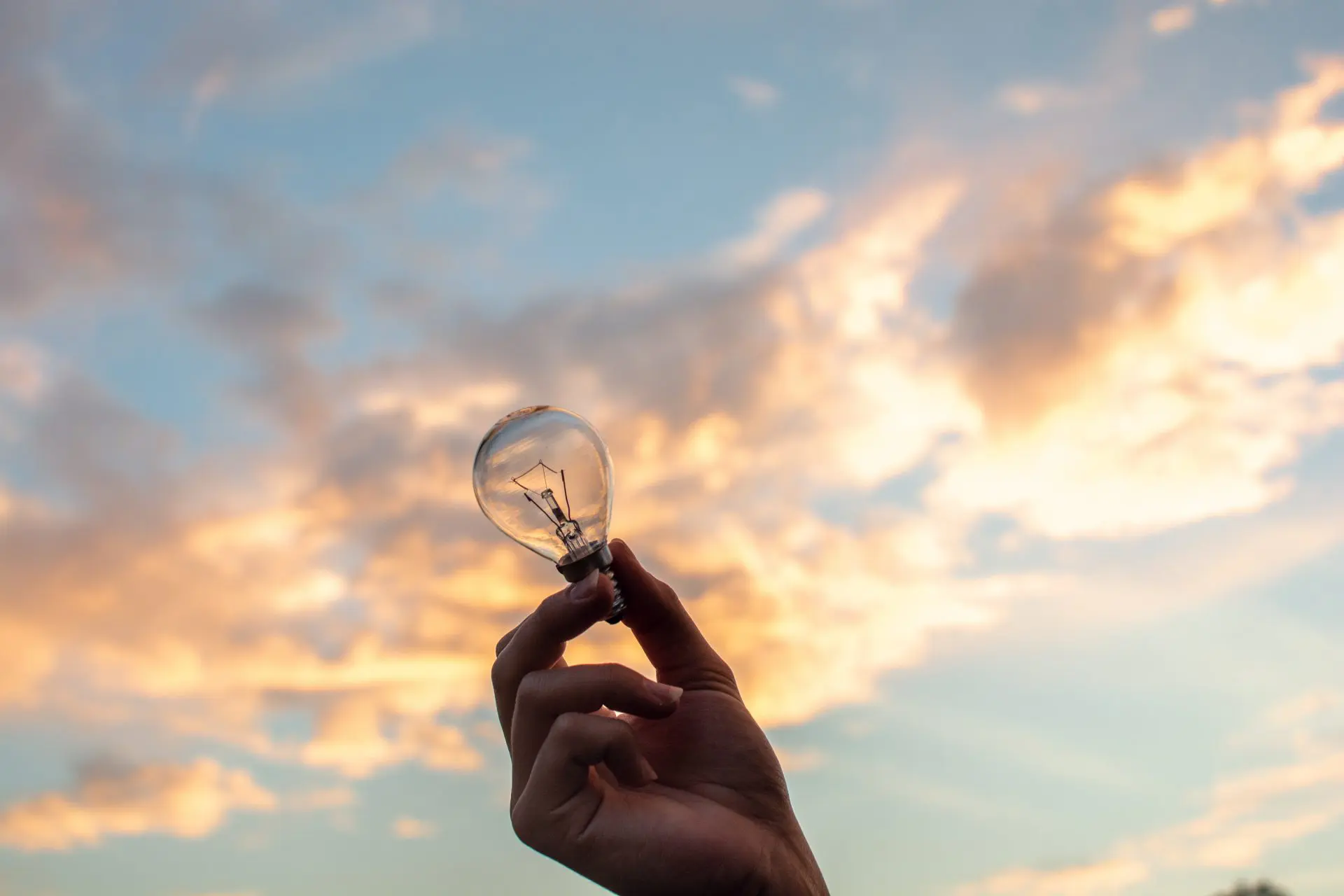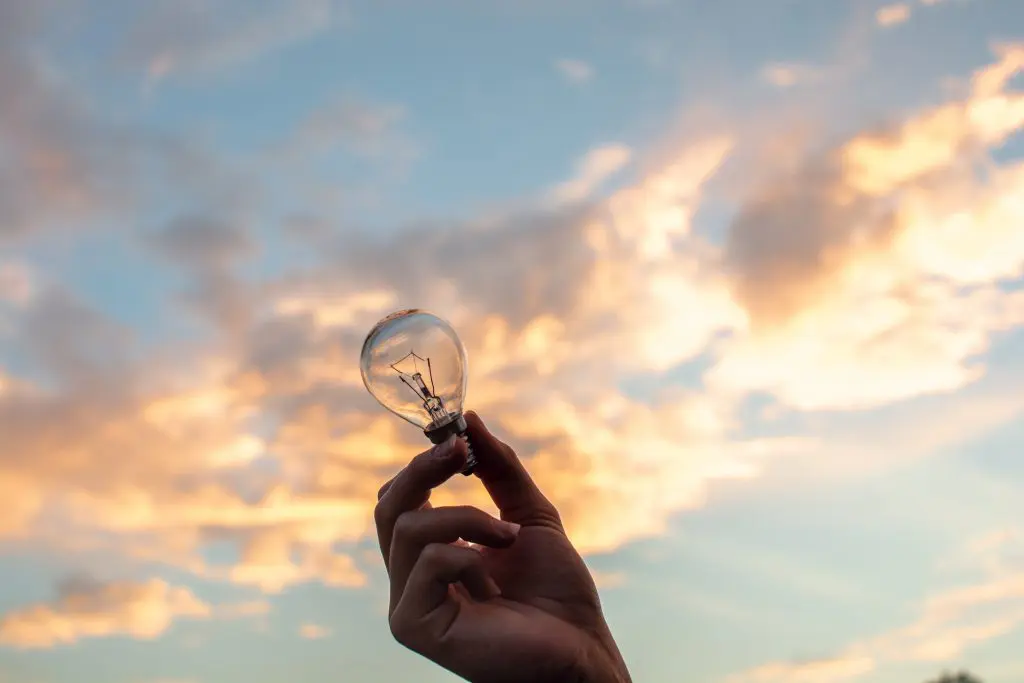 For those of us more familiar with US History, the name Eisenhower probably rings a bell. The term does indeed derive from the 34th president of the United States, Dwight D. Eisenhower. Having served as a five-star general in the United States Army, better known as the Supreme Commander of the Allied Forces during World War II, Eisenhower had to continuously make tough decisions due to the nature of his job and responsibilities. 
"I have two kinds of problems, the urgent and the important. The urgent are not important, and the important are never urgent." – Dwight D. Eisenhower
Fun fact: the method first became popular through its appearance in the genre-defining self-help book Seven Habits of Highly Effective People. The author, Stephen Covey, repackaged Eisenhower's decision-making principles into a template to prioritize tasks, now known as the Eisenhower Matrix. 
---
How Does It Work? The Eisenhower Matrix Explained
The Eisenhower Matrix is an extremely effective way to prioritize and manage both your time and your tasks. Arranged into four categories, the decision-making method is based on two simple criteria: urgency and importance.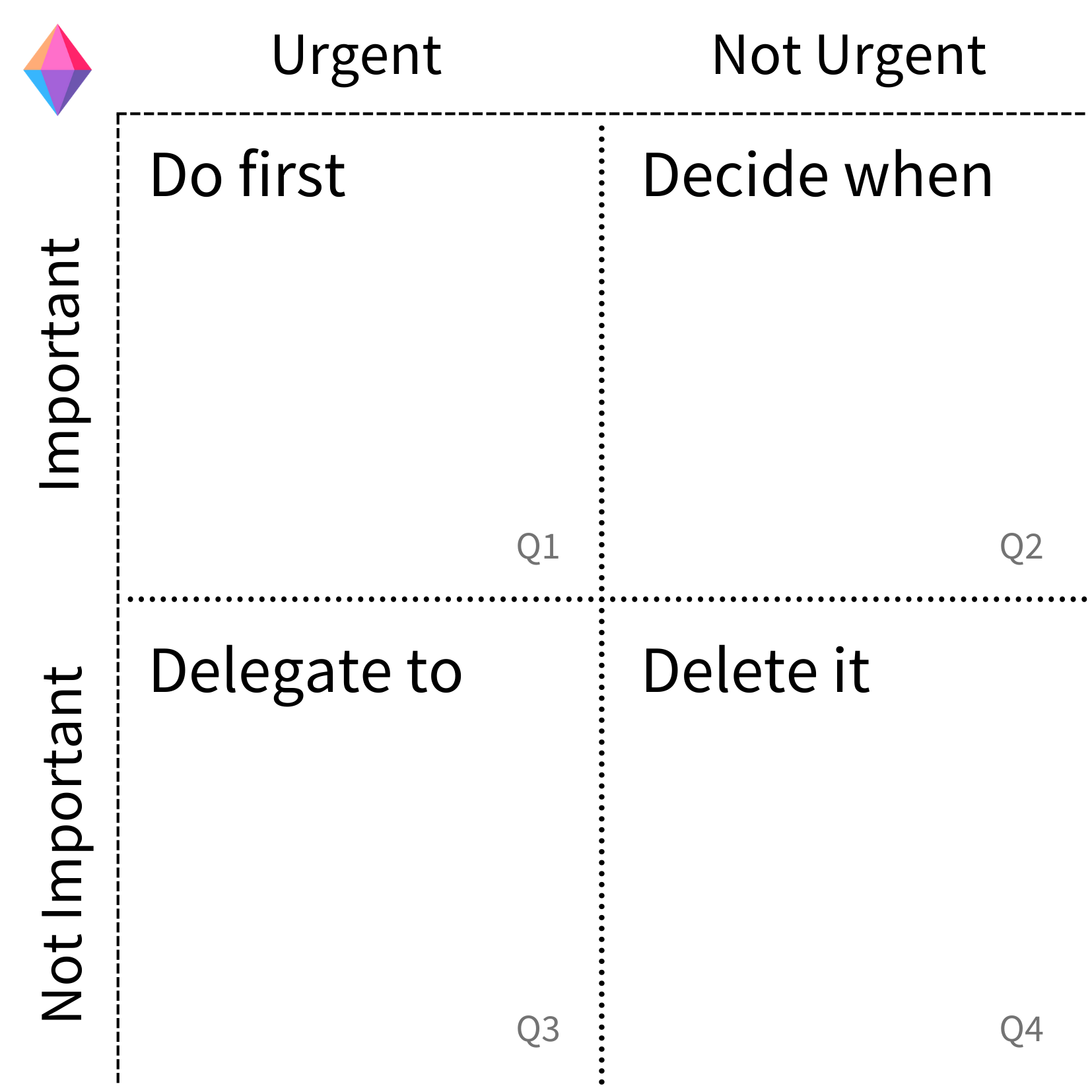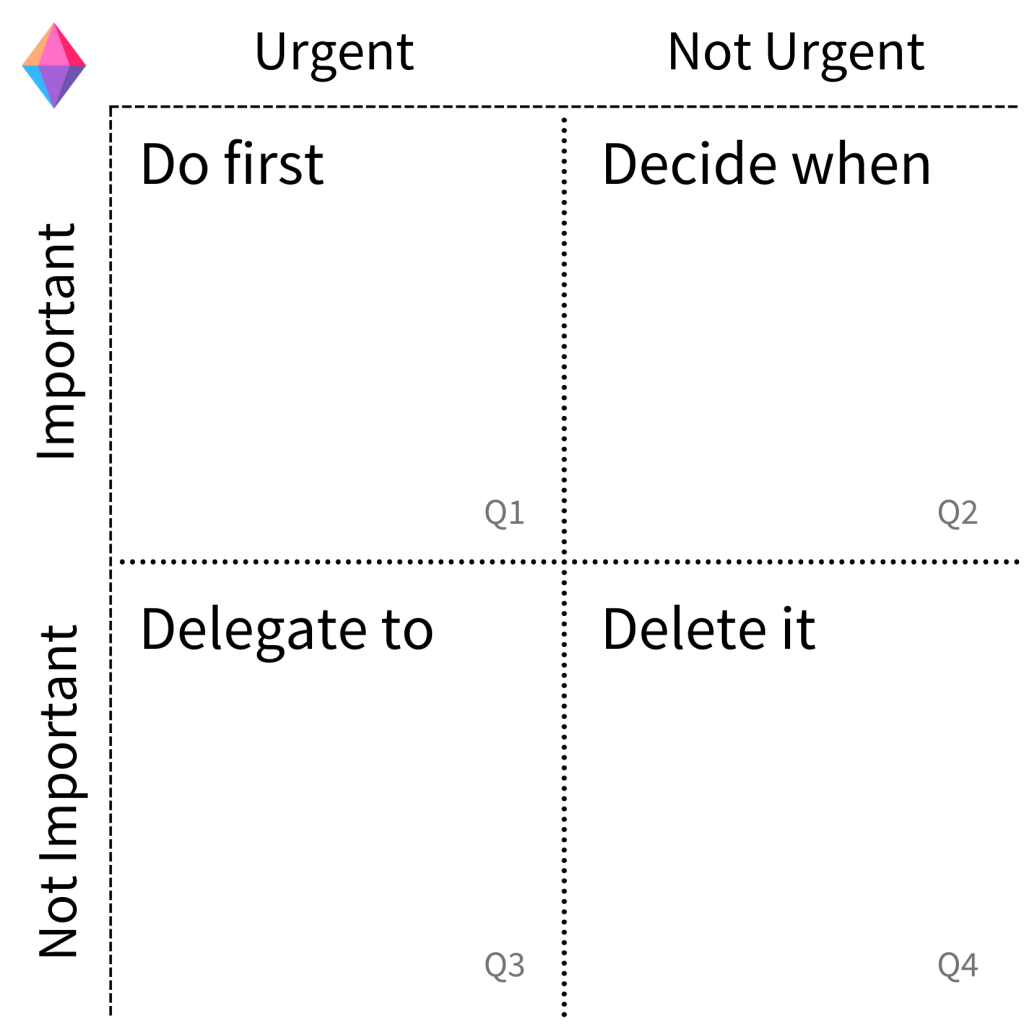 The matrix is systematized with four quadrants, structured according to urgency on the x-axis and by importance on the y-axis. According to priority and urgency levels, the user organizes their tasks and activities into the following categories:
Quadrant 1: Do first – get it done now

Quadrant 2: Decide when – make a schedule, set a deadline 

Quadrant 3: Delegate to – divide the workload 

Quadrant 4: Delete it – eliminate unnecessary elements 
---
Why Everything We Know About Productivity Is Wrong: How to Decipher the Urgent from the Important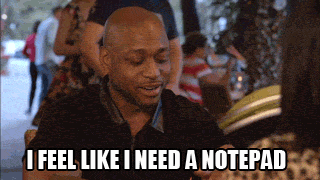 Being able to categorize your daily and weekly tasks into these four quadrants is a challenge and arguably the fundamental and most complex skill for utilizing this prioritization matrix. 
According to the Pareto-Principle, 80% of the planned results can be achieved with 20% of the total effort. Problem: most people often invest more of their time in miscellaneous activities rather than focusing on tasks that will produce the best results with the least amount of effort.
This is a consequence of "present shock" – a condition in which we lose our sense of the long-term narrative and direction, because of living in a continuous, always-on, 'now' moment. Research shows that we live in a pattern, dubbed the "Mere-Urgency Effect", where we tend to prioritize tasks with deadlines over tasks without one regardless of the impact they can make in the long run.
It is, therefore, pertinent to be able to distinguish the urgent tasks and activities from those that are important. Urgent tasks are things that require an immediate attentive response such as a tax deadline, health scare, or scheduled parent-teacher meeting. According to Brett McKay, founder and editor-in-chief of the Art of Manliness, "Important tasks are things that contribute to our long-term mission, values, and goals." Deciding which tasks you should or should not do becomes much easier when you are certain about what is important to you.
Rory Vaden, author and Self-Discipline Strategist explains that most people are trading their to-do lists for emergencies. In Procrastinate on Purpose, he describes most successful people as "time multipliers" who begin their day by posing the question: "What are the most important things that I can do today that would free up more time tomorrow?"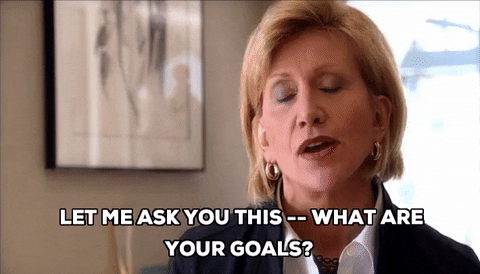 So instead of continuing your tiresome and likely unhealthy cycle of decision-making, begin making truly smarter, more conscious choices today.  Stop hustling without purpose.
Popular Youtuber John Green comments on productivity: "I would argue life is not about becoming the most efficient, problem-solving, value-creation machine you can become. To me, productivity is mostly a matter of recognizing that time is what we have and that it is imperative to be a steward of our most precious resource: time." 
---
Start Doing What Matters Using the Eisenhower Matrix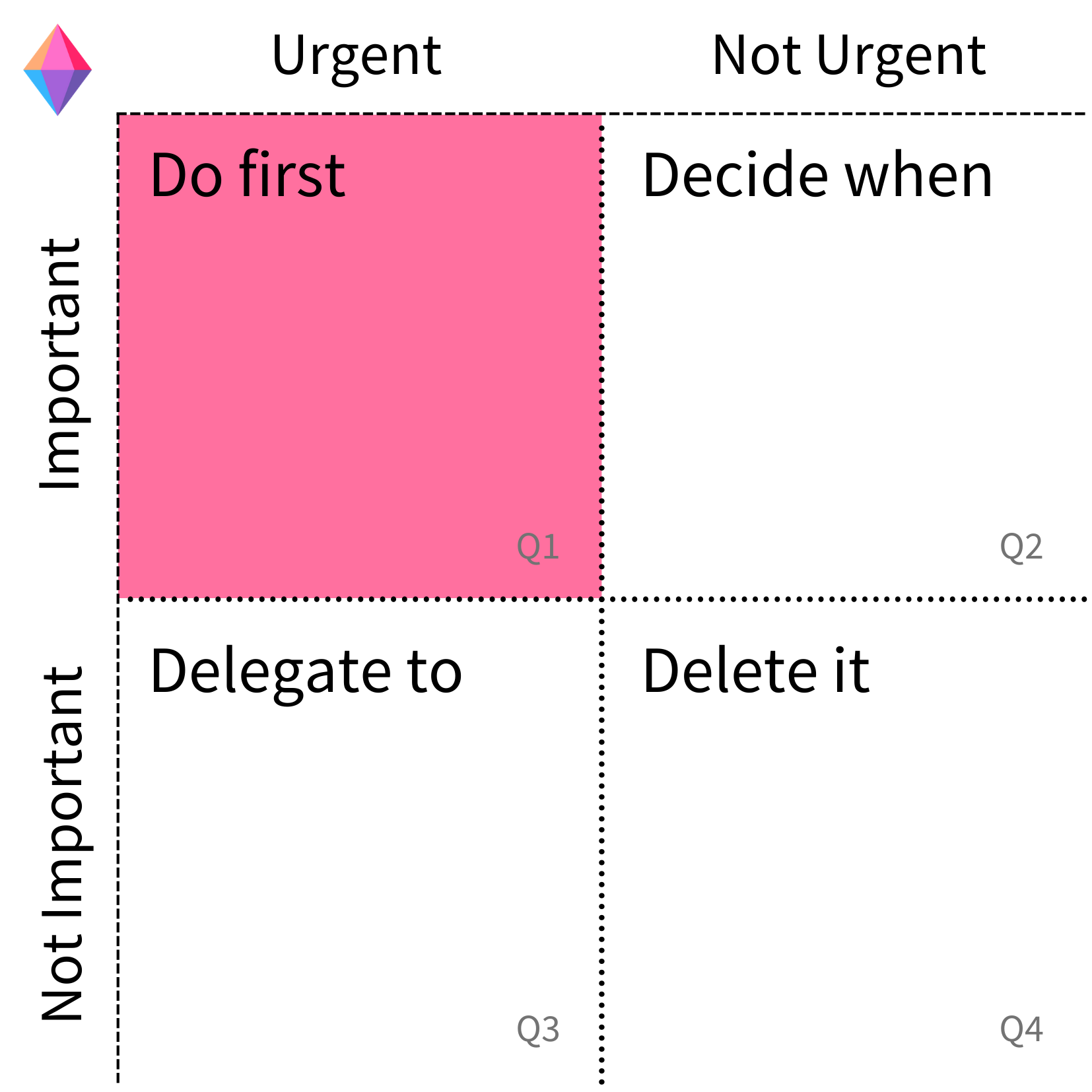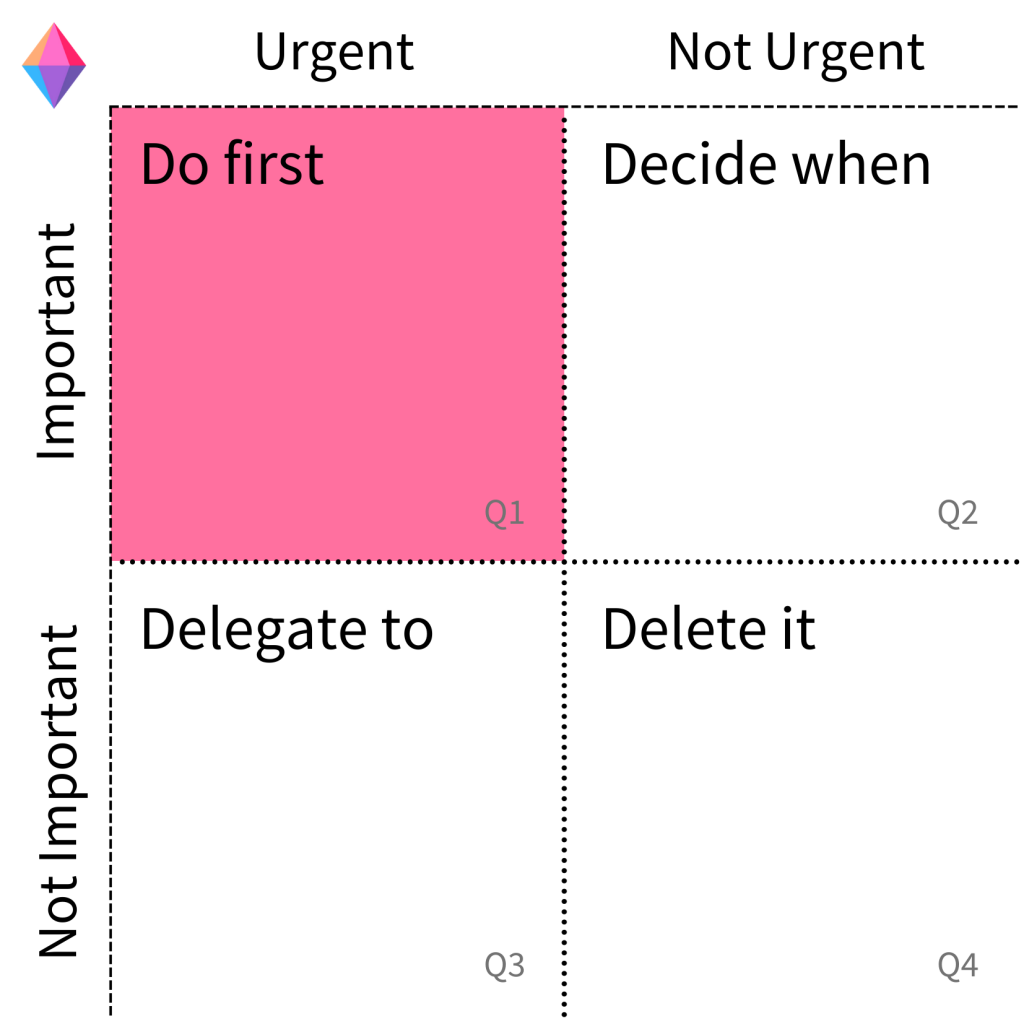 Do first – Get it done now: Tasks that are urgent and important
Quadrant 1 tasks are inevitable, and characterized as urgent and important; they require direct and immediate attention. These tasks have a tendency to be more tedious and challenging consequently requiring more time and attention to complete.
Tasks that land in the first quadrant are often the direct result of procrastination. They should, however, be tackled first and completed as soon as possible.
Use Mark Twain's Eat the Frog principle to master possible task paralysis. The term 'eat that frog' refers to getting your worst task out of the way first. Eating the frog implies you finish a task you don't want to do, but know you have to do. These tasks ultimately give you a strong feeling of accomplishment once completed.
For those of us who work best under pressure or with clear deadlines, you can use the Pomodoro technique to help you focus on the task.
Types of Quadrant 1 Tasks include:
Review a document for your manager
Finalize the employee payslips
Pick up the dry cleaning on Friday afternoon for the weekend event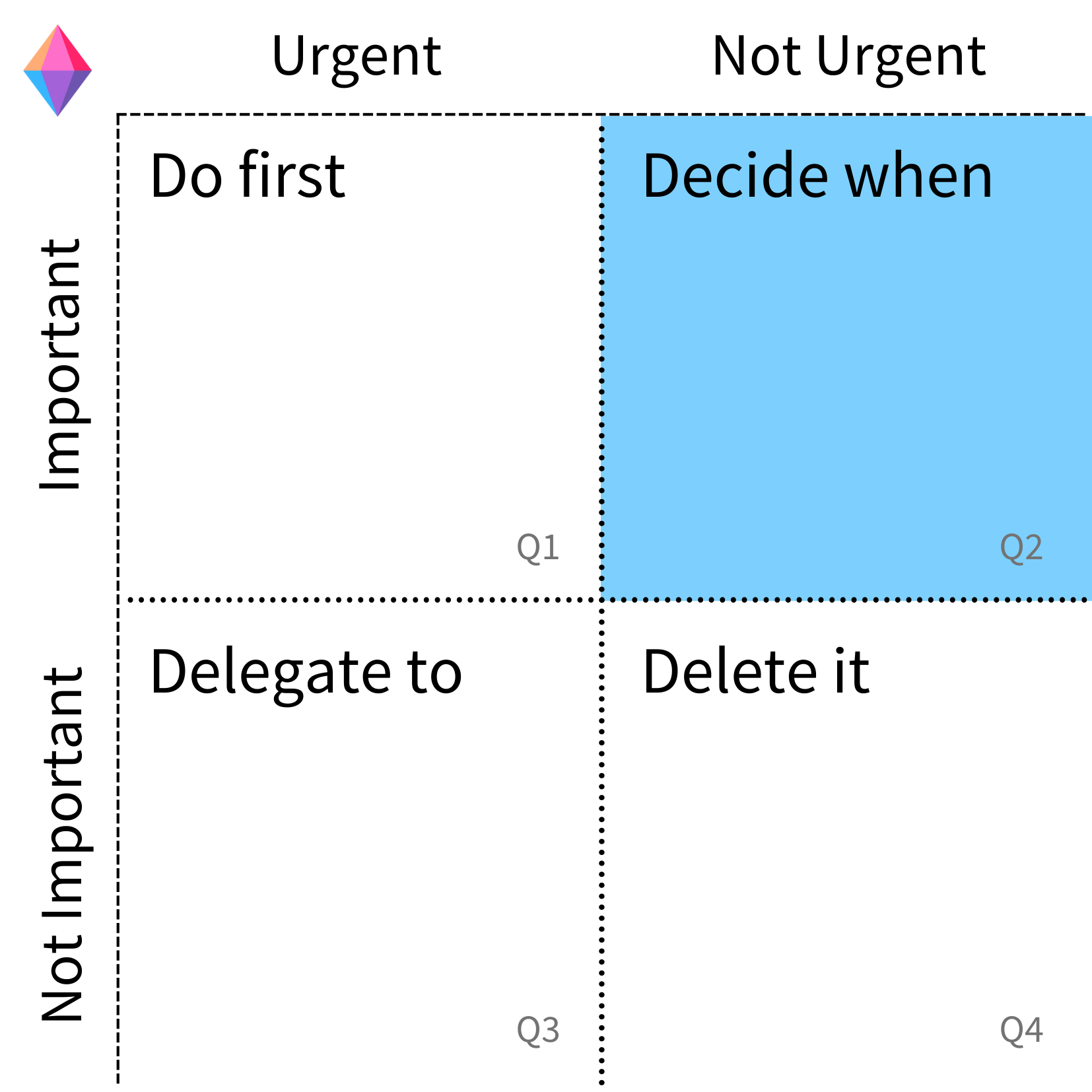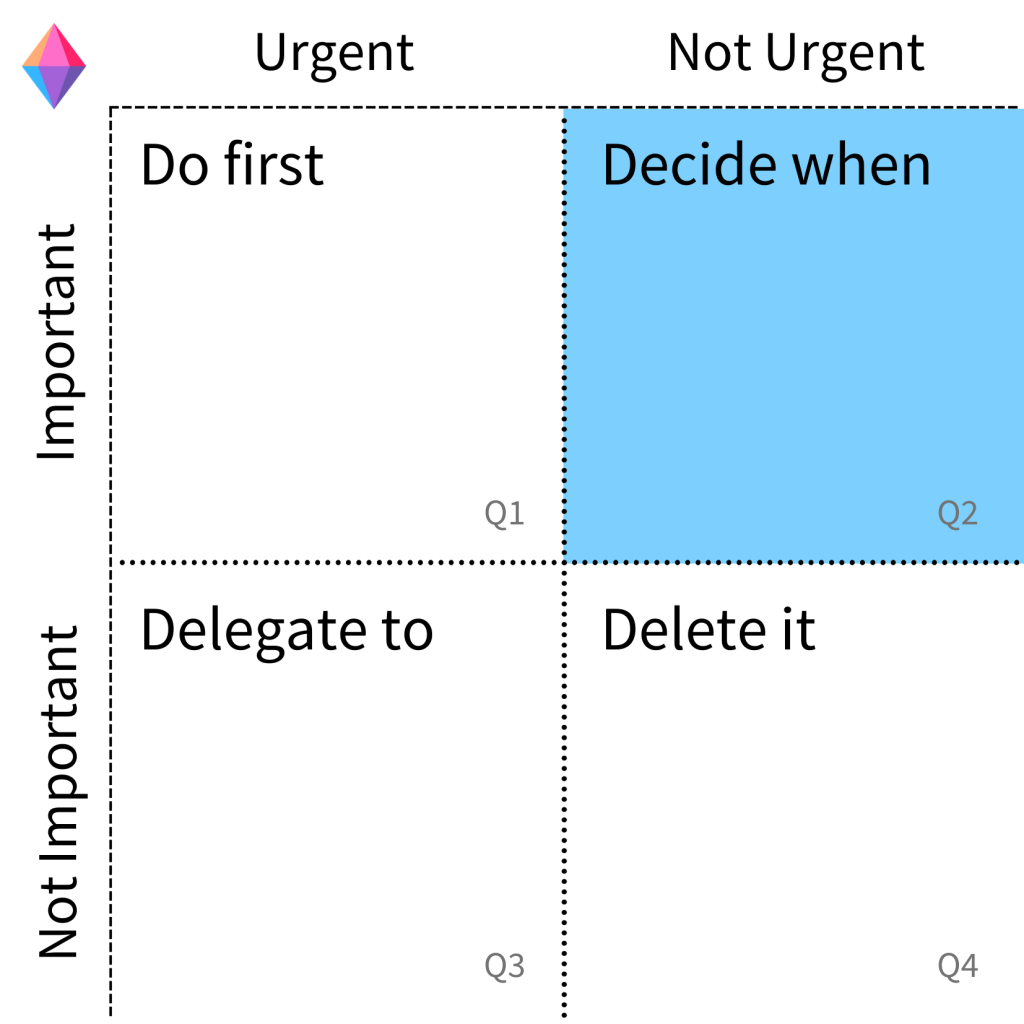 Decide when – Make a schedule, and set a deadline: Tasks that are important, but not urgent
Not every important task has to be finished in one day. Tasks that are important, but not urgent are generally long-term projects or assignments that require sufficient planning and a certain amount of time to be executed properly.
Termed the sweet spot of personal time management, the second quadrant is the spot focused on personal improvement in terms of opportunities and growth. Quadrant 2 is the perfect location to write down a list of your meaningful goals. Remember to set realistic deadlines even for tasks that aren't urgent.
Types of Quadrant 2 Tasks:
Set up a marketing budget for the following year
A restart of your fitness regimen
Update your will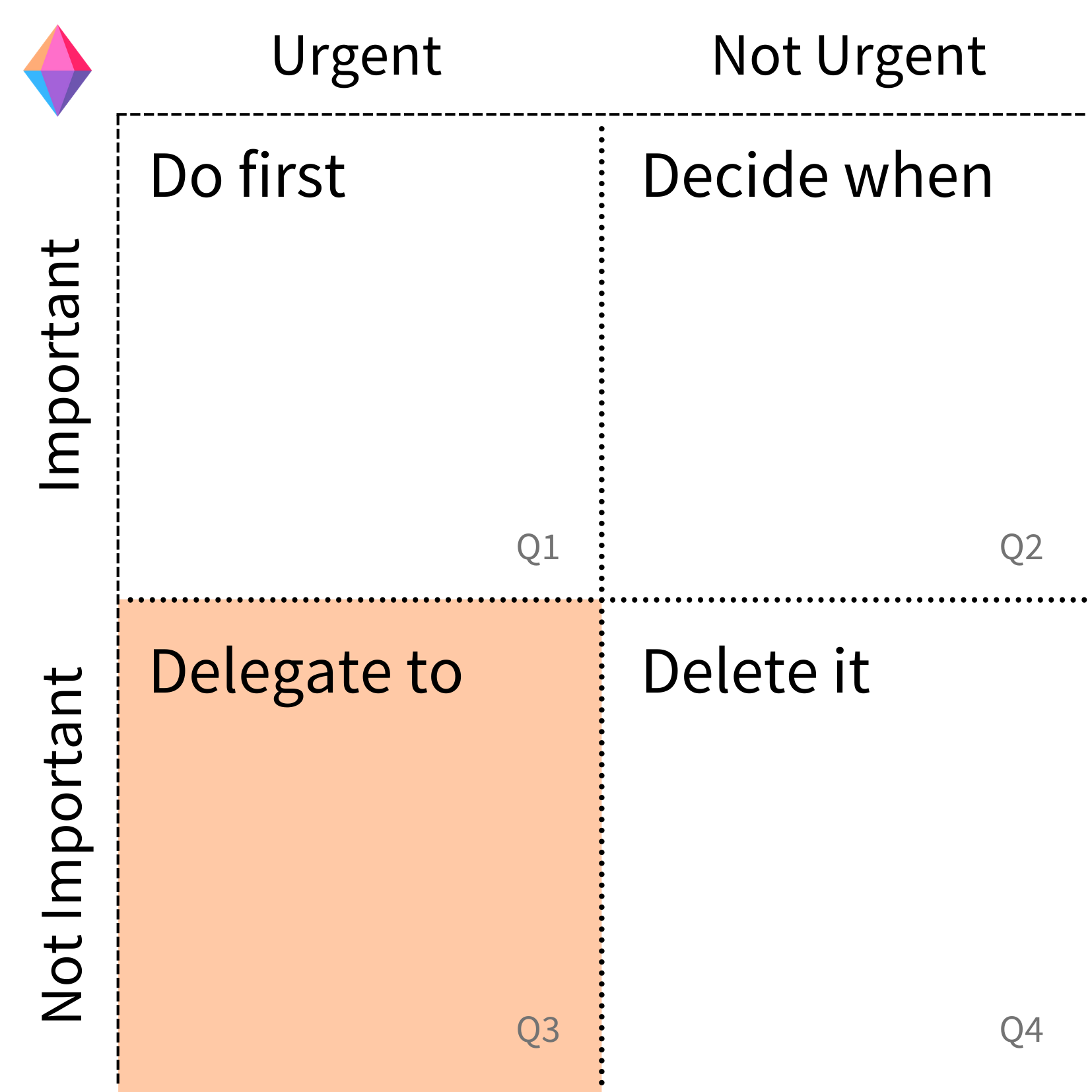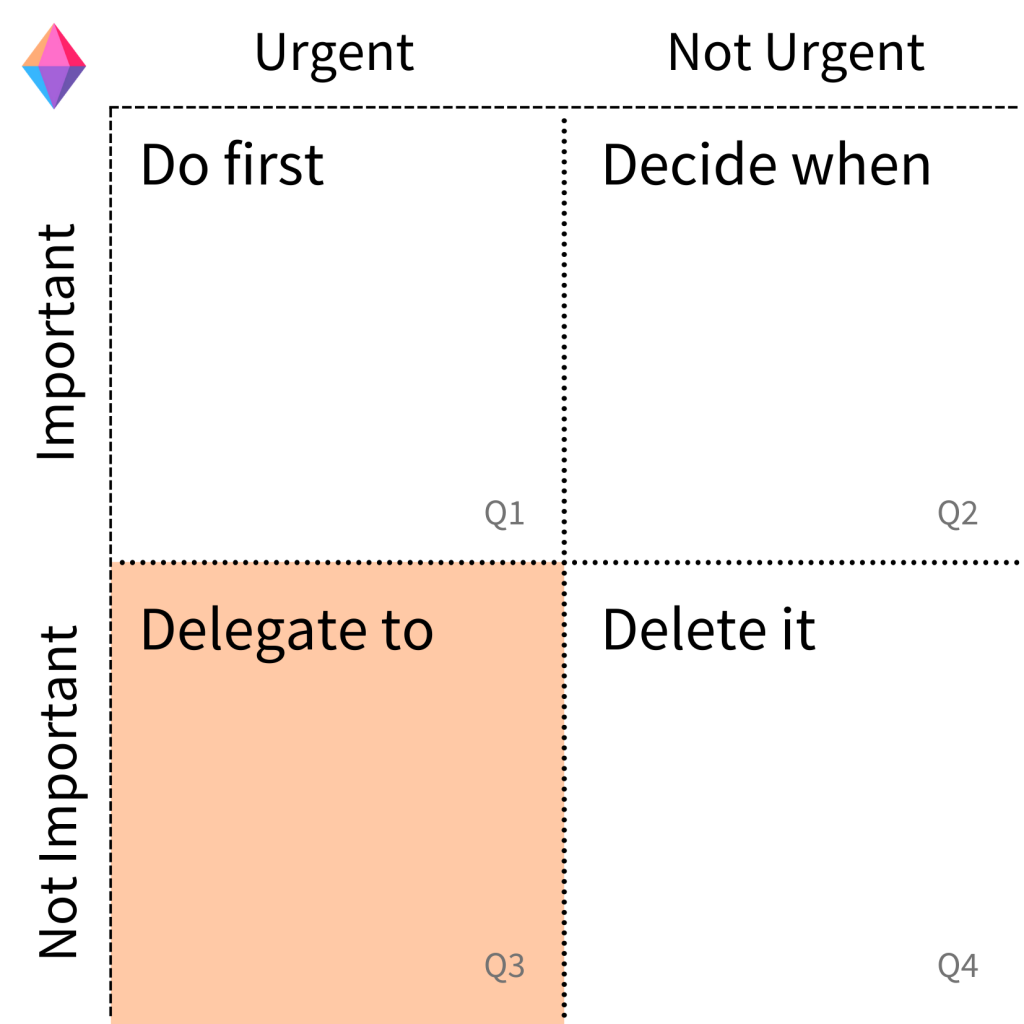 Delegate to – Divide the workload: Tasks that are urgent, but not important
Quadrant 3 is where the mere-urgency effect affects lives. Even if you and I were the best multi-taskers and extremely efficient in our jobs, we have to face the fact that we aren't Superman.
The common phrase, "teamwork makes the dream work" isn't famous just because it is catchy, but because it is true.
Good leaders and managers know when to do a task themselves and when to delegate the work to someone else. Sometimes it's best to delegate a task you could do yourself to a co-worker knowing they might be the better person to complete the job.
Types of Quadrant 3 Tasks:
Schedule a job interview
Go food shopping
Book flights for vacation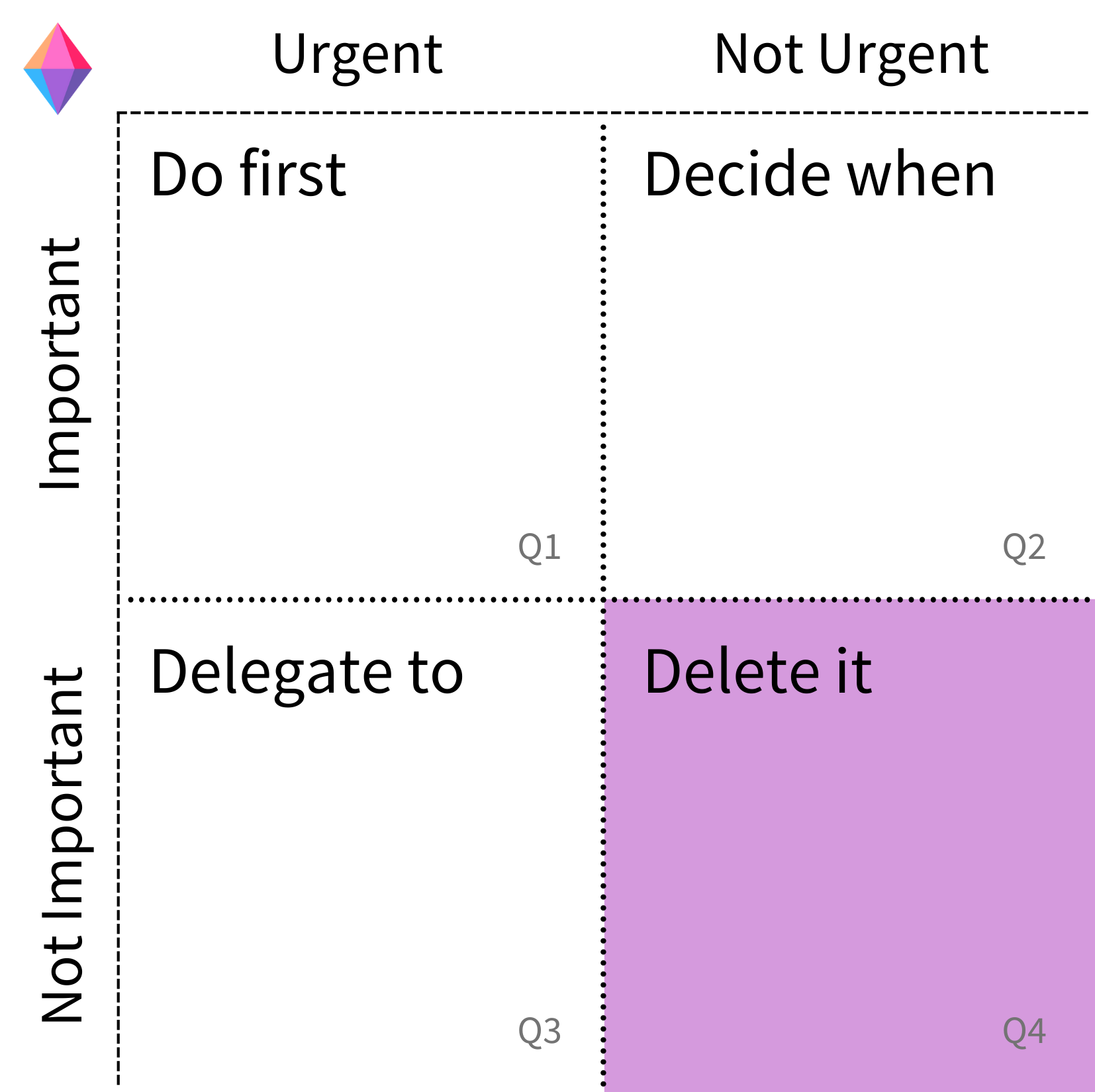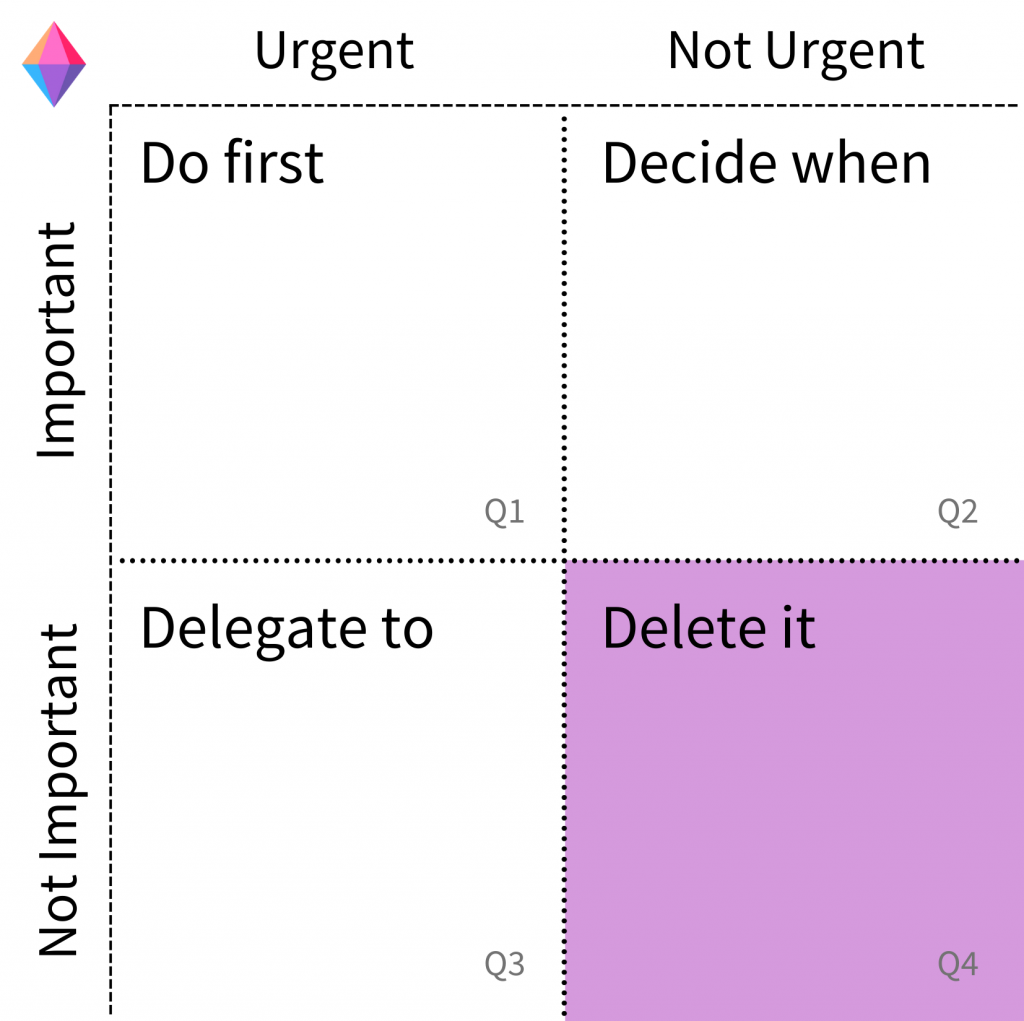 Delete it – Eliminate unnecessary elements: Tasks that are neither urgent nor important
Quadrant 4 is the quadrant of excess and immediate gratification. Tasks that are neither urgent nor important are to be placed in the trash, out of sight and out of mind. Depending on the situation, such tasks could reappear on your to-do list in a week's time but do not need to be done yet and may even be considered a waste of time.
Types of Quadrant 4 Tasks:
Buy a new coffee machine
Renew magazine subscription
Sort through junk mail
---
Best Practice Tips for Using the Eisenhower Matrix Add a splash of colour! Colour-coding helps give an overview of the categories and quadrants at a glance.

Do not mix business with leisure! Create separate lists for your professional and personal tasks. This makes it easier to stay organized because you aren't having to decide between scheduling a doctor's appointment and booking an important business trip.

Make it visual! Not a fan of the square layout? Why not organize the matrix

Kanban

-style! There are plenty of great tools you can use to do this. Here's a template for implementing the prioritization matrix in Zenkit: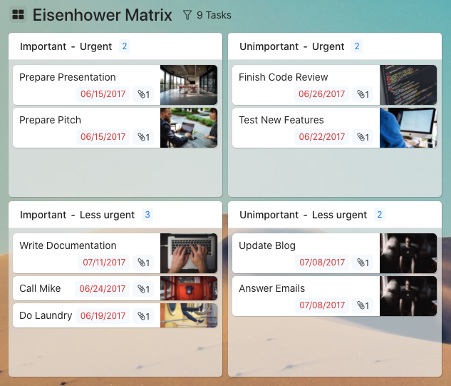 Put a label on it! Labels are great ways to stay organized. This technique works especially well for tasks or activities that might fall in more than one category for a period of time. Alternatively, you can organize your tasks into the four categories using labels in the Kanban layout.

Be environmentally friendly! Save paper. Go online! There are many online task and time management tools available nowadays that can help you to track your progress, whether for personal or professional use as a team. (psst! Zenkit!)
---
Convinced That the Eisenhower Matrix Is for You? Here Are Some Things to Consider
Advantages of the time management matrix:
It's free! It's easily one of, if not

the

cheapest technique to use. The

Eisenhower Matrix

is a free resource and you need no special software or tools to get started. 

UX approved! The method requires no previous knowledge or experience to use either. Since there are no predefined rules telling you what is urgent and what is important, you are free to decide which tasks go into which quadrant according to your preference. So, what are you waiting for? Give the method a try. 

Designed for decisions! You will become better at making split-second decisions naturally because the method makes you consider the importance of your tasks and reevaluate what is urgent and what isn't. 

Review it! Tracking and analyzing your progress and habits after using the matrix helps you practice self-analysis and teaches better self-awareness.
Disadvantages of the Eisenhower Matrix:
You only have two choices. The matrix is systematized based on two criteria: urgency and importance. It doesn't take external factors like resources, complexity, or level of effort into account. 

Not so easy does it. Like all good things, using the matrix takes work. On a daily basis, it can be difficult and time-consuming to categorize your tasks. The matrix serves as an aid to help you start each day with an action plan. Make sure that organizing your tasks doesn't become the focus.

No flex room. The grid can easily become overwhelming and quickly generate task paralysis when too many tasks are present. Limiting the number of tasks in each quadrant will keep the chaos contained.
---
Key Takeaways on the Eisenhower Matrix, Time Management, and the Universe
Staying organized in this time-pressured world can prove challenging due to overlapping commitments and spontaneous 'urgent' meetings. A recurring false pretence of urgency can also cloud one's understanding or definition of an 'urgent matter'. 
A common cause of stress and job burnout is improper time management. Utilizing this method helps you learn key principles of planning, prioritizing, delegating, and scheduling. The Eisenhower Matrix is a simple aid to help you increase productivity and complete tasks that matter. 
This prioritization matrix may not work for all, but it's a great starting point. You can use it as a stepping stone to finding a more personalized, better-suited technique. So, what are you waiting for? 
Set yourself up for success.

Stop hustling without purpose.

Switch to prioritizing long-term goals over shallow task wins.

Start working on what matters.
---
Final Thoughts
We know that habits don't happen overnight. Just like in sports, practice makes perfect. Sometimes it takes a little (or a lot!) of experimenting to find what system works best for you and your team. But the reward for finding the system that fits you best, whether for personal or business use, is incomparable. I think it's safe to say that it's more effective to invest enough time for the important but not urgent things now, rather than waiting until the frog has doubled in size. What type of productivity tools and time-saving methods are you using? 
Cheers, 
Jessica and the Zenkit Team
---
Image Credits: Carl Heyerdahl via Unsplash, fotografierende via Pexels, JESHOOTS.com via Pexels
FREE 20 MIN. CONSULTATION WITH A PROJECT MANAGEMENT EXPERT
Wanna see how to simplify your workflow with Zenkit in less than a day?
Book a free demo
READY TO TAKE YOUR BUSINESS TO THE NEXT LEVEL?
Sign up for a free demo and receive an exclusive discount. Limited slots available, act now!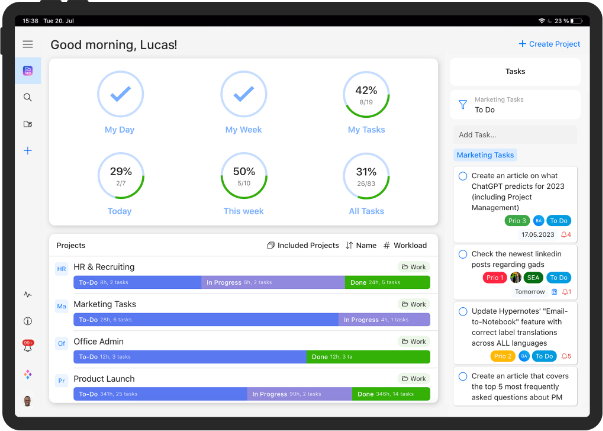 Book a free demo