How to Ensure Productivity Software is Actually Making You Productive
The key is to know when and how to use them

Productivity software may not be the sexiest of technologies out there on the market, but for many businesses and organizations, they are an essential part of everyday life.
But how productive are they really making us?
In this article, I'll discuss what productivity software is and whether or not using it actually makes us productive.
---
What Is Productivity Software?
Productivity software is a group of application programs that can help you produce things such as documents, databases, worksheets, graphs, and presentations. The definition also often extends to any software application that assists in completing a task or project such as communication and collaboration tools.
The reason it's called "productivity software" is because the purpose of these applications is to help people—in particular those who work in an office—to be more productive in the job they're doing. While originally intended for business use, productivity software is now commonly used for personal productivity purposes as well.
Along with using the programs on computers, most tools are also available on mobile platforms such as smartphones and tablets. And as with any other product on the market, there are advantages and disadvantages of productivity software.
---
Types of Productivity Software
As mentioned, productivity software comes in many forms, however, the following are examples of some of the more popular types:
Project Management
Project management application software (apps) is widely used within businesses and organizations. Not only are they ideal for managing projects, but they're also useful for managing the daily operations of a company. One of their more favourable features is that they offer a visualization of a workflow process which can make for easier delegation, coordination and prioritization of tasks and projects.
Similar to task management apps, you can manage your task throughout its life cycle, right from the development of the idea, all the way to completion. Many project management apps come with several features such as checklists, spreadsheets, and Gantt charts that all aim to help you accomplish your task or project in the most efficient and effective way possible.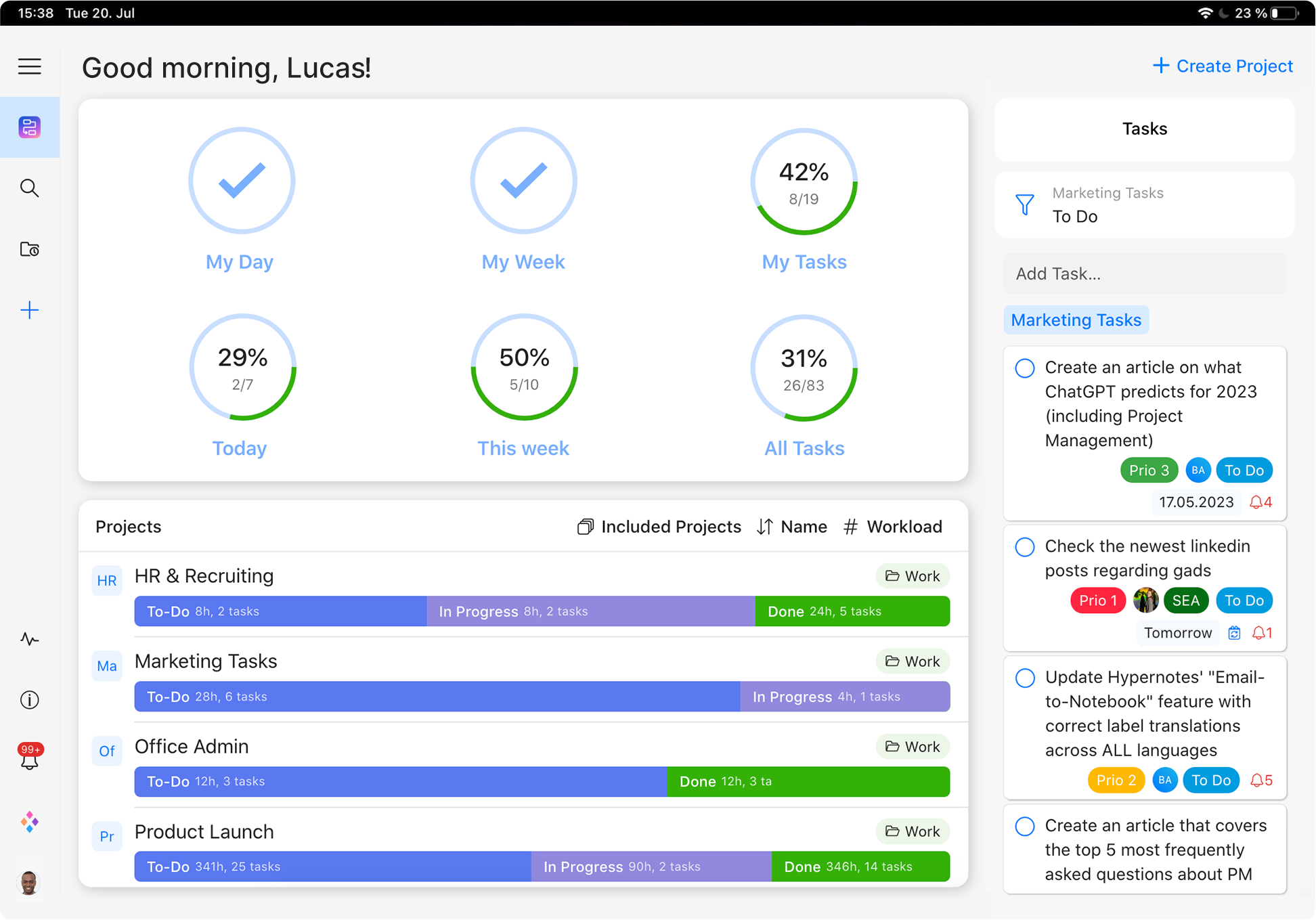 Discover the ultimate project management tool.
Sign up for free today!

Database Management Systems
A database management system can help you create and manage a database. A useful way to store information, databases are designed to hold a large collection of organized data that can be accessed by multiple users with optimal speed and minimal processing expense.
While spreadsheets are also a good option, databases are a better alternative for storing a sizeable amount of data as they offer a more elaborate information storage system.
Time Tracking
Time-tracking apps help you to, surprisingly, track the time you spend on tasks. Commonly used by businesses and organizations who employ freelancers or workers who are billed by the hour, they can be used as standalone products or integrated with other software applications.
The benefit of time-tracking apps is that they provide an overview of how much time is being spent on a task and/or your overall work day. Having this overview not only ensures that you are being paid for what you work, but it can be a great tool for managing your time.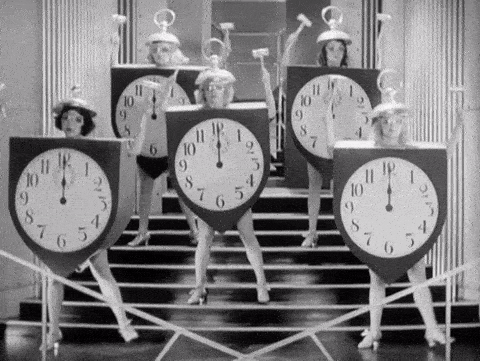 Of course, these aren't the only three productivity software tools available. There is an array of options available to suit any individual or business looking to be more productive in the way they work. Oftentimes you will find one tool that caters to several purposes, or you may find yourself using more than one tool to manage your workload and complete your tasks.
---
What Makes Productivity Software Productive?
An essential feature in businesses and organizations worldwide, productivity software has reshaped the way people work. From faster communication to streamlined processes to smoother-running projects. In a nutshell, productivity software has made life in the office a lot easier.
It's also allowed businesses to adapt to the flexible workforce that has emerged due to the rapid expansion of the internet and technology. Productivity software such as online communication and collaboration tools have made remote work possible and have allowed businesses to keep up with the competition. It's especially great for employees adjusting to working from home.
But while it has centralized and simplified the way we work, it's important to keep in mind that productivity software won't do the work for you. The end result is still dependent on the user, no matter what tool is used. What productivity software does is provide you with the tool you need to deliver your task and help you reach the end in the most efficient way possible. The rest is up to you.
Using productivity software with different expectations could have detrimental effects. For instance, if you think that by simply purchasing a product and creating an account you'll become instantly productive, then you have another thing coming. Getting the most out of your tool requires you to invest time and effort in selecting a tool, as well as understanding it and using it properly.
---
How to Ensure Productivity Software Is Actually Making You Productive
Anyone can purchase a tool and create an account, but knowing what to do with it will determine whether or not the tool is worthwhile. Here are some tips on how to ensure your productivity software is actually making you productive.
1. Invest in a quality tool
You don't have to spend a million bucks to get the best productivity tools for your team. While many productivity software apps that are free to use are sufficient enough to fulfil whatever purpose you need them to do, oftentimes the paid versions always offer more. Whether it's more storage space or more features, sometimes it's worth spending the extra dollars to ensure you have a tool that can help your team to be as productive as ever.
It's also worth considering the amount of time and resources you may save if going with the paid version of the software. Sure, a free account may cost you nothing upfront, but it's worth weighing up whether extra resources will be needed if you select the free software option.
2. Understand how to use it
Money isn't the only thing you should be investing in when it comes to productivity software. Investing in time is something that's also important. The market is littered with tools that promise to help you track tasks, collaborate, and communicate better, and so trying to find the right tool can alone takes up so much time.
Then comes knowing how to use it properly. There's nothing more frustrating than having to use a tool that you have no idea how to operate. Learning how to use new tools and understanding how to input tasks or items is time that should be invested right from the beginning. Because if you don't, you may find yourself spending more time trying to figure out how the tool works than actually producing work on it. Having an implementation strategy in place is a good way to prevent this from happening.
3. Don't overcomplicate
There are many things that productivity software is ideal for, from creating graphs and presentations to collating and maintaining data to ensuring your daily tasks are in order. And while they're great for complex tasks and projects that require you to collaborate, there are certain tasks where they may not be the right tool for the job.
Using productivity software simply because it's there can be counterproductive. Although you have it and have paid for it, it doesn't necessarily mean you have to use it.
The same mentality should be applied to using a tool that has a lot of features. While a tool with numerous features can be a great asset, it could do more harm than good if you aren't using it properly. I get it, it can be easy to go crazy with all the bells and whistles, but doing so just for the sake of it can overcomplicate things and actually make you less productive in the task you are trying to achieve.
---
Final Thoughts
Any company or individual has the ability to purchase a tool, but not having the right system or knowledge to support it is what can make the difference between being productive and wasting your time with the software. To ensure you and your team fall into the former category, make sure you take measures to fully understand the tool(s) you are working with so you know when and how to use them to your benefit.
How do you ensure your productivity software is making you productive? As always, let us know in the comments section.
Dinnie and the Zenkit Team
FREE 20 MIN. CONSULTATION WITH A PROJECT MANAGEMENT EXPERT
Wanna see how to simplify your workflow with Zenkit in less than a day?
Book a free demo
READY TO TAKE YOUR BUSINESS TO THE NEXT LEVEL?
Sign up for a free demo and receive an exclusive discount. Limited slots available, act now!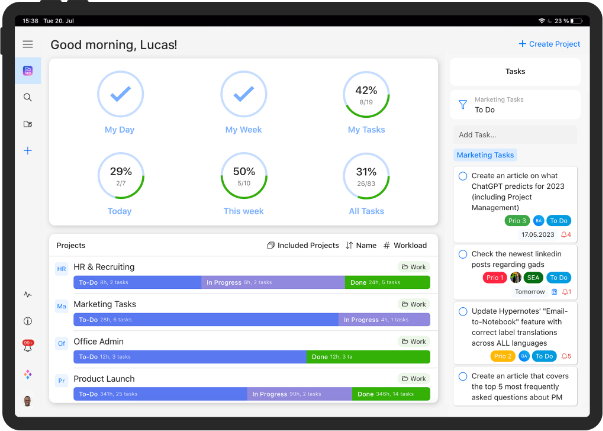 Book a free demo