It's safe to say that project management is one of the most important things when it comes to successfully completing a project. However, according to the Project Management Institute (PMI), only 46% of companies consider project management a corporate culture priority.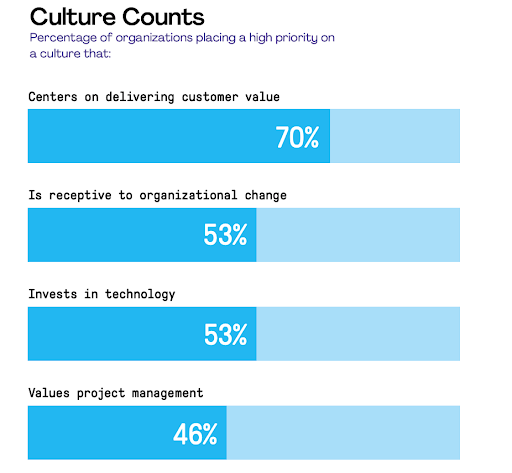 Project management is particularly important in content marketing, as content marketers typically find themselves juggling a million different things, ranging from brainstorming to keyword analysis. Therefore, choosing productivity tools can make a difference not only in the life of the content marketer. It can also improve the quality of the final product.
Here are 8 tools that every content marketer should check out. 
---
Zenkit Projects
The Zenkit project management tool is a lifesaver for content marketers and content marketing companies that want to stay organized.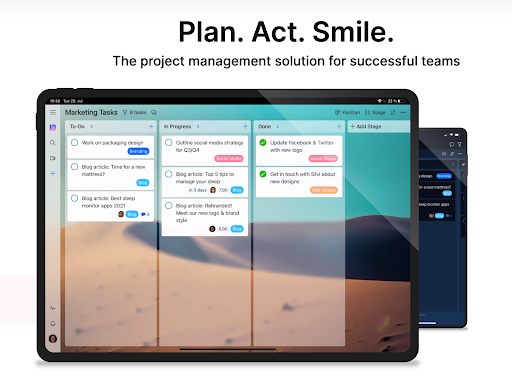 Through its powerful project management feature, teams can set up global Kanban boards where team members can aggregate all project tasks, create Gantt charts that visualize the team's capabilities, collaborate in real-time, share documents and images, work offline and so much more. Undoubtedly, using a tool like Zenkit can help content marketers focus on the tasks ahead. It can also help them work with other members of their team to produce the best product possible.
---
Ahrefs
If you're a content marketer, you probably know the pain of spending precious time looking for an effective and easy-to-use SEO tool that's value for money. You can avoid all of this by immediately choosing Ahrefs.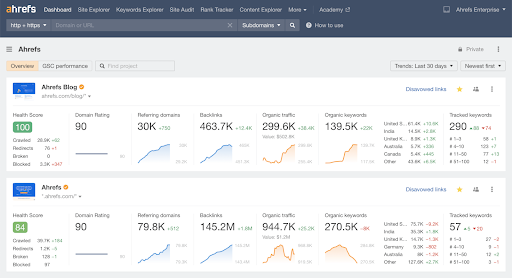 Ahrefs is an all-in-one SEO tool that helps content marketers improve their productivity by providing game-changing insights into how their clients' websites are performing. These insights can be used to optimize content and improve website rankings. Additionally, Ahrefs enables content marketers to find high-volume keywords and analyze their competitors' keyword strategies. 
Not only that, content marketers can use Ahrefs to identify technical SEO problems and get a comprehensive view of a website's backlink profile. They can also identify web pages whose content needs to be improved. Such a comprehensive tool speeds up a project increases its quality and optimizes the budget, as content marketing teams can use Ahrefs to inform the content strategy from the outset. 
---
Slack
LinkedIn reported that the number of remote marketing jobs increased by 177 percent by the end of 2021, and this number continues to increase. Therefore, it's more important than ever for distributed content marketing teams to communicate effectively.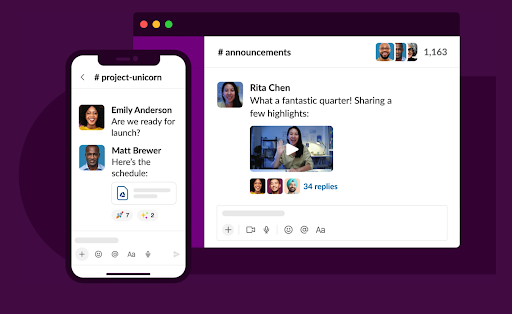 Slack is one of the most popular instant messaging tools for professional teams. It enables team members to send messages to anyone inside or outside their team and communicate with them as if they were in the same office. In addition, its 'channels' feature allows each individual to work effectively independently. It also helps them keep up to date with what's happening on different projects without losing track of the conversation. Best of all, Slack has a free tier that is a lifesaver for smaller companies.
---
Grammarly
As the name suggests, Grammarly is all about correct grammar. Although it's not an obvious project management tool, it's revolutionary in that it saves project managers and content marketing teams time. It automatically checks for grammatical errors and ensures consistency of tone, punctuation and messaging across the board.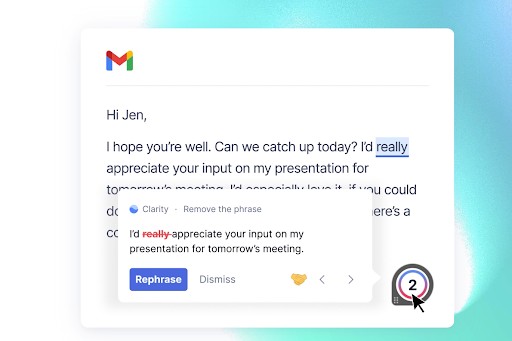 It's therefore an indispensable tool for any content writer who wants to improve the quality of their writing and save time. 
With features such as spelling and grammar checks, punctuation suggestions, sentence structure analysis and tone detection, Grammarly acts as an AI-powered editor that allows content writers to write error-free content confidently and efficiently.
---
Google Drive
Having a shared Google Drive may seem like a no-brainer. However, there are still many teams that end up wasting a lot of resources. This is simply because they don't have a shared cloud storage system.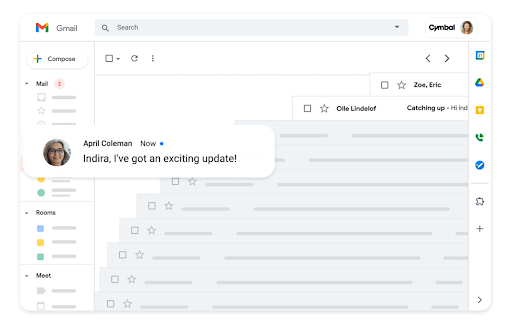 Google Drive is one of the most popular cloud-based storage systems out there, especially as it's integrated with the rest of the G Suite products and third-party tools such as Slack. 
Its popularity stems from the fact that it provides a central location for files that can be easily accessed by all team members. This ensures that everyone's on the same page, reducing the risk of errors and misunderstandings. 
In addition, team members can collaborate on documents in real-time without the need for much back and forth. Undoubtedly, this makes editing a more seamless process. And if the changes are not to the client's liking, Google Drive offers the ability to 
access previous versions of the document. This greatly speeds up workflows and avoids unnecessary work.
---
Toggl
Toggl can make a world of a difference when it comes to getting down to the nitty-gritty of project management. Specifically, time. It provides valuable insights into how time is spent on tasks. This helps both content marketers and project managers optimize productivity.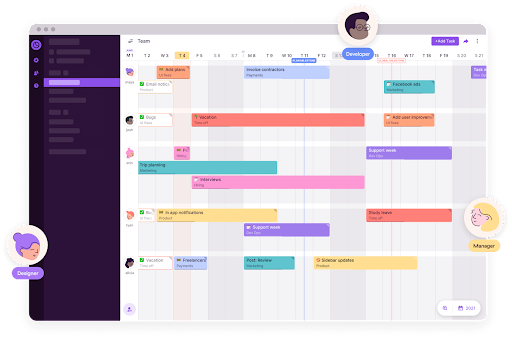 Its simple interface makes it a straightforward but very effective tool. Content marketers can use it to identify the tasks they spend too much time on and optimize their workflows. In addition, Toggl makes it easier for teams to assign tasks to each member and track their progress. This ensures that deadlines are met and projects are delivered on time.
Finally, Toggl's reporting function breaks down the time spent on various tasks. This can help teams identify areas that need to be improved or to review deadlines. 
---
Buffer
Buffer is a time saver for all social media content marketers out there. It's a multipurpose social marketing tool that makes social media management much easier. Its core feature is the ability to plan and schedule content across nine social media platforms. These platforms include Facebook, Instagram, Twitter, LinkedIn and TikTok. Therefore, instead of having to rely on less-than-ideal native
 schedulers or set your alarm clock every time you have to post, you can kick back and relax. Buffer does the posting for you.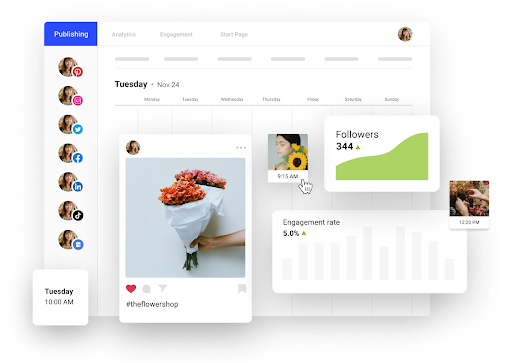 In addition to planning and scheduling content, Buffer also has an analytics function that allows you to monitor social engagement, measure campaign performance, and create marketing reports. It also makes recommendations on how to boost your accounts. By having a dashboard to access all social media platforms, you spend less time navigating between different platforms. This allows you to spend more time on what matters: quality content and engagement.
---
Canva
Canva is another platform perfect for busy content marketers who want to amplify their messaging through high-quality graphics. The free-to-use online design tool has ready-made templates that are easy to edit. This is true even if you're a rookie when it comes to graphic design tools.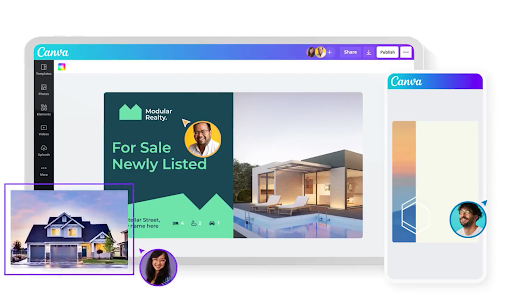 With its drag-and-drop interface, you can finish a monthly calendar of social media visuals in just a few clicks. This saves you time and money. What's more, the platform recently launched its video editing feature. This empowers you to edit your social media videos in mere minutes. Talk about saving time!
---
Final Thoughts
It's no secret that successful project management can make a world of a difference when it comes to the overall quality and outcome of a project. Therefore, investing in these tools early on saves you a lot of time and resources later. This ensures that every project you engage in as a content marketer reaches its full potential. It also helps you build a solid reputation that cements a long-term career.