As you may have already heard, Wunderlist is due to shut down on the 6th of May, 2020.
What's significant about this shutdown—compared to other app shutdowns—is that Wunderlist's discontinuation isn't because of a decline in sales or poor user count. It had 13 million users and more than 1 billion to-dos at the time of the acquisition.
The popular list and task management app was acquired by Microsoft in 2015 and while many were hoping that the tech giant would somehow incorporate Wunderlist into their Office repertoire, it seems that after years of a "will they? Won't they" scenario, they've decided to shut it down.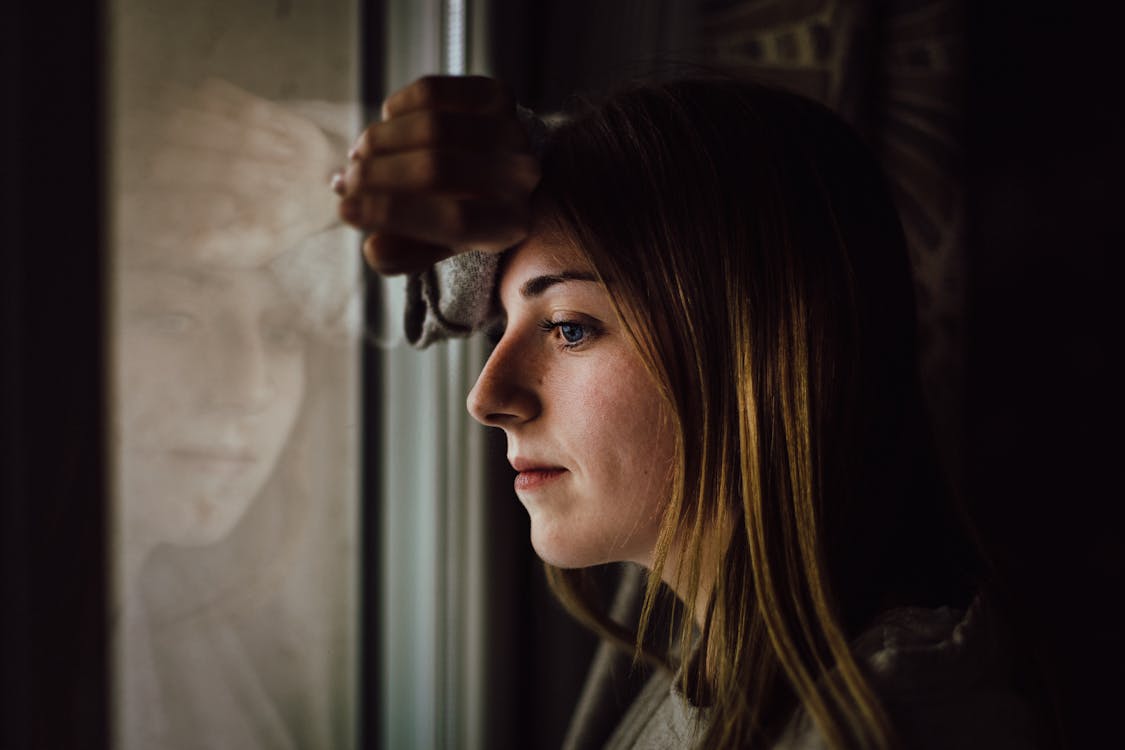 I get it, if I were a tech heavyweight with lots of cash and wanted to eliminate the competition, I'd have done just the same. And if I were a startup who created a product so successful that someone was willing to give me literal millions for it, I'd also have done what the Wunderlist founders did. After all, for some, the point of creating a startup is to eventually have the product or service sold for squillions, is it not?
While the acquisition was a happy day for the Wunderlist team, it was a sad day for many to-do list enthusiasts, as those who were familiar with Microsoft's habit of buying small successful products and then discontinuing them feared that Wunderlist would suffer the same fate. And they were right.
So, to honour one of the most successful apps to come out of Germany, let's take a look at how it all began and how it came to be.
---
The History of Wunderlist
"We launched it and literally had overnight success with it," said 6Wunderkinder CEO Christian Reber on Wunderlist's initial release. "We grew faster than we ever dreamed of and from then on, it became a serious product." (source: Tech.eu)
Wunderlist was created in 2011 by Berlin-based startup 6Wunderkinder, fronted by founder and CEO, Christian Reber. The idea for the task management app came from the desire to "reinvent project management".
You see, Wunderlist wasn't what the six "wonder kids" (rough translation of the company name) first sought to create. What they wanted to develop was an all-in-one productivity app which merged workplaces, notes, profiles, and other collaborative tools to help with efficient teamwork. That app was Wunderkit.
During Wunderkit's development, Reber realized that it was going to be a while until a fully-fledged app would be available. So, in the meantime, they released Wunderlist, the to-do list part of the all-in-one app, to keep customers interested.
And interested they were. Wunderlist turned into an overnight success. It took the app only nine months and two days to reach one million users! (For comparison, that's a faster initial growth rate than huge companies like Twitter and Foursquare.)
The success can be attributed to the app's simplicity and cloud-based flexibility. It is essentially a to-do list app that allows you to keep a record of your tasks, but its cross-platform and sharing features make it an excellent tool for collaboration.
Once Wunderkit was released in 2012, the young startup found it difficult to balance the two products. Later that year, Reber made the difficult decision to cease the development of Wunderkit so they could focus solely on Wunderlist.
"We were lost in perpetual discussions about how features should work and what they should look like. Unfortunately, we were never fully satisfied with the result. That was when we understood we had to make a decision, it's either the one or the other. Either we focus on Wunderkit or Wunderlist — both would be too much of a challenge. In the end, the decision was pretty obvious, but it was still hard to make." – Christian Reber
The decision wasn't made in vain, as Wunderlist went on to enjoy many accolades including App of the Year in 2013 for their Mac app and Google Play's Best Apps of 2014. Then, in 2015, it was acquired by Microsoft for a rumoured $100 million to $200 million.
---
The Journey to Microsoft To Do
If you're a Wunderlist user, you'd know that the journey to Microsoft To Do hasn't exactly been smooth sailing. Microsoft planned to take the best features of Wunderlist and implement them into their very own list app called Microsoft To Do. But due to technical complications experienced during the transition, Wunderlist remained available online while Microsoft was getting itself together.
A lot of the issues were due to technical porting challenges. As Reber explained, "Wunderlist's API runs on Amazon Web Services, and should then be ported to Azure. But that was extremely time-consuming, so everything had to be rewritten."
There was a lot of uncertainty surrounding the future of Wunderlist. While it was known that Microsoft would eventually retire it, an official date or announcement hadn't been made, and the bumpy transition into Microsoft To Do left users very disheartened. It even reached a point where Reber offered to buy the app back to keep it running.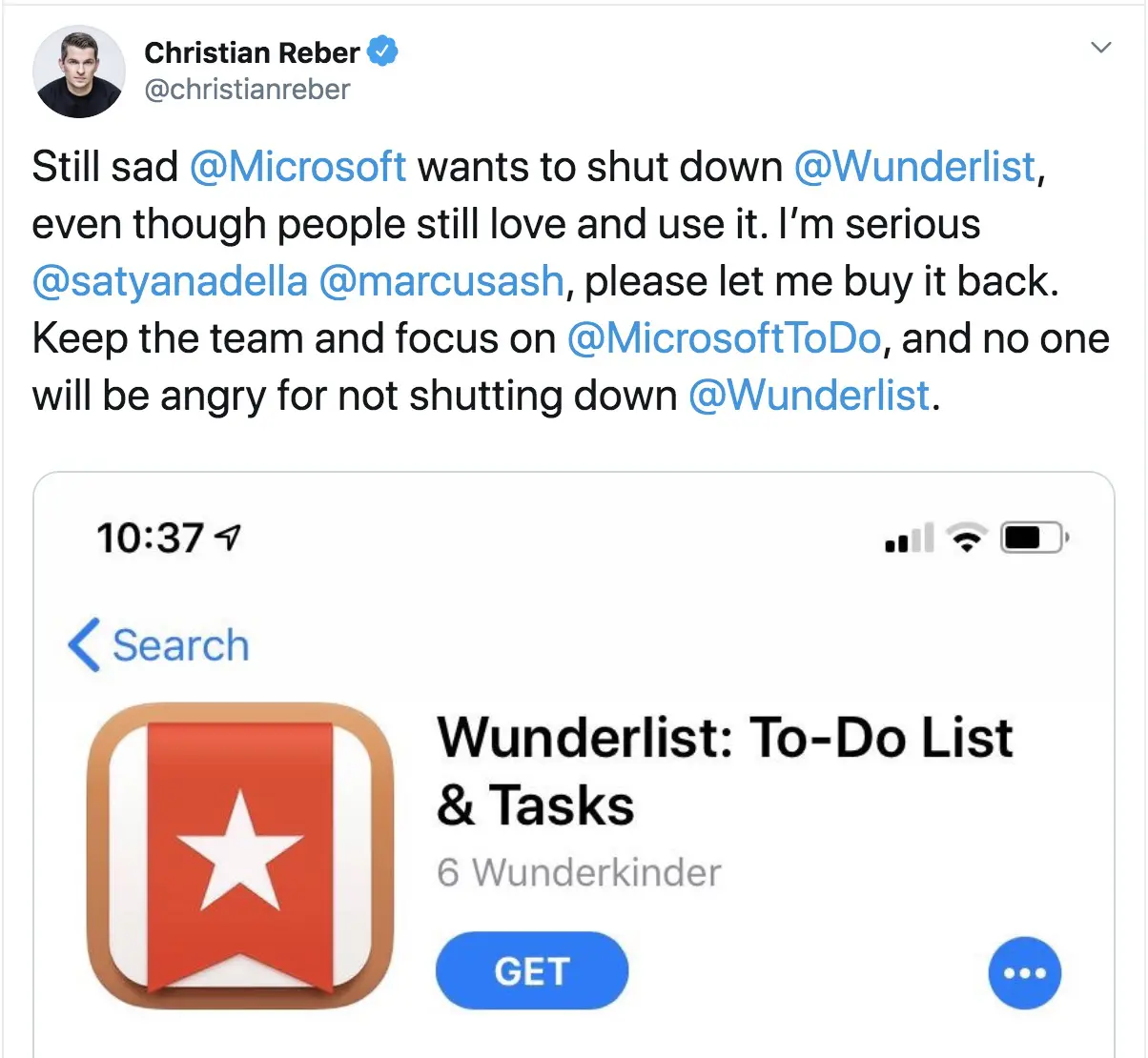 Considering Microsoft's reputation for buying successful apps and then discontinuing them, fans and commentators said that Reber should have foreseen the fate of Wunderlist once he accepted their offer.
Since the official Wunderlist shutdown date was announced in December, new users are unable to register for an account. Existing users, however, will be able to work on the web, desktop, and mobile platforms until the 6th of May, 2020. What access users have after then is still unclear, but the apps will no longer sync across platforms. This signals Microsoft's seriousness in discontinuing the beloved task management app.
---
Wunderlist's Impact
At the time of its launch, Wunderlist was a hit with many users. In comparison to what was on offer on the market, it had an intuitive interface and a collection of impressive features. The list-sharing feature, especially, was a favourite. It turned the app into more than just a to-do list, but a tool for collaboration. Since then, many apps have followed suit and the collaborative productivity software market is still on the rise.
The success of Wunderlist didn't just affect the productivity software market, but it also placed Berlin on the map as a credible place for starting a successful international business. 6Wunderkinder was the first Berlin startup to raise funding from Sequoia in California. Now, if you go to Berlin, you'll find that there's no room to swing a cat without knocking over someone who works for a startup.
---
Final Thoughts
Wunderlist's story is inspiring, especially for German startups trying to make their mark (hi 🙋). Perhaps the best thing about it is that Reber and the wonder kids didn't try to recreate the wheel, but instead, gave customers what they wanted. They took an everyday tool and made it better. And in thinking about what customers wanted, they took their dream of "reinventing project management" and turned it into a multi-million dollar product that will be missed by many.
Cheers,
Dinnie and the Zenkit team