iCalendar Subscriptions for Zenkit Calendars
Send your Zenkit items to any calendar app

We love the idea that Zenkit can be your one-stop shop for all your planning needs, but we know that sometimes you need an extra app or two. If you already regularly use a separate calendar, such as Apple Calendar or Outlook, then it just makes sense to get tasks from all over your life sent there.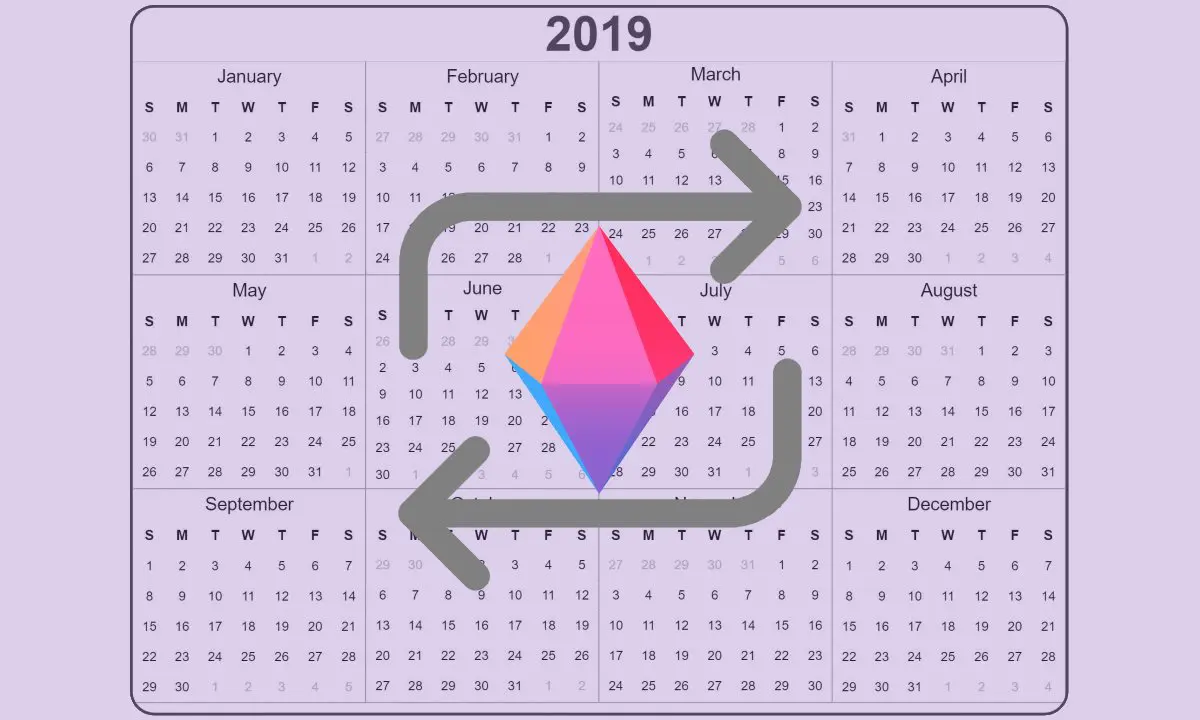 That's why we're so excited to announce the release of the iCalendar Subscription add-on. Zenkit's iCalendar Subscription lets you send your tasks and appointments to any other calendar app!
---
How It Works
iCalendar subscriptions are based on the open-source iCalendar standard and are a one-way link between one calendar and another. In this case, this add-on lets you get updates from your Zenkit calendar in your other calendar apps but does not send events from your other calendars into Zenkit or allow you to edit your Zenkit items from other calendars (unlike our Google Calendar Sync).
iCalendar subscriptions are super useful if you use one calendar app as your central source of truth for appointments and deadlines. The great thing about the iCalendar standard is that it's accepted by nearly every single calendar app, which means that you'll be able to get your Zenkit tasks in any calendar you like!
---
How to Set Up Your Zenkit iCalendar Subscription
First, you need to enable the iCalendar Subscription Add-on. To do so, click on the collection name of the calendar you'd like to share, then click 'Manage Add-Ons'. Click 'Add' next to 'iCalendar Subscription'.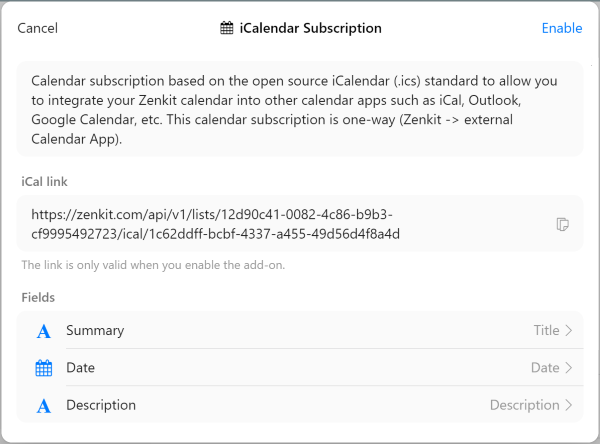 In the next window, you can pick which fields should appear in the calendar app you want to link to:
Summary: The title of the event in the destination calendar.
Date: The date the event should occur on.
Description: The description text inside the event.
Zenkit will pre-fill these options with the fields it thinks make the most sense, but you can change these at any time by clicking on the name of the field you want to change, and then picking another field.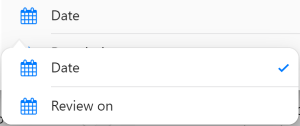 Once you're all done, copy the iCal link and click 'Enable' to make the link work.
---
How to Add Your Zenkit iCal Link to Your Other Calendar App
Every single calendar app has its own way of doing things, and we can't do a step-by-step for all of them! Here are instructions for a few of the most commonly used calendars:
If you want instructions for any other calendar app, let us know and we can update this list!
As always, you can find more information about the iCalendar Subscription add-on in our Knowledge Base.
Cheers,
Siobhan and the Zenkit Team
FREE 20 MIN. CONSULTATION WITH A PROJECT MANAGEMENT EXPERT
Wanna see how to simplify your workflow with Zenkit in less than a day?
Book a free demo