Mark This Day in Your Calendars…
The feature you've all been asking for is finally here!

Many of you have requested a more 'global' view of your projects. A place where you can track and manage multiple projects in one place…
---
Does Zenkit's calendar allow a 'global' view? So that I can see all my projects at once?
Thanks, Tracey
---
I did think of something else that I'd be interested in… I'm thinking of a combined collection for all of "my" collections. So for example, I want to see my daily task list, but I don't really want to have to switch collections all the time. So I'd want to have a calendar view of all my tasks from all collections, as an example.
Arden
---
Hi there, I was just curious, is it possible to see all of my tasks in different collections at once?
Thanks, Honza
---
So it's my absolute pleasure to introduce…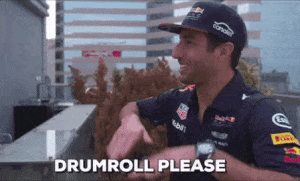 ---
The Global Calendar!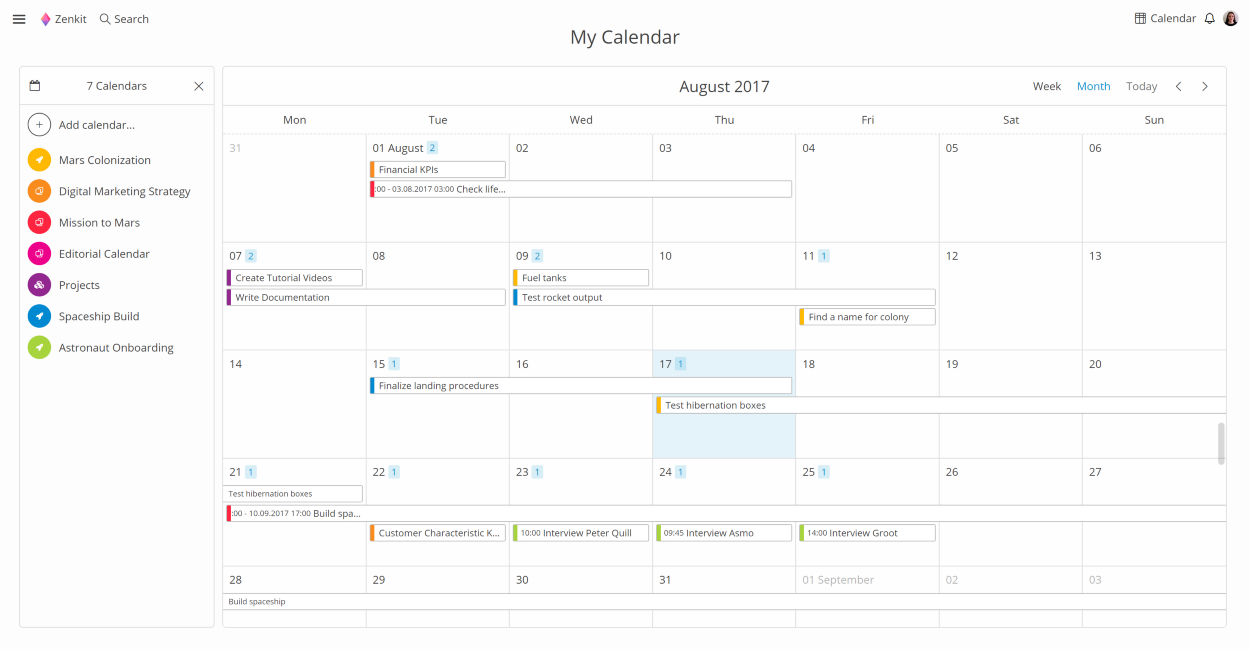 With the global calendar, you can select up to 10 collections to display in one big calendar view, and we are over the moon to finally share it with you guys!
Just like with a normal calendar view, you can drag and drop items around to assign dates. And from the calendar panel on the left, you can add items to any of the connected collections, toggle between scheduled and unscheduled items, and also search for items in a collection.
You can also toggle calendars on and off to focus on only the projects or collections you want to concentrate on.
Phew! That's a lot of features.
We've released it to all of our Plus users (did you know Plus members get early access perks?😉). If you're not a Plus member yet, don't worry, we will roll it out to everyone else soon too!
To activate the global calendar, just enable it from the add-ons section of your profile settings. You'll then be able to access it from the navigation panel or from https://zenkit.com/calendar.
Update: Learn more about how to use the global calendar in our documentation!
The global calendar is not our only big update…
---
Calendars Now Show Time Spans!
We made a big update to the normal calendar view for each collection! (And this time it's for everyone.)
If you have an event that lasts over a period of days (or even months), that information is now reflected in the calendar view. To show a time span, all you need to do is add an end date to an item!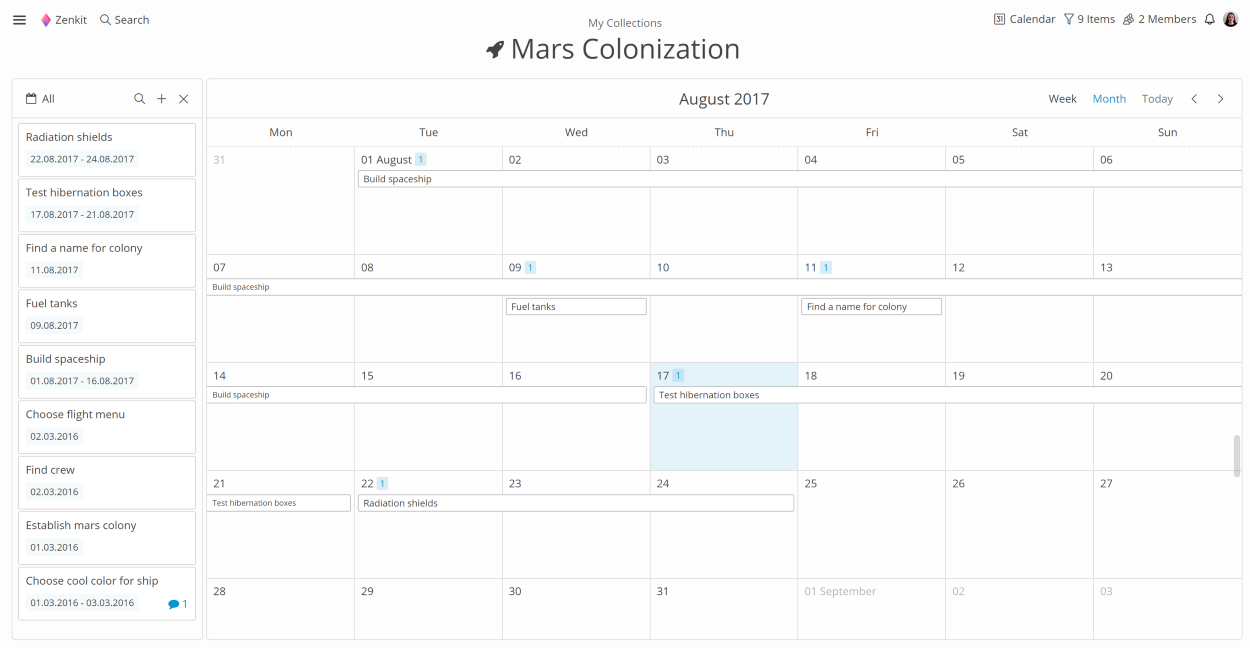 It's also much easier to navigate to different weeks, months, or even years now! (Just in case you need to schedule something for 2032).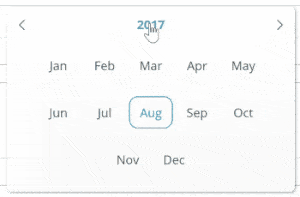 And lastly you can toggle between scheduled and unscheduled items and search for items from the panel on the left (just like in the Global Calendar).
---
Now, what would a big reveal like this be without a chat with the team behind Zenkit? Today, we'll hear from Philipp who is the brains (and brawn) behind the Global Calendar.
What is your favourite part of the new calendars?
The new calendar view is actually my favourite update. Showing date spans are much more functional, as you can see long-term events and get a real feel for time. We couldn't do that before, so it's an exciting new feature.
I also like the 'purpose' of the global calendar — to be able to track items from across all of your collections.
What was the biggest challenge you had during development?
An overwhelmingly popular request was to create date spans and we used feedback from our users to try to find the best solution. However, we needed to compromise between the visibility of items and the amount of information shown on each item.
The main goal of a calendar is to visualize dates. With the dates spanning across days, you now get a better sense of time, but we had to hide information such as label fields on the items. On the one hand, this can be frustrating if you want to see that information at a glance, but on the other hand, you can now see more scheduled items each day and the calendar looks clean and simple.
We're still tinkering with the display and hope to find a way to add field information back to the items without compromising the design of the calendar, but I think/hope that this is a good start for everyone!
So the calendars will continue to evolve… Are there any features you want to add or change?
We'd love to implement a mechanism to drag the edges of items to adjust dates without having to click into the item and adjust it from there. Recurring dates are another big request from our users, so that's in the works. And we also want to implement two-way sync with other calendar apps… (stay tuned for next week 😉)
Thank you for the awesome calendars, Philipp! 👌
---
That's it from me today. As usual, we'd love to hear what you guys think! Please comment below, send us an email or get in touch on social media. We'd love to chat about your thoughts, ideas, (or even complaints!) about the calendars 🤗
Cheers,
Siobhan & The Zenkit Team
FREE 20 MIN. CONSULTATION WITH A PROJECT MANAGEMENT EXPERT
Wanna see how to simplify your workflow with Zenkit in less than a day?
Book a free demo
READY TO TAKE YOUR BUSINESS TO THE NEXT LEVEL?
Sign up for a free demo and receive an exclusive discount. Limited slots available, act now!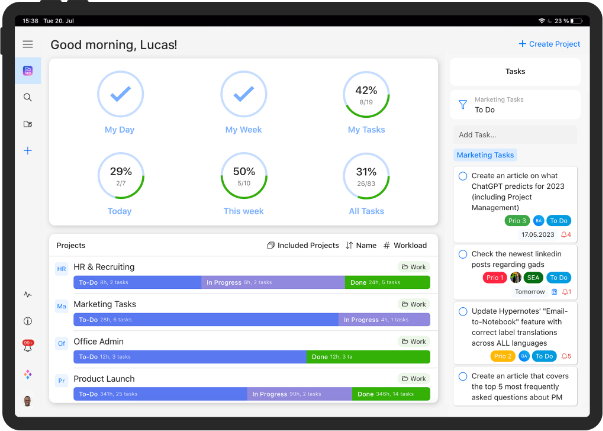 Book a free demo