Project Pipeline Management 101
A well-managed project pipeline can ensure that the project stays on budget and on time.

Project management is one of the most resource-demanding and time-consuming endeavors. Project managers are required to oversee a variety of aspects of the project. From managing the budget to ensuring the outcome meets the client's needs, all this is a direct responsibility of a project manager. 
But how do they manage to stay on top of all this? How do they ensure the project stays within the budget and gets delivered on time? 
The answer is they use a project management pipeline. 
In this blog, we will reveal the concept of project pipeline management, discuss its best practices and answer some of the frequently asked questions. So, sit tight and read on.
---
What Is a Project Management Pipeline?
Project pipeline management is an approach PMs take when overseeing and tracking all recurrent projects. It allows PMs to gain an overview of all the projects and prioritize high-value projects and tasks while also handling challenging situations.
A project management pipeline helps managers oversee the team's progress and timely address any issues that arise in the workflow. With a tool like this, project managers can ensure that project goals are met on time without exceeding the budget.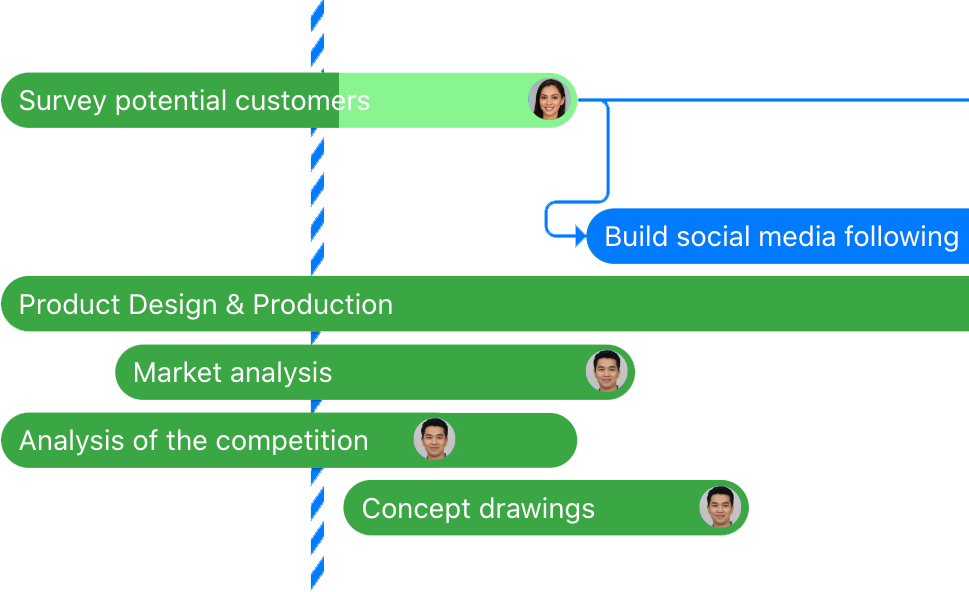 Get the most complete picture of your project pipeline.
Sign up for free today!

---
Five Stages of Project Pipeline Management
Project pipeline management is a complex process consisting of multiple tasks. In order to effectively manage a project's pipeline, it is essential to understand the five stages that constitute project pipeline management. Here they are.
1. Ideation
Ideation is the brainstorming phase where new ideas are generated. This phase is crucial to generating project proposals, which will further be deployed to produce high-quality projects. It is important to get insights from every team member during the ideation phase. You never know when a simple concept might turn out to be your best project, so do get everyone involved in this phase. 
Here are some additional suggestions to help you maximize the ideation phase:
Rather than using sticky notes to jot down ideas, encourage your team to utilize

project management software

to effortlessly collaborate and exchange ideas with one another. 

Maintain a record of crucial details about a concept, like its origin, the day it was formed, the criticism it received, and more.

It's crucial to get rid of ideas that don't work well together or can't be completed within a set time frame or realistic budget.
---
2. Idea Review and Analysis 
Only the most viable ideas reach this phase. This is where clients and/or stakeholders get a chance to review the project ideas and provide feedback. 
The next step is presenting your idea to the client and/or stakeholders. This is a phase of an active dialogue where aspects such as the project's scope, the budget, and the desired results are discussed and feedback from the client is received. 
This stage is important as it acts as a starting point for the entire team ready to get to work. A project cannot reasonably be started only because you feel positive about its success. 
You'll need consent from investors, business partners, industry experts, and even from your client if you want to get working on the new project.
---
3. Project Planning
After obtaining the client's approval, it is time to sit down and do some planning. Planning enables you to divide your project into smaller tasks, distribute them to proper team members, and closely observe the team's progress on every assignment.
Mapping out a project plan is a time and resource-consuming task, but project managers can simplify this process by following these steps:
Create a team and assign each member jobs and responsibilities.

Create tasks for the project and their sub-tasks.

Set deadlines for each task.

Schedule regular meetings to track progress and address issues. 
Share the plan with the entire team after it is finished to ensure everyone is on the same page. Each team member needs to be fully informed of their duties and the expectations of the company.
---
4. Project in Progress
The real work starts when projects enter the "In progress" phase. While this phase is the longest and most complicated of all, there are ways to navigate it and make this stressful stage an easy one.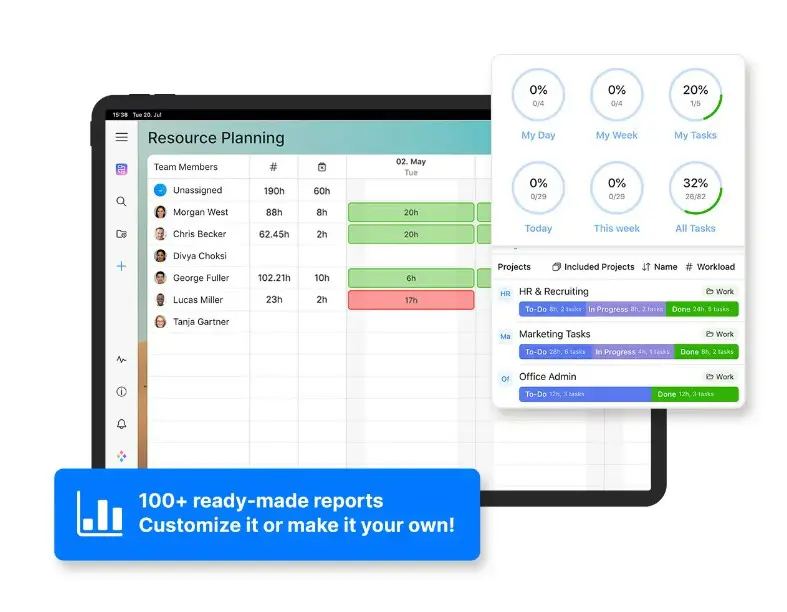 Here they are:
Update the status of tasks along with their due dates. This will help you stay on top of task progress. 

To ensure that everyone is on the same page, hold regular team meetings. This will help the entire team stay up-to-date with the project's progress. 

Monitor key performance indicators (KPIs) and evaluate performance. This will allow you to ensure you are moving steadily and confidently toward the final project goal. 

Determine the issues and fix them. This will help you stay on track and not go beyond the deadline. 

Report progress to important stakeholders. Your clients will also want to be aware of the project's progress, so do keep them informed. 
The Project in Progress phase takes up the most time and effort out of all the phases that make up a project pipeline. Constantly dealing with clients, other managers, and various team members on a daily basis is common for this project stage.
---
5. Completed Projects
After a project is finished and delivered to the client, it enters the Completed Projects stage.
You can now rejoice that the project has been completed. But don't get too excited about celebrating. 
It's crucial to evaluate your performance and resolve to some introspection to identify any areas where you could have done better.
And don't forget about your team. Choose and reward the best workers who made finishing the project simple. After all, it is the team members who are the most valuable asset of any company and who bring the most value to the table.
---
Best Practices of Effective Project Pipeline Management
A properly maintained project pipeline is your roadmap to completing the project. It offers helpful information about the due dates, progress, and status of various projects. It also helps spot any hazards or bottlenecks that might prevent the project from progressing. Here are a few of the greatest techniques for managing your project pipeline efficiently.
1. Invest in a Project Management Tool
Project management tools allow you to expedite all project stages, from ideation through launch and everything in between. This type of task management software reduces cumbersome workflows and enables you to improve the entire project management process from start to finish task management, project visualization, communication, and reporting tools.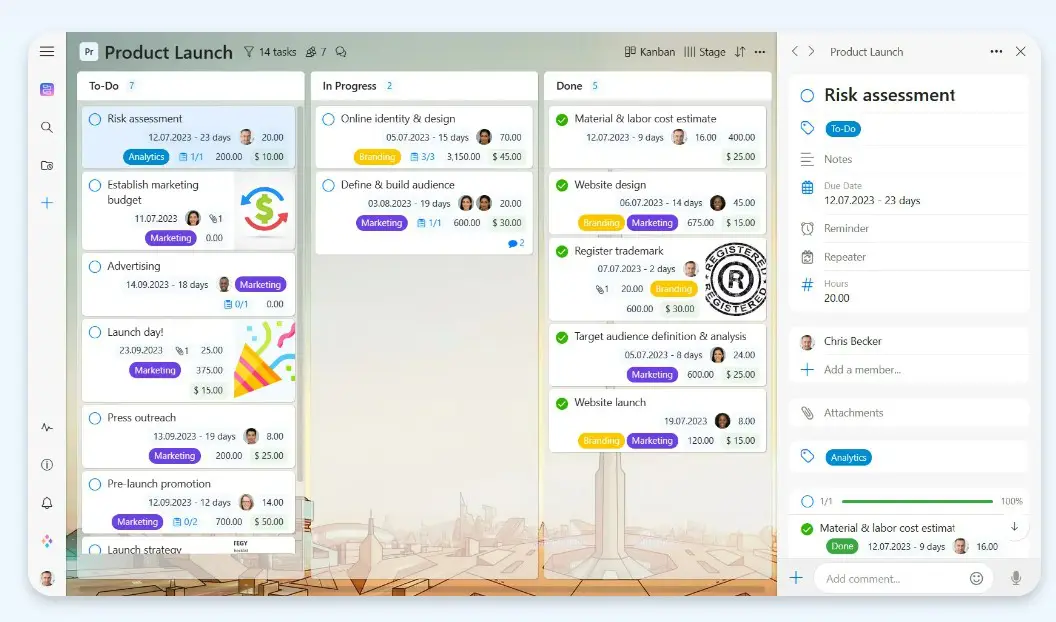 Zenkit is a project management software that helps project managers and teams manage their projects effectively and stay on schedule.
---
2. Present the Project Pipeline Visually
Visual representation is the most efficient approach to conveying detail-intensive information about the projects in your pipeline. You can make graphic stories about how the projects are being managed, tracked, and executed by using design templates to create high-level representations like roadmaps, timelines, bar charts, and sequential diagrams.

The tasks within your project management pipeline can be organized into categories like "to-do," "in progress," "done," etc. allowing you to use this as your project dashboard to monitor project progress.
---
3. Thoroughly Assess the Resource Pool
The most important aspect to consider before beginning any project is to ensure that you have the resources to finish the assignments on time. Without evaluating the capability and competency of your team, making any commitments could ultimately thwart your efforts toward accomplishing the project goals. 
Assess your resource pool by gaining a general understanding of the organization's capacity and skill set necessary to complete each task.
---
4. Make Accurate Estimations
The success of any project is directly impacted by how accurately project parameters are estimated. The timely completion of the project will be hampered if there is a discrepancy between your estimation of project resources and the actual resources required to execute the important tasks. 
So, in order to guarantee the timely and cost-free delivery of the results, the project managers must create accurate estimations of project deliverables during the planning stage. Project managers must first evaluate the project budget, potential hazards, goals, and profits in addition to the resourcing strategies, and only then can they get the project going. 
---
5. Create a Portfolio Roadmap
The portfolio roadmap is a powerful time-management tool that allows project managers to visualize all active projects against a timeline. This helps project managers see where certain projects are stuck and make any necessary changes in the workflow to help the project move forward. 
Project managers can add other important metadata, such as milestones, strategic goals, etc., on the roadmap in addition to the start and finish dates of the projects in the pipeline. That way PMs will be able to present the full project picture to the stakeholders.
---
Examples of a Project Management Pipeline
As discussed earlier in this article, the project management pipeline holds a crucial role in the project management process. It helps PMs oversee the entire project completion and resolve all bottlenecks before they grow into serious problems capable of compromising the entire project completion. While a project management pipeline can be used to manage almost any type of project, it is mostly used in marketing, sales and product development.
1. Marketing Pipeline
One of the best examples of applying best practices of project pipeline management is in marketing. Marketing managers use project management tools to manage tasks such as content creation, social media management, marketing strategy development etc. Teams can assign tasks statuses as simple as "in progress", and "completed", or expand upon them to include more details and re-assign tasks to other team members. Teams can also use the tool to communicate with each other and minimize any misunderstandings when it comes to defining who's responsible for what. 
The functionalities of the project management tool in this capacity are almost limitless and can expand depending on the project's progress.
---
2. Sales Pipeline
Sales are one of the areas where a project management pipeline is most frequently used. Pipelines are used by sales teams to track leads as they move through the sales cycle. Sales managers can be missing out on important information about how successful their sales process is and where their deals are at any one time if they aren't using a sales pipeline.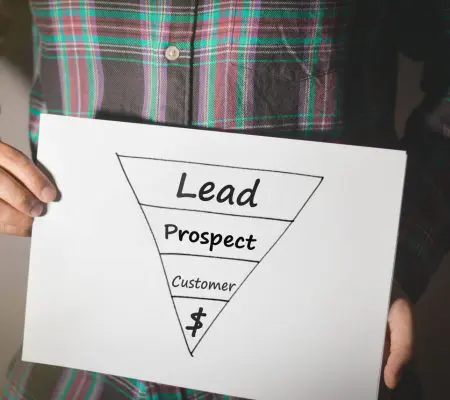 Just like the project management pipeline, the sales pipeline consists of stages such as prospecting, qualifying, contacting, building relationships, closing and following up with cold leads. These stages help track the progress of the deal from prospecting to closing. Sales pipeline stages help sales managers smoothly track deals and activity if they are correctly implemented, managed, and updated.
---
3. Product Development Pipeline
Another common use of the project management pipeline is in product development. A pipeline can be used by product development teams to manage data, conduct tests, and handle delivery. It also helps facilitate effective communication and collaboration as team members use a single platform to stay connected and coordinated throughout the product development process. 
---
Final Thoughts
Project pipeline management allows PMs to visually follow a project's progression through its many stages while adhering to time and budget limitations. It is a great project management practice that can help teams stay organized and focused on their goals. It is also a great way to keep clients and stakeholders up-to-date with the project's progression. If you are looking for ways to improve your workflow and achieve goals faster, a project management pipeline is the go-to solution.
---
FAQs
1. What is a project pipeline tracker?
A project pipeline tracker is a tool PMs use to keep track of the project's status, bugs, due dates, budget, etc. 
It allows PMs to effectively manage every aspect of their project, from the beginning to the end. It also offers a comprehensive analysis of the project's progress which is extremely helpful in important decision-making.
A project pipeline tracker helps plan, monitor, and assess the advancement of a project. Additionally, it helps set efficient workflows and structured management procedures.
2. Why is pipeline management important?
The importance of pipeline management cannot be overstated. It provides a comprehensive view of all of your projects and helps with planning your project budgets and other resources. 
It also allows you to monitor the status of your projects and evaluate the performance of your team if you are a project manager. 
3. What is the difference between a project management pipeline and project portfolio management?
A project management pipeline should be looked at as one of the methods used for project portfolio management. A project portfolio can be managed using old-school methods such as files, folders and spreadsheets. Or, it can be managed by utilizing more innovative and digitized tools and strategies such as project pipeline management. 
FREE 20 MIN. CONSULTATION WITH A PROJECT MANAGEMENT EXPERT
Wanna see how to simplify your workflow with Zenkit in less than a day?
Book a free demo