Introducing a Brand New Zenkit Design
Enjoy a more intuitive, more beautiful, more modern Zenkit

We've been pretty quiet on here recently, and for good reason – our dev team have been hard at work redesigning the entire app from the ground up! Zenkit's new design is cleaner, more modern, easier to understand, and way more mobile-friendly.
We loved our old design, but it lacked a coherent structure, having been built upon bit by bit over the years. Each new menu was written separately, every new feature was designed on its own, and the app wasn't that fun to use on mobile devices. We decided to unify the whole design language of the app while improving mobile usability:
"We needed a flexible solution for dialogues, that would work on desktop, tablet, and mobile. The framework we came up with allows us to display dialogues in multiple modes (dropdown, modal, inline) and the mode can vary between devices. Even better, dialogues can be stacked on top of each other or reused separately in different contexts.
There simply wasn't a framework or library out there that was capable of doing this on the web, so we built one ourselves."
Jesse, CTO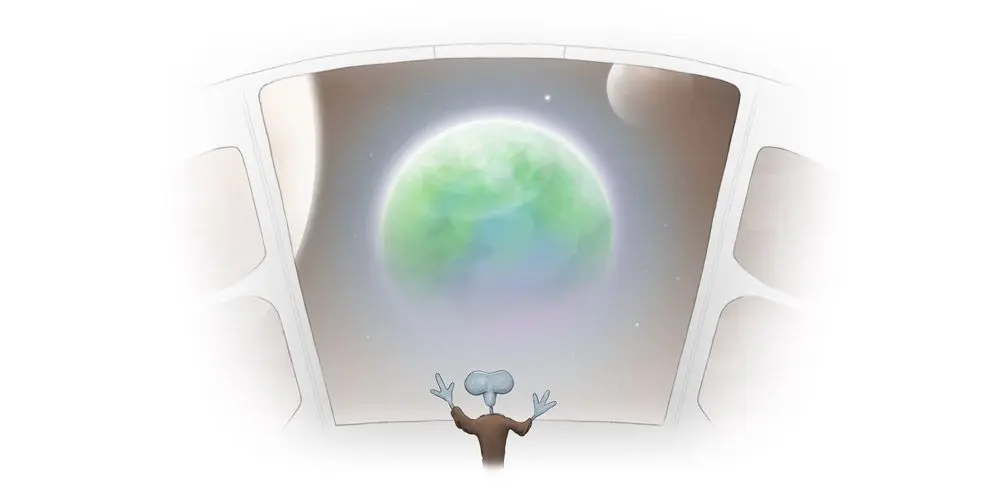 ---
So what's new? Well, everything, and yet, not all that much! This is still the Zenkit you know and love, and most things are still where they used to be, just slicker and with way cooler animations. The first thing you'll notice is the way items, menus, confirmation dialogues, and all manner of text entry points all adhere to the same design rules now. But we can be a bit more specific than that…
---
Mobile Updates
An all-round better UI & UX
Since the user interface and user experience on mobile devices (particularly iPads and other tablet devices) were what initially encouraged us to give Zenkit a design update in the first place, it's only fitting that we start by highlighting the new features we've added to the mobile apps.
The team worked hard to ensure that the mobile apps looked and behaved as you would expect from a native app. Buttons are bigger, the text is better-spaced, the navigation animations are much clearer, and menus are easier to find. Binary actions such as subscribing to or downloading a collection, toggling default settings in a field, or managing notification settings are now controlled using simple toggles. Common mobile behaviours such as swiping to perform certain activities are enabled, and it's now easier to share from other apps directly into Zenkit. The apps will be available in the next couple of days. So let's get down to the details:
Swipe gestures on mobile
iOS users rejoice! The swipe gestures you know and love are now a part of Zenkit, too! (And, of course, they're also available for Android users ;)) There are a few places where swiping comes into play:
Home screen:

On a collection: Swipe right to archive, left to add an item or open settings
On workspaces: Swipe left to open settings or add a collection
On global views: Swipe left to open settings

In an open item:

Files: Right to delete, left to download/open a link
Members: Right to remove
Checklists: Right to remove
Collection / Workspace Members: Right to remove

In the notifications menu: Right to mark as read/unread
In list view: Right to archive an item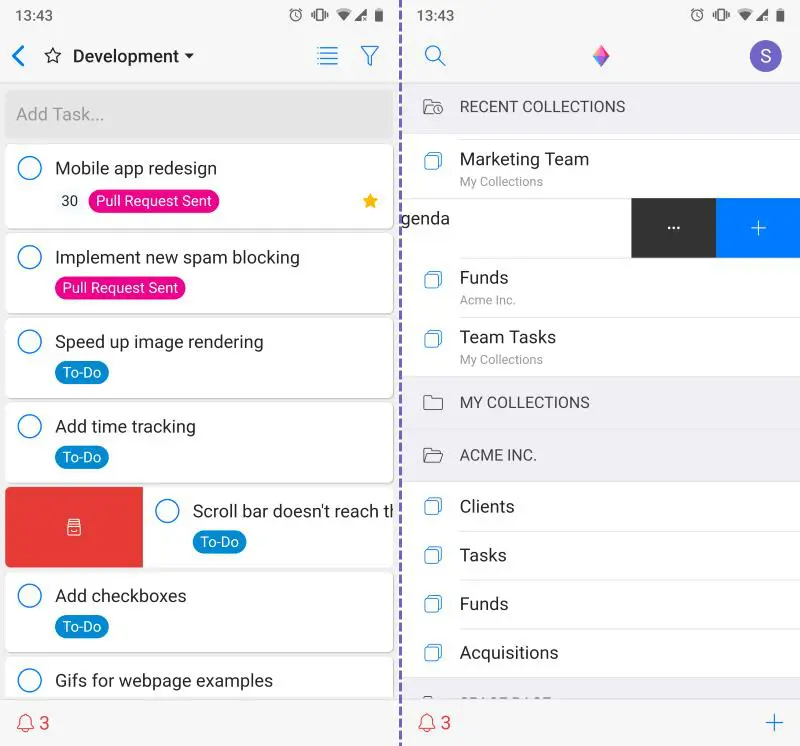 Share files to Zenkit from any other app
You can now easily share links, images, documents, and more to a new item in Zenkit via your phone's 'Share' function! When you share a file, you can pick the collection you want to add to, give the item a title, and assign a due date.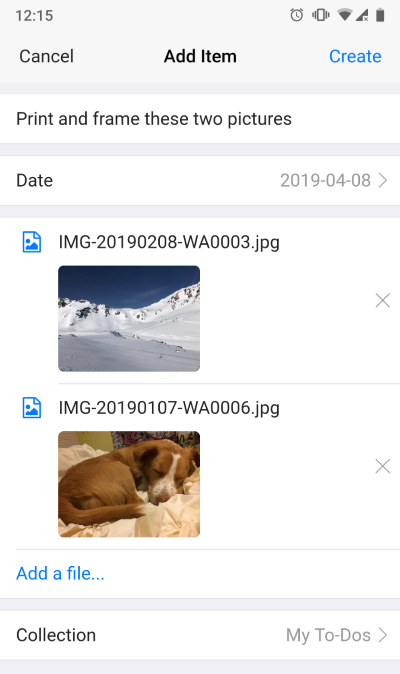 Once added, the new item will open and you'll be able to add any further details. This sharing feature will, of course, be expanded in the future, with options to add to existing items and to enter data for other fields immediately in the share panel.
Shortcuts/Quick Add
For phones that support it, you can now add items and search your Zenkit collections by long hold on a Zenkit item!
Open the camera from the 'Add files' button
You can now add a photo directly from your camera by selecting the 'Take photo' option from the menu that appears when you click 'Add a file…' on any item.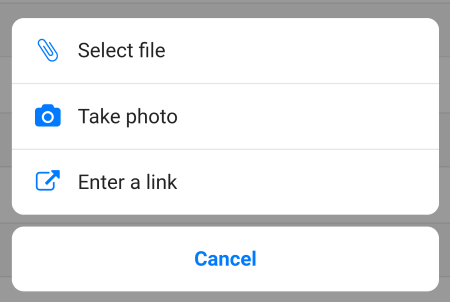 ---
All-Round App Updates
Of course, we didn't just update the mobile apps! The design update applies to all versions of the app—web and desktop apps included. Many of the changes are just tweaks to the existing UI, however, there are several areas where we've made some big changes or added new functionality, which I'd like to highlight here.
New Profile, Collection, and Workspace settings
One of the biggest visual changes is the way our settings dialogues appear, and this is especially visible in your profile, as well as workspace and collection settings dialogues.

These new settings dialogues open with a single click (instead of the sometimes multiple clicks needed to open them in the past). Now, all actions are kept in the sidebar to the left, while settings are manipulated in the main panel on the right. If you enable an add-on, you will see it listed at the bottom of the actions panel so you can change your add-on settings directly there.
We feel that this new layout makes it much quicker and easier to find exactly what you're looking for, and reduces the number of clicks needed to get anywhere.
Public vs private views
A new collection-specific feature we're fond of is the new public and private views. Now, whenever you create a saved view (with or without an attached filter), you can choose whether that view is available to all users of the collection, or just shown to you. Private views will appear at the top of your view list, followed by public ones.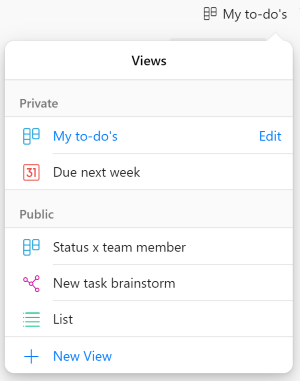 You can re-order them within their groups, and whenever you create a new view, it's automatically marked as 'private' unless you toggle it back to 'public'.
New saved filter settings
Not to be outdone by the views menu, we've made some changes to how filters look, too! In our new design, saved filters can be accessed by a 'Saved' tab within the menu: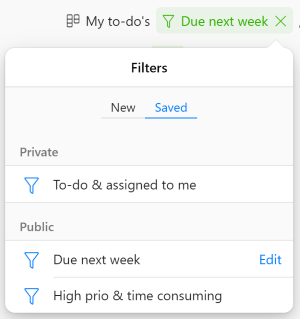 Filter settings have also received the 'brand new menu' upgrade, with lovely slide effects, clearer button hovers and a more logical layout.
More attached filter options
It used to be that when you wanted to add a saved filter to a view, you needed to first have that filter active.  Now, you can pick any saved filter from your list to add to any view. It's also now possible to add or change filters on a view from the mobile app 👌
New menus for field settings and activities
Field settings and activities have had a boost, too. You can still access them by clicking on the name of the field, but now it directly opens the field properties menu, with various field actions shown underneath the properties.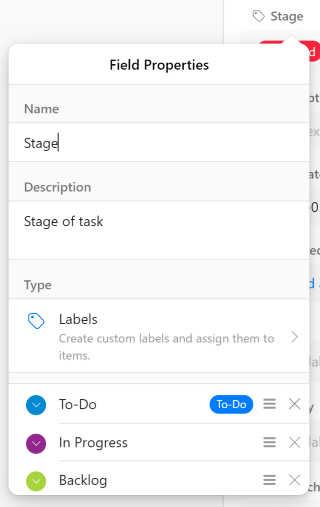 Quickly add or remove labels, edit field descriptions, toggle default settings on or off, or take advantage of field functions like duplicating, using bulk actions or setting a field as the Kanban grouping order all in one place.
Export button for mind maps
Finally! Export your mind maps in their entirety to .png format. The mind map export button can be found in the top right-hand corner of the map and will export your entire map in a streamlined, easy-to-read map.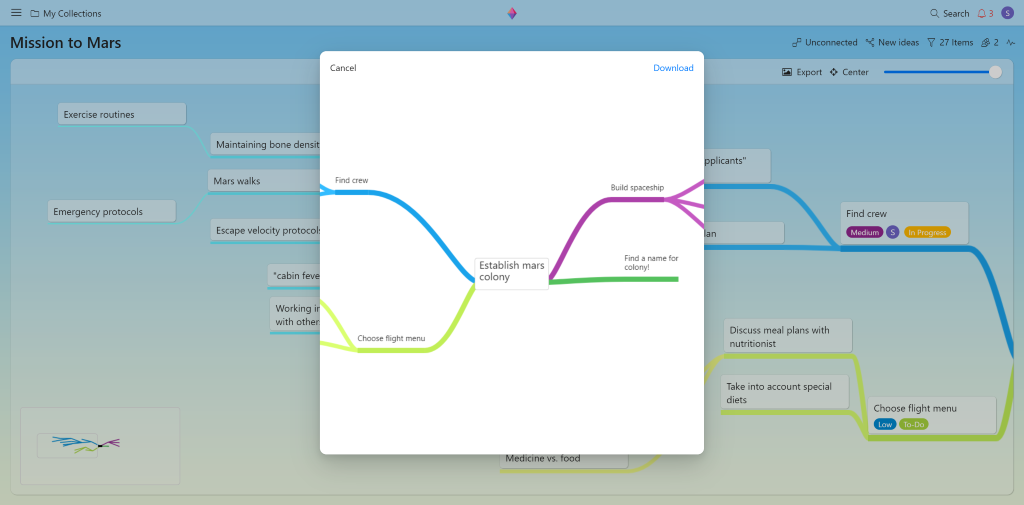 "More" button for activities
Accidentally deleted everything you wrote in a text field? Now you can retrieve that info by clicking 'More' under the activity to find your original text. This will open a panel that contains the entire text that was in the field before it was deleted. You can also comment on the activity from this panel (even if it's just to let your colleagues know you're putting everything back where you found it!).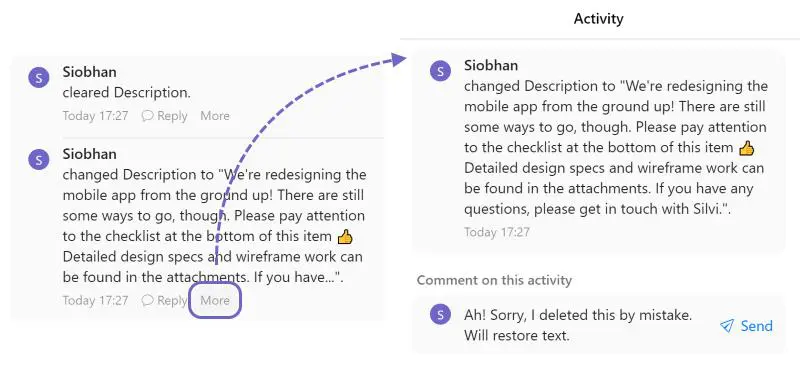 18 new label colours
Last, but not least! 🌈 Pick from a range of 32 colours for your labels to help differentiate your tasks & make your coloured items stand out!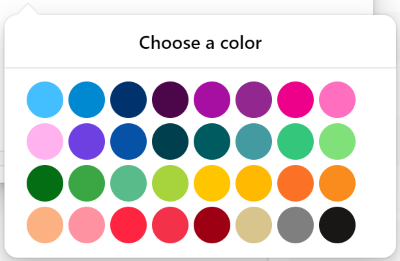 ---
That's not all…
We've been busy creating a whole lot of exciting new features which we'll be rolling out over the next few weeks (including a new way to connect Zenkit with other apps.. 😉). This update also has a whole host of bug fixes and little tweaks around the app that makes using it much more of a pleasure.
We hope you love the new design as much as we do! Please feel free to leave your thoughts and feedback in the comments below 🙏
Cheers,
Siobhan and the Zenkit Team
FREE 20 MIN. CONSULTATION WITH A PROJECT MANAGEMENT EXPERT
Wanna see how to simplify your workflow with Zenkit in less than a day?
Book a free demo
READY TO TAKE YOUR BUSINESS TO THE NEXT LEVEL?
Sign up for a free demo and receive an exclusive discount. Limited slots available, act now!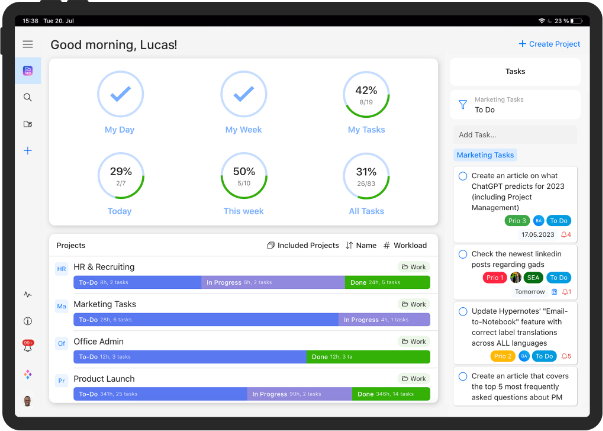 Book a free demo