How to Get Press Coverage for Your Product
Learn how to write the perfect media pitch.

After crafting the perfect product, the natural next step is to spread the news about it to the world, especially to your target customers. Pitching to the media is a great place to begin telling people about your product.
---
What Is a Media Pitch?
A media pitch is a brief elevator pitch sent via email, letter, or phone call to a journalist that is tailored to that journalist's interest. So in this case, it is a summary of your product that you send to media outlets in the hopes that they will give you coverage. 
---
How to Write the Perfect Media Pitch
Let's go over the four most important steps to get the attention of the media outlets you're after:
1. Select the Right Prospect
Every journalist has a unique area of specialization known as a beat. Therefore, you'll first need to do a bit of research to find out which media outlets are most likely to be interested in covering your product. 
You can easily create a Zenkit Collection, for example, indicating the media outlet, the relevant journalist's name, and their contact details:

Once you've done this, create a list of relevant media outlets you can send the media pitch email or letter. If your product can be used by the general public, then you can reach out to general media outlets like Buzzfeed and HuffPost.
However, if your products can only be used by a specific demographic, then you'll need to create a list of target industry-specific publications and influencers. It will also help you improve your productivity as you reach out to and follow up on your media contacts.
A pro tip is to look for media outlets with higher engagement than those with high traffic but little engagement. 
Ultimately, researching the beat of each journalist or media outlet helps you to knock on the right door. It increases your chances of getting that door opened to you and your product. This media list will come in handy in your subsequent product idea launches, too. 
It also helps you personalize your pitch, making it more effective than a general email pitch. Let's talk more about personalization next.
---
2. Personalize Your Pitch
In answering the question "what is a media pitch," personalization will always be part of that answer. According to Fractl, 42% of journalists receive about 11 to 100 pitch emails daily. 
Additionally, 80% of PR professionals say that customization, personalization, and relevant topics are the key to successful media pitches. Therefore, personalization is important when it comes to boosting your response rate. Below is a personalized pitch example.

I can tell you that journalists know a lack of alignment with the journalist's beat is a sign that you are sending out emails without doing enough research. To effectively personalize your pitch, you can:
Show that you are familiar with the media outlet in question

Mention individual articles that the journalist has written previously

Demonstrate an understanding of the journalist's readers and their preferred topics

Provide links to statistics and other relevant information from reputable sources. Ensure the statistics align with the journalist's beat

Provide your contacts details and make it easy for them to reach you (email address, phone number, and references)
Personalization allows you to show your target media outlet that you have done your research and have a product that is relevant to their audience. So for your current and subsequent product launches, take time to personalize each pitch to increase your chances of getting covered.
---
3. Create a Captivating Hook
Journalists are busy people. A great way to capture their attention is to use the hook of your story at the beginning of the pitch. Considering the sheer volume of pitches journalists get, a hook will help you grab their attention from the word go.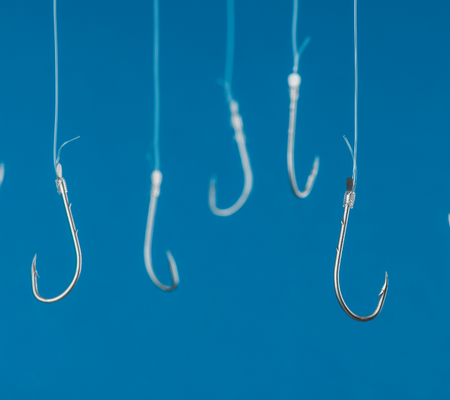 Journalists love to read new news stories about things happening within their areas of interest. So make sure to indicate how your product is going to revolutionize the industry you're in. A captivating hook can take the form of;
A controversial or interesting take on a topic the journalist covered from a reputable source

Obscure newsworthy stories that are unique enough that the journalist may not have read them before

Highly relevant story ideas related to their previous work. You may even reference a piece or two that they have created in the past
For instance, let's say you're a SaaS startup and you have a product that aligns with a current innovation within the tech industry. This can make for a great hook, especially if the journalist covered this innovation in one of their publications. 
If you can't find something that can serve as your captivating hook, you can always ask for help from the experts. A digital PR agency, in particular, a retail PR agency, can help you find the product feature you should highlight in your media pitch to ensure media coverage. 
---
4. Follow Up
After writing a media pitch, you will rarely get an immediate response. So follow up with your prospects. A study by Backlinko found that you are two times more likely to get a response when you do this. Following up will help ensure your pitch gets the attention it deserves from your target journalists. 
Here's an example of a follow-up email to a media pitch. The pitch isn't for coverage of a product, but it has the same characteristics a pitch for product coverage should have–it's straight to the point and refers to the original email sent: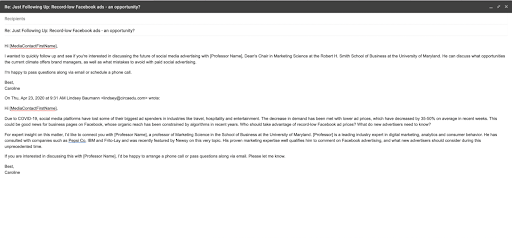 You could use an excel sheet or Gantt chart view to keep track of your pitches and how many times you have followed up with each contact. If you didn't get a response to your pitch after following up, it could mean:
You did not choose the right journalist for the pitch

You did not provide value 

You did not develop a captivating hook 
Once you have the above points factored into your media pitch and have sent it out, follow up within the first week to boost your chances of getting a response.
A bonus tip is to use terminology management software to achieve brand consistency throughout your emails.
---
Final Thoughts
What is a media pitch? It's something companies should know how to answer if they want to gain the maximum exposure for their brand. Companies must make use of media outlets and influencers to reach their target audiences. So being able to write a compelling media pitch is critical to the success of your product.
The first step to creating a successful pitch is to select the appropriate media outlet that would be interested in covering your product. Secondly, make your pitch personal and relevant to the media outlet or journalist you intend to send it to. Create a captivating hook to grab the journalist's attention and finally follow up on your prospects after some time. Whether it is an email pitch or a pitch letter, taking these factors into consideration will help you get coverage for your products.
---
About the Author: Chris Norton, Founder of B2B PR agency Prohibition, former University lecturer, author of "Share This Too" and his social media training blog which is listed in the UK's top 10 PR and social media marketing blogs.
FREE 20 MIN. CONSULTATION WITH A PROJECT MANAGEMENT EXPERT
Wanna see how to simplify your workflow with Zenkit in less than a day?
Book a free demo