Zenkit 2.0: Task Lists, Wunderlist Import, and More!
Collaborate better, get focused & organize your life

Today we released a big feature update that we hope will help you collaborate better, enjoy your work more, and simply get more done!
✅ Task lists
⭐ My Favorites
👯‍ My Team
We have also released our Wunderlist import, so you can move your lists over in a flash. These features are a huge step towards achieving our goal of becoming the perfect task management tool. We hope you enjoy them!
---
✅ To-do lists, Zenkit Style
Do you like checking tasks off as you get them done? Does that little ping of completion put a pep in your step? Does watching your task list get shorter and shorter make the little productivity-ist inside of you glow with happiness? Then do we have the feature for you!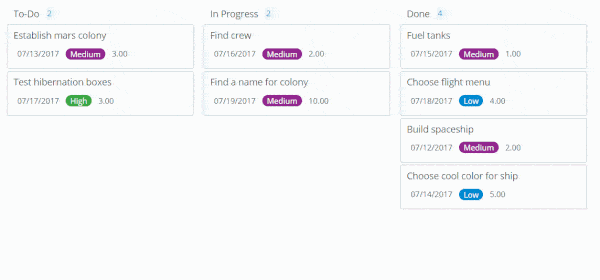 With the 'Task Lists' add-on you can upgrade your Zenkit collections into the kind of to-do list you'll recognize from Wunderlist, Todoist, Google Keep, Remember The Milk… Pretty much any to-do list app out there!
When you enable the task list add-on, you'll be able to check tasks off in any view with a single click. But just like the rest of Zenkit, this neat little feature is a lot more flexible than you'd first expect…
The task list feature works with any label fields you have — so yes, you can move an item from 'to-do' to 'done' with a click, but you could also move it from 'in progress' to 'published' or 'not urgent' to 'urgent'.
This feature can be enabled for any collection, and you can choose which label field and labels you want to use in each collection.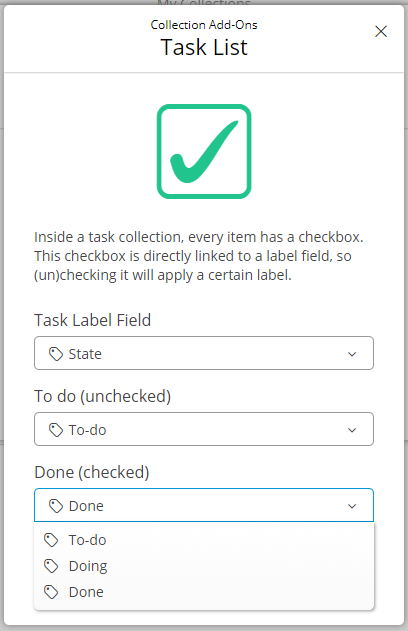 Anywhere you check the box, you'll see the change reflected in every view.
Learn more about Task Lists.
---
🔺 Wunderlist Import
Our to-do list update wouldn't be that useful unless you were able to import your existing lists, right? So we're pretty excited to release our Wunderlist import, too! You guys use the Trello import a lot, which makes a lot of sense because a lot of users have already started a project there and don't want to start all over again in a new app. So with Wunderlist, we wanted to give you the same opportunity.
To import from Wunderlist, just select it from the import options when you create a new collection.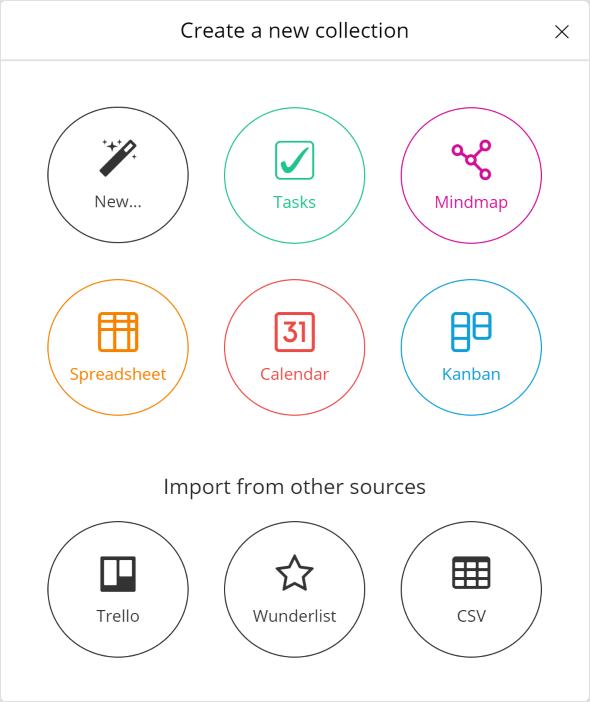 We're so happy to be able to roll this out to you all. We've had a lot of fun testing it over the last few weeks, and hope that you'll get as much enjoyment out of it as we do!
Learn more about importing from Wunderlist.
---
⭐ "My Favorites" for Zenkit
Many popular apps let you 'Favorite' things. It's a great way to track your personal favorites, be they Tweets, Instagram images, or even tasks on your to-do list. We wanted to let you do the same thing in Zenkit, so we made the "My Favorites" add-on!
How does it work?
"My Favorites" is another global add-on, which means that it lets you collect items from across your entire account in one place. It's a private view, so nobody else will know which items are your favorites, and which aren't.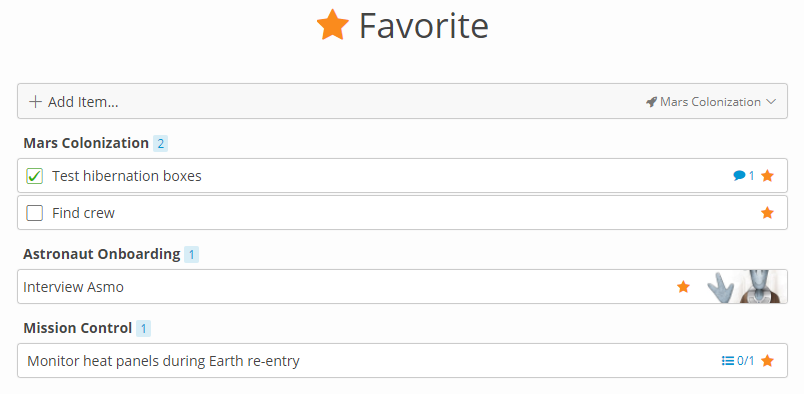 By default, when you activate favorites, it simply lets you tag any item in any collection as a favorite. You can then view all of your favorites in a single space by opening the favorites view from the navigation panel.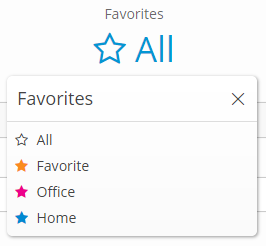 You can choose to set up multiple favorite tags (kind of like a global labelling system). When you go to mark an item as a favorite, you can choose which tag to give it, and then view that item in a favorites list.
Of course, we also let you choose the colour of the tags, and we're pretty in love with the confetti explosion too!

Make Favorites work for you
Personally one of my favorite ways to use favorites is with a 'Pomodoro' tag. I am absolutely obsessed with using the Pomodoro technique, as it's one of the few time management methods that's had a massive positive impact on my productivity.
I have a Pomodoro tag set up, and each day when I'm assessing my list of things to do, I assign that tag to the tasks I want to focus on for the day. That way, instead of looking at a cluttered Kanban board containing everything that needs to be done, I have a focused, distraction-free view of my most important tasks for the day. When I'm done with a task, I remove the label and it slides out of view.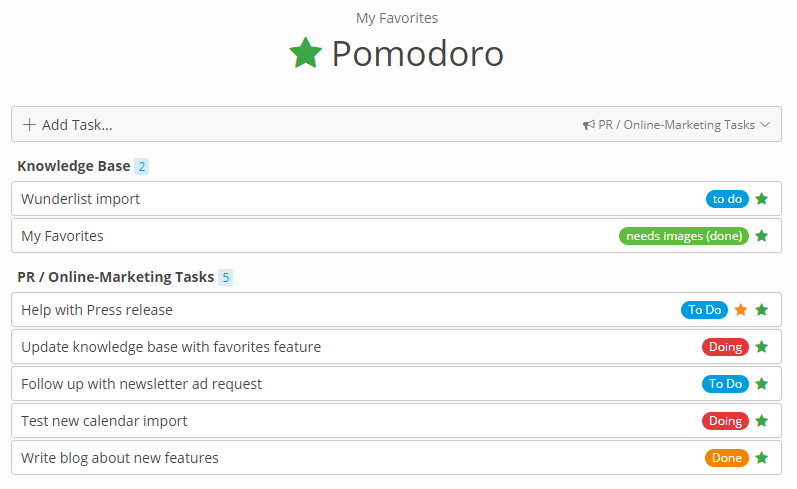 But of course, that's just one way to use it…
Pomodoro works for me, but maybe GTD is your go-to productivity booster. For example, you could set up a favorites tag for each of your context lists (locations). Just check your 'At Work' list as soon as you walk into the office, or switch over to 'Errands' to look for things to do on your way home.
Or maybe you don't use Zenkit to manage tasks at all, but use it instead to collect recipes, track your stamp collection, or share family photos! With favorites, you can clearly mark the pictures that make you smile, bookmark your most precious stamps, and save the recipes that wowed your friends and family at your last dinner party.
Learn more about My Favorites.
---
👯 See All of Your Work in One Place with "My Team"
Many of you have requested a way to see tasks assigned to you from across different collections in one spot. And we've delivered. Like My Calendar, 'My Team' is a global view that draws information from across your entire account and displays it in one intuitive list.
We hope that this view will help you collaborate better, delegate work more easily, and understand your colleague's workflows more intuitively.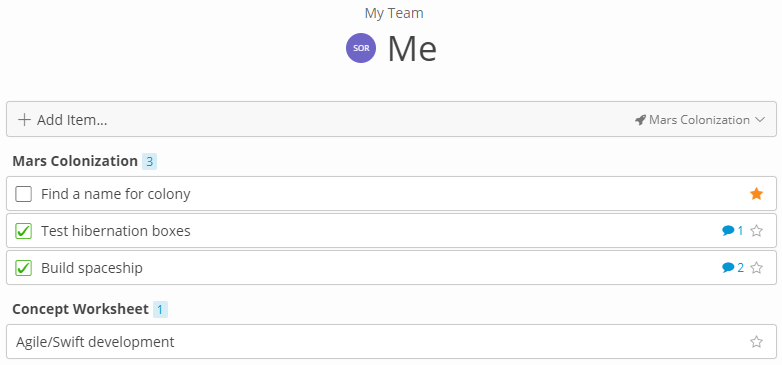 So what does "My Team" do?
The assigned items view shows you all items that you are assigned to from any collection in Zenkit. But that's not all!
You can also use it to see which items are assigned to anyone you're collaborating with!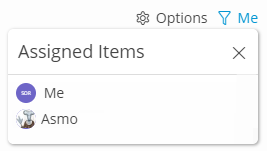 Not sure what a colleague's work structure is? Want to see if someone has a little room in their schedule to finish up a task? Easily switch between your colleagues' profiles to view their workload and even assign items to them in any collection!
Learn more about My Team.
---
These new features are live and available to every single Zenkit user.
We hope you all enjoy them! Please feel free to comment below or send us an email at hello@zenkit.com with your thoughts. We can't wait to hear from you.
Cheers,
Siobhan and The Zenkit Team
FREE 20 MIN. CONSULTATION WITH A PROJECT MANAGEMENT EXPERT
Wanna see how to simplify your workflow with Zenkit in less than a day?
Book a free demo
READY TO TAKE YOUR BUSINESS TO THE NEXT LEVEL?
Sign up for a free demo and receive an exclusive discount. Limited slots available, act now!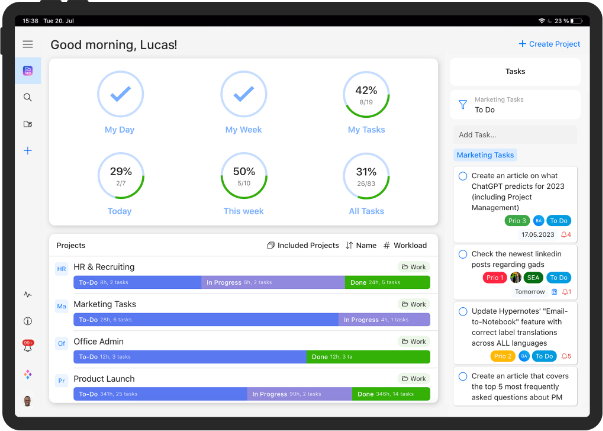 Book a free demo