Zenkit Projects: A Guide to Project Views

In this article, we'll guide you through Zenkit Projects' various project views. We'll go through what they are, how they can be used in your projects, & how to get the most out of their individual functions!
Zenkit Projects is a multi-project management solution designed to support traditional or Agile methodologies. It's also the little brother of Zenkit Base! Its overarching goal is to get your project started & keep it running from sprint to sprint until the 'end of project' report is due.
This multifaceted tool has been in development for five years & includes a number of integrated project management tools. It has a 360-degree dashboard to track task & project progress, as well as in-depth resource management & dedicated reporting.
With that said, let's delve further into Projects' project views.
---
Zenkit Projects' Different Project Views:
Calendar View
Gantt View
Hierarchy View
Kanban View
List View
Mind Map View
Table View
---
A Guide to the Calendar View
Zenkit Projects' Calendar view is a straightforward tool that displays your tasks in either a weekly calendar view: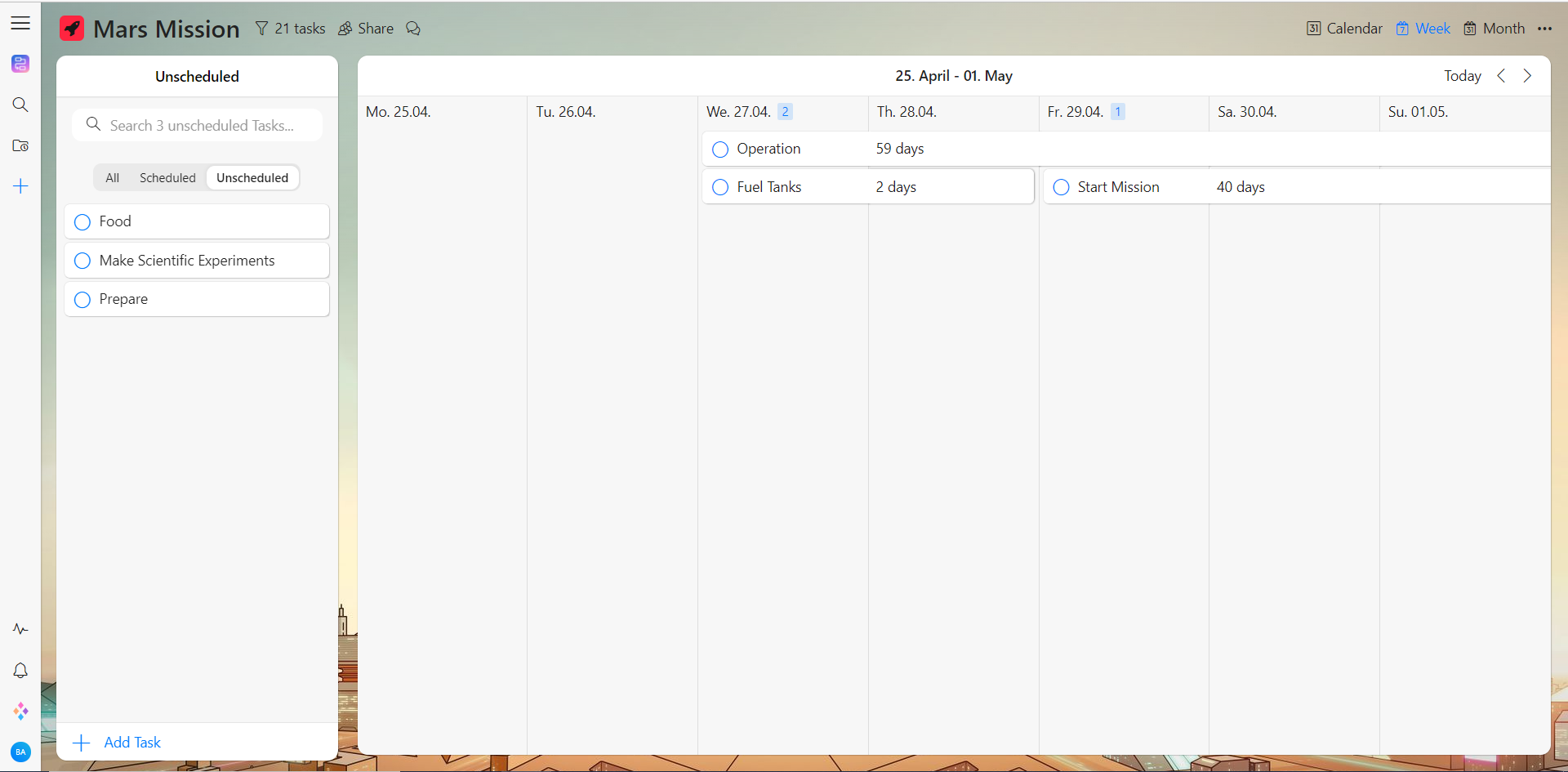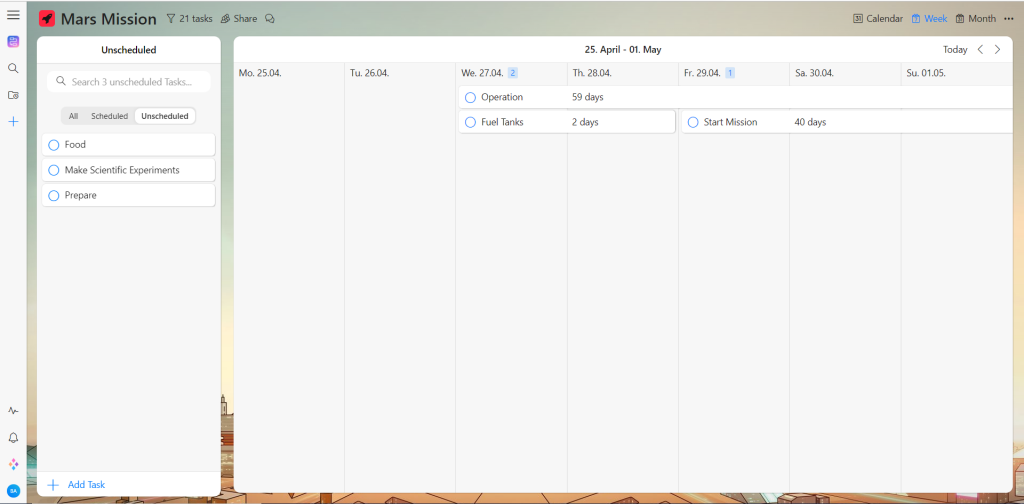 Or a monthly calendar view: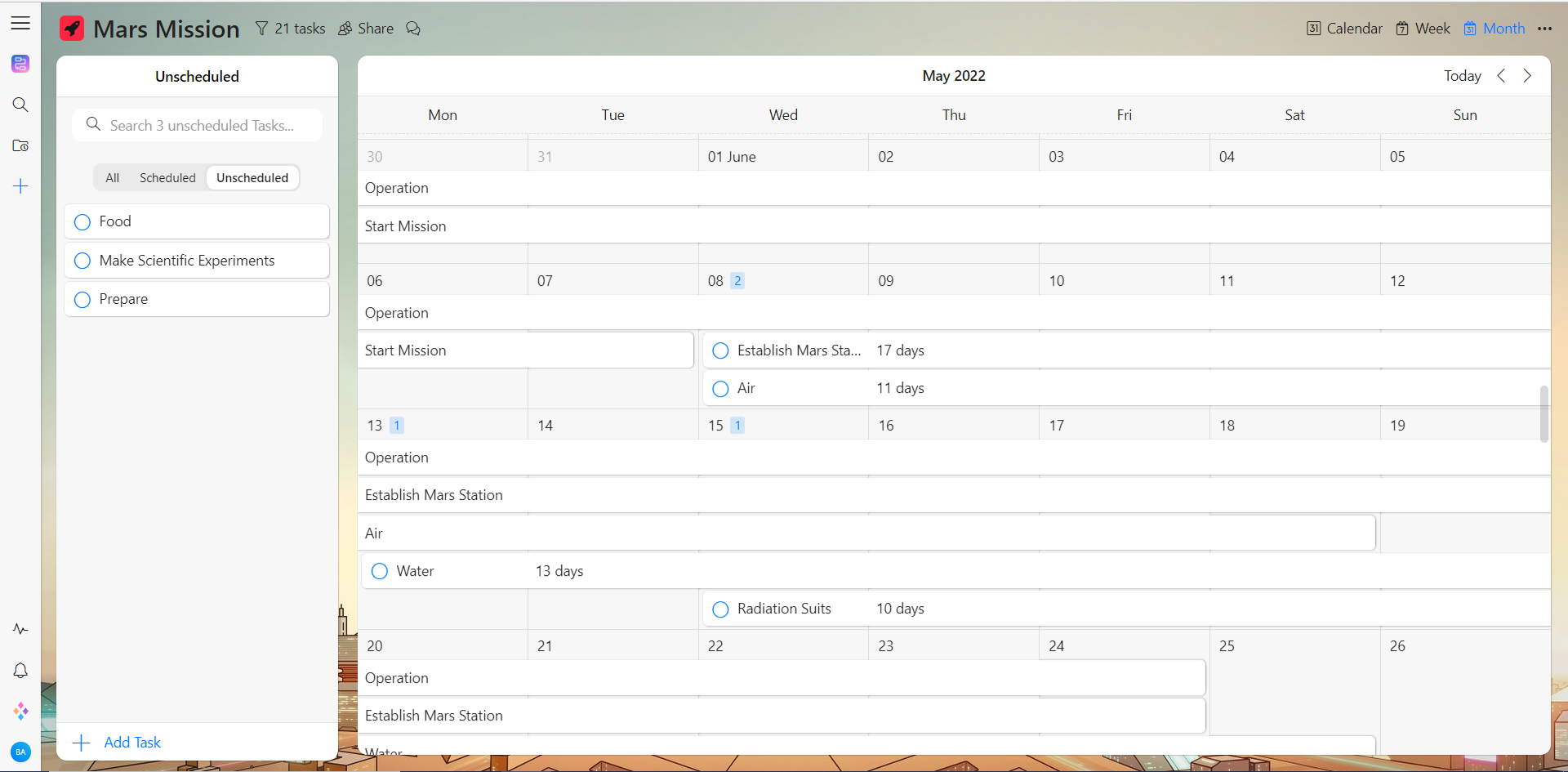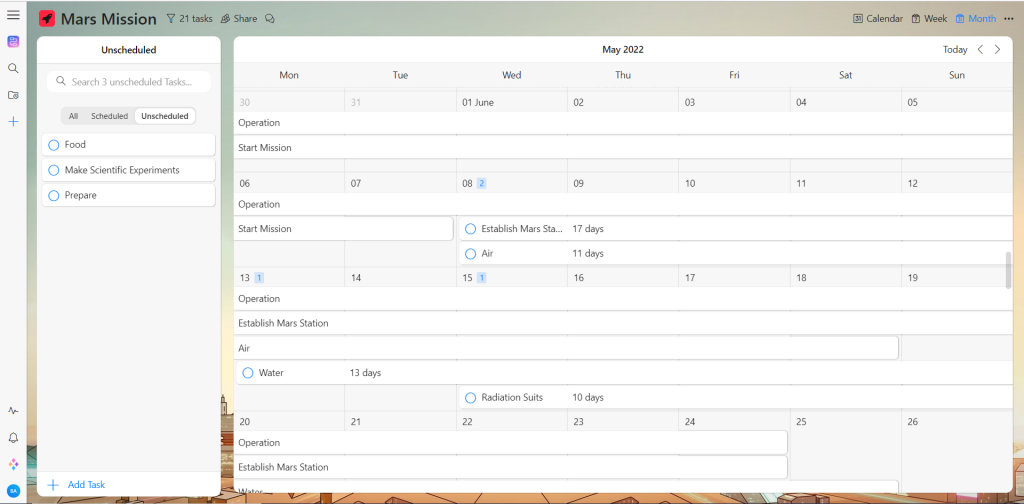 The Importance of the Calendar View
The Calendar view displays scheduled tasks along with all associated information, files, & conversations. This feature allows you to jump directly from the calendar into work without having to guide your way through other tools or applications.
Furthermore, being able to share project calendars allows you to easily view tasks & project plans for other teams & projects. This visibility aids in the identification of potential conflicts & the coordination of work across individuals & teams.
The Calendar view also enables you to quickly share up-to-date information with internal & external stakeholders.
This functionality allows everyone working on the project, regardless of their role, to get a bird's-eye view of the project schedule & any upcoming key dates in a simple, visual format.
Some Key Benefits of the Calendar View
Track & plan specific work for projects & teams
Get a bird's-eye view of multiple projects
Open project tasks from the calendar
Share real-time calendar updates with stakeholders
---
A Guide to the Gantt Chart View
Gannt view allows you to create detailed Gantt charts to track every aspect of your project, from task dependencies & milestones to lag & lead times.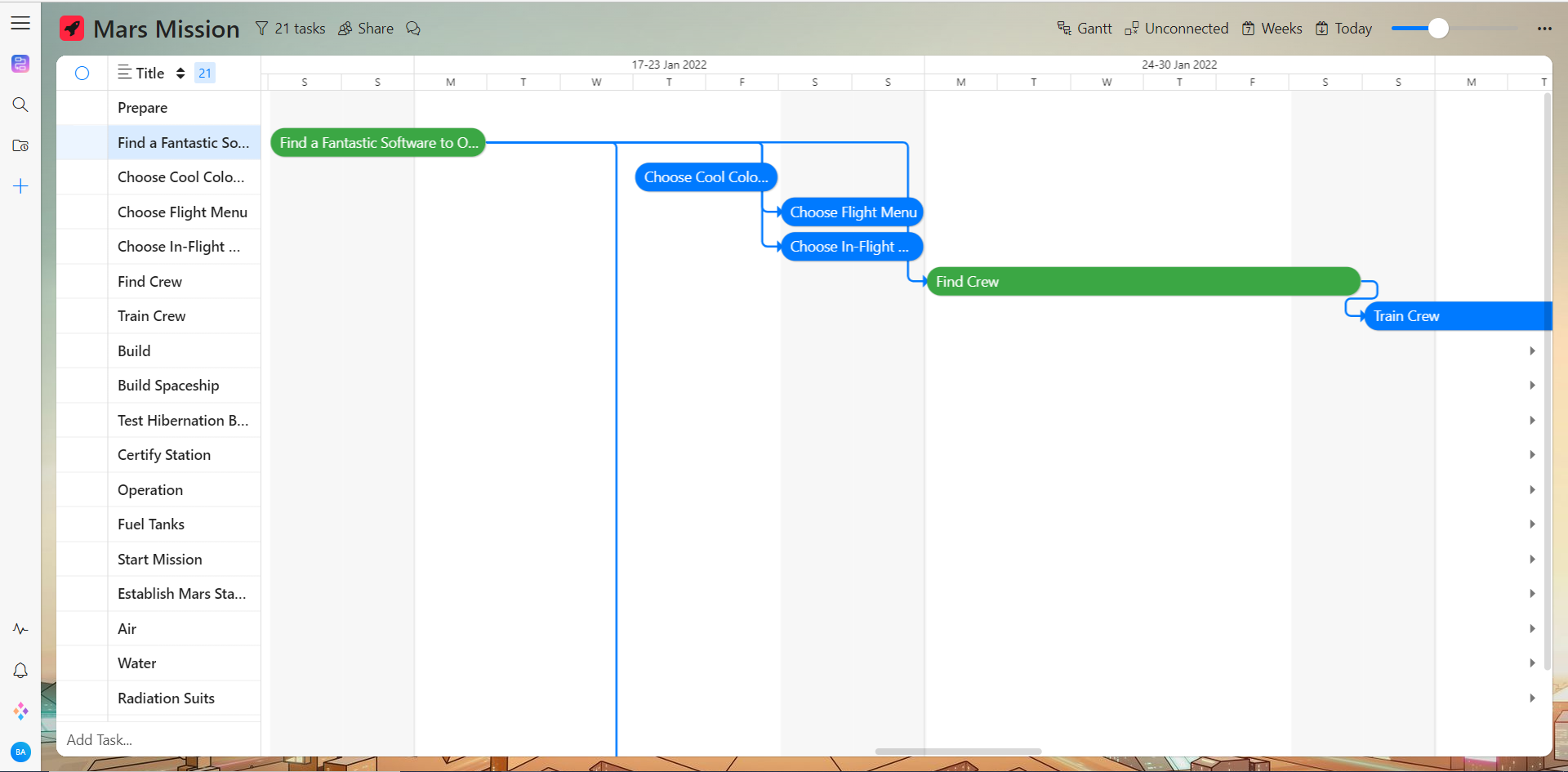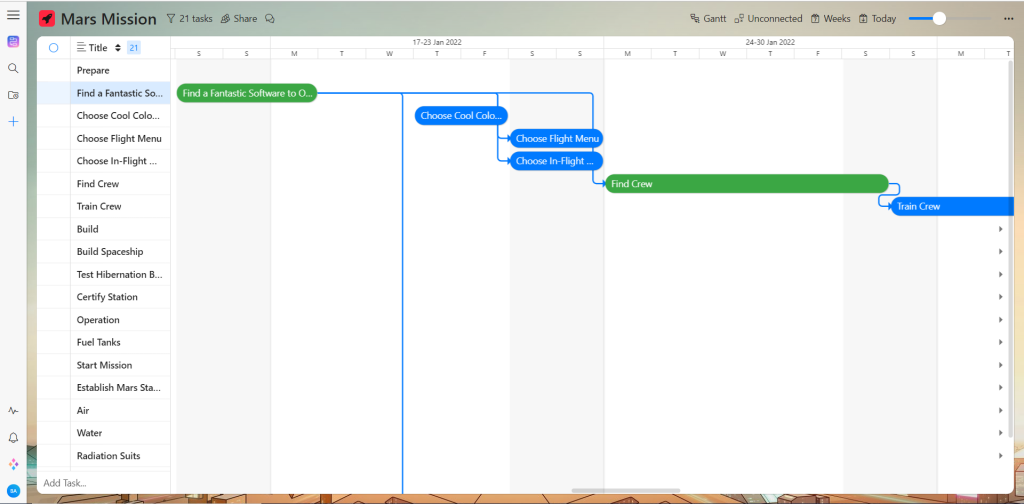 What is a Gantt Chart?
A Gantt chart is a project management tool that aids in the planning & scheduling of projects of all sizes, particularly those with complex requirements.
It's a unique project view in that it converts a project's timeline & tasks into a horizontal bar chart.
A Gantt chart has a variety of attributes. It displays start & end dates, dependencies, scheduling, & deadlines, as well as how much of the task has been completed per stage & the task owner.
This view is useful for keeping tasks on track whenever the project scope changes & there's a large team with multiple stakeholders.
The Importance of the Gantt Chart View
The Gantt chart supports all the important instruments of classical project management: all 4 dependency types, lead & lag, critical paths, resource management, & subtasks.
This view avoids the standard "Doing," "Done" labelling found in other popular project management views such as Kanban, & instead provides a more detailed view of a task's total completion rate.
It also allows teams to track task dependencies, making it easier to understand what needs to be done for another task to be completed, or even what is impeding its progression.
By systematically visualising task dependencies, you can better anticipate any ripple effects that may occur as a result of a task delay. When one taskbar overlaps another, you know there will be a conflict. If the change creates a gap between previously adjacent bars, you'll know that some resources will be freed up for allocation elsewhere within that gap.
Finally, because Gantt charts are so popular, it is very likely that when you share a project's schedule with others, they will know & understand what they are looking at.
Some Key Benefits of the Gantt Chart View
Detailed visualisation of entire project, including task progression
Detailed measurement of task completion, avoiding simple "doing" & "done" labelling
Track task interdependencies
Visualise which tasks are tied to a team's success
Visualise which areas are excelling or stalling
Ubiquitous & easy to understand
---
A Guide to the Hierarchy View
The Hierarchy view is a layered list view that represents tasks & their subtasks.
You can manipulate the hierarchy of tasks in the Hierarchy view by dragging & dropping them along a vertical & horizontal axis.
Tasks visible in the Hierarchy view are also visible in the Mind Map view & can be edited there!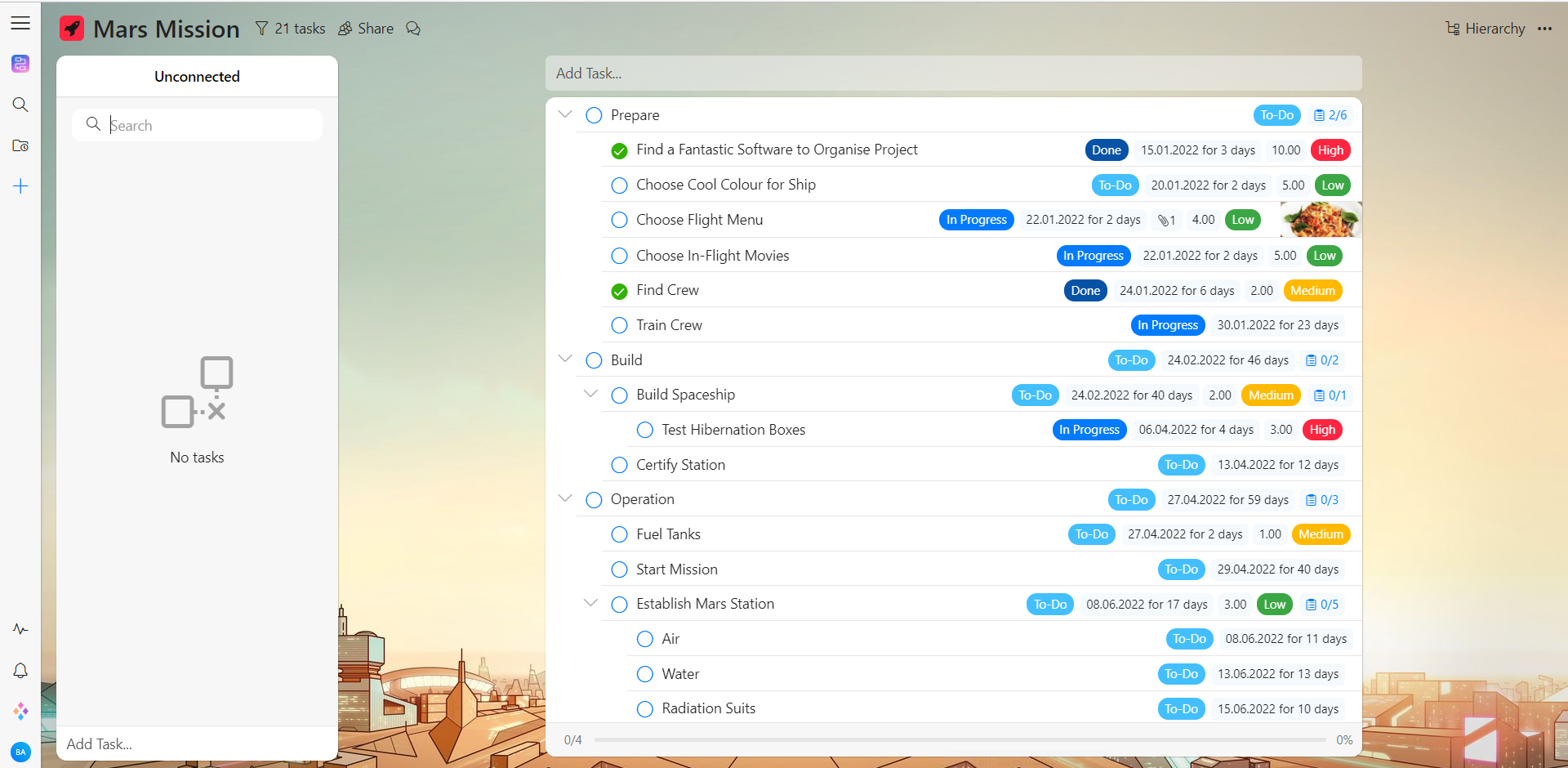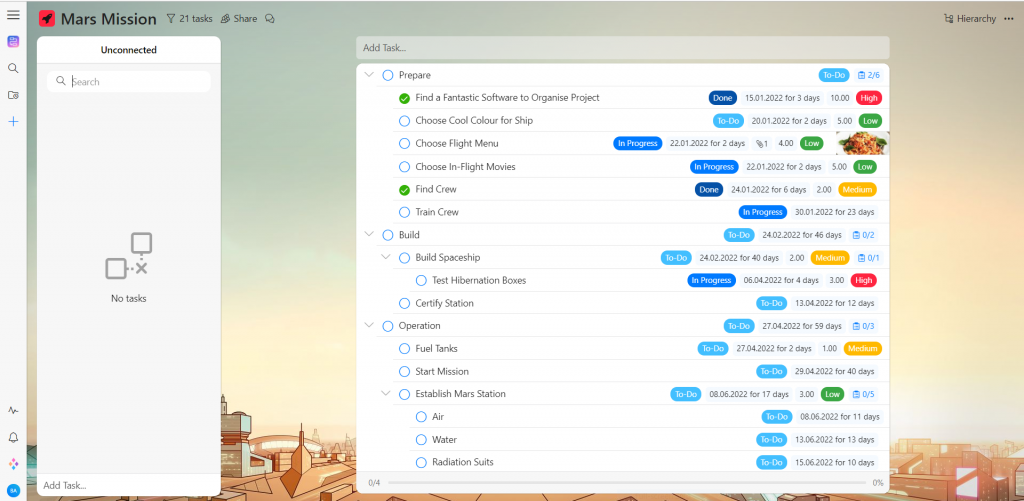 The Importance of the Hierarchy View
The Hierarchy view is a fantastic & simple way to list the most important elements of your project in a systematic manner.
The Hierarchy view differs from a simple "to-do" list in that you can clearly see any sub-tasks attached to a specific task that must be completed before the overall task can be marked as "complete."
Items in most Hierarchy views are carefully arranged according to their levels of importance, with the most important at the top & the least important at the bottom. This allows you to quickly visualise the most important aspects of your project (& any sub-tasks associated with it) in order to understand a project's priorities. This aids in the formulation of the necessary steps & actions required to make the project more approachable & successful overall.
In Zenkit Projects, the Hierarchy view offers other key details not commonly found in such a project view. These details include start dates, visualised task priorities & progress, important files, & more!
Some Key Benefits of the Hierarchy View
Overview of sub-tasks
Easy to guide
Simple visualisation of task priorities
Detailed task attributes
---
A Guide to the Kanban View
The Kanban view provides you with a simple yet user-friendly Kanban board to apply to your project.
Here, you can apply the Kanban methodology of "To-Do", "Doing", & "Done" columns to keep track of your project's progression. These columns, on the other hand, are fully customisable & can be labelled with whatever you want to better suit the needs of your project!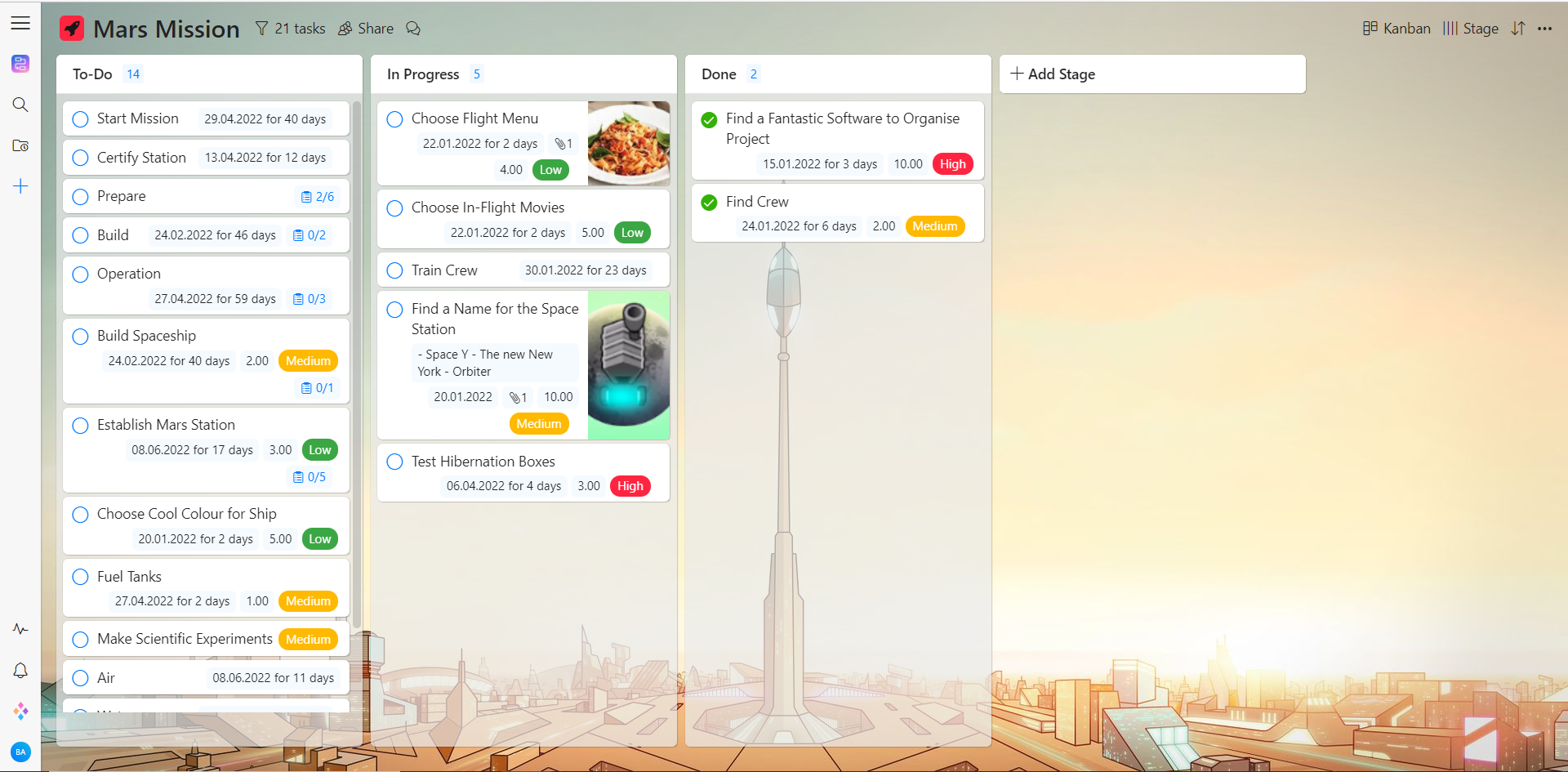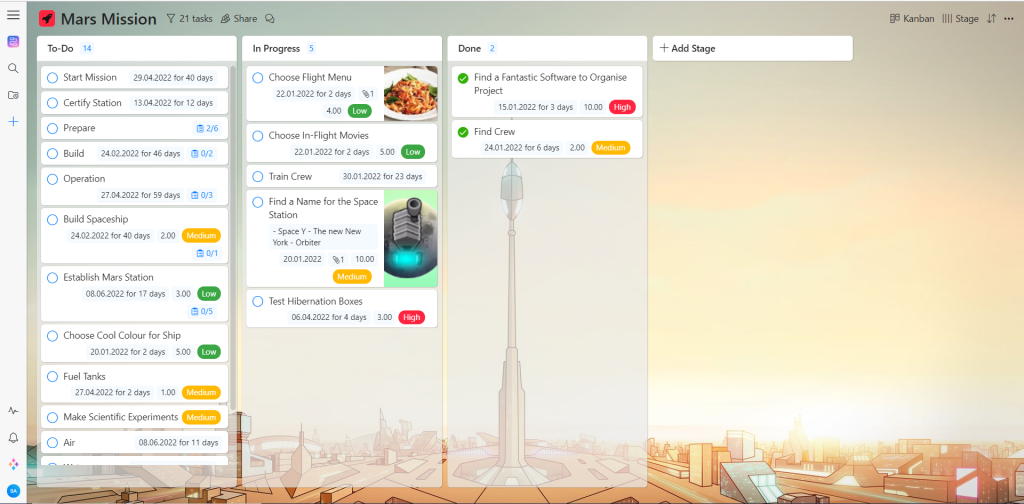 The Importance of the Kanban View
The Kanban view aids in the gradual improvement of your project's development. It is intended to aid in the visualisation of work, the reduction of work-in-progress, & the maximisation of efficiency.
By eliminating bottlenecks in your system, improving workflow, & reducing cycle time, you're in a better position to be more responsive to project progression.
While this viewpoint is most commonly associated with Agile teams, it can also be applied to other project methodologies such as Lean.
Plus, just like other project views in Zenkit Projects, you are also able to set custom task fields that are easily visible at first glance. This ranges from priority levels & due dates to file attachments & task owners.
Some Key Benefits of the Kanban View
Increased project flexibility
Better task visibility & transparency
More predictability
Improved workflow
Avoidance of bottlenecks
Increased team focus
Easy task & project management
Continuous improvement
---
A Guide to the List View
Zenkit's List view is perhaps the most user-friendly. It is the most convenient place to jot down your ideas as a stream of thoughts or a list of activities. 
The List view's best feature is its simplicity. You can enter everything you need to get started without worrying about how it will be categorised, who is responsible for what, when it's due, & so on.
The list is where you will begin to lay the groundwork for your projects.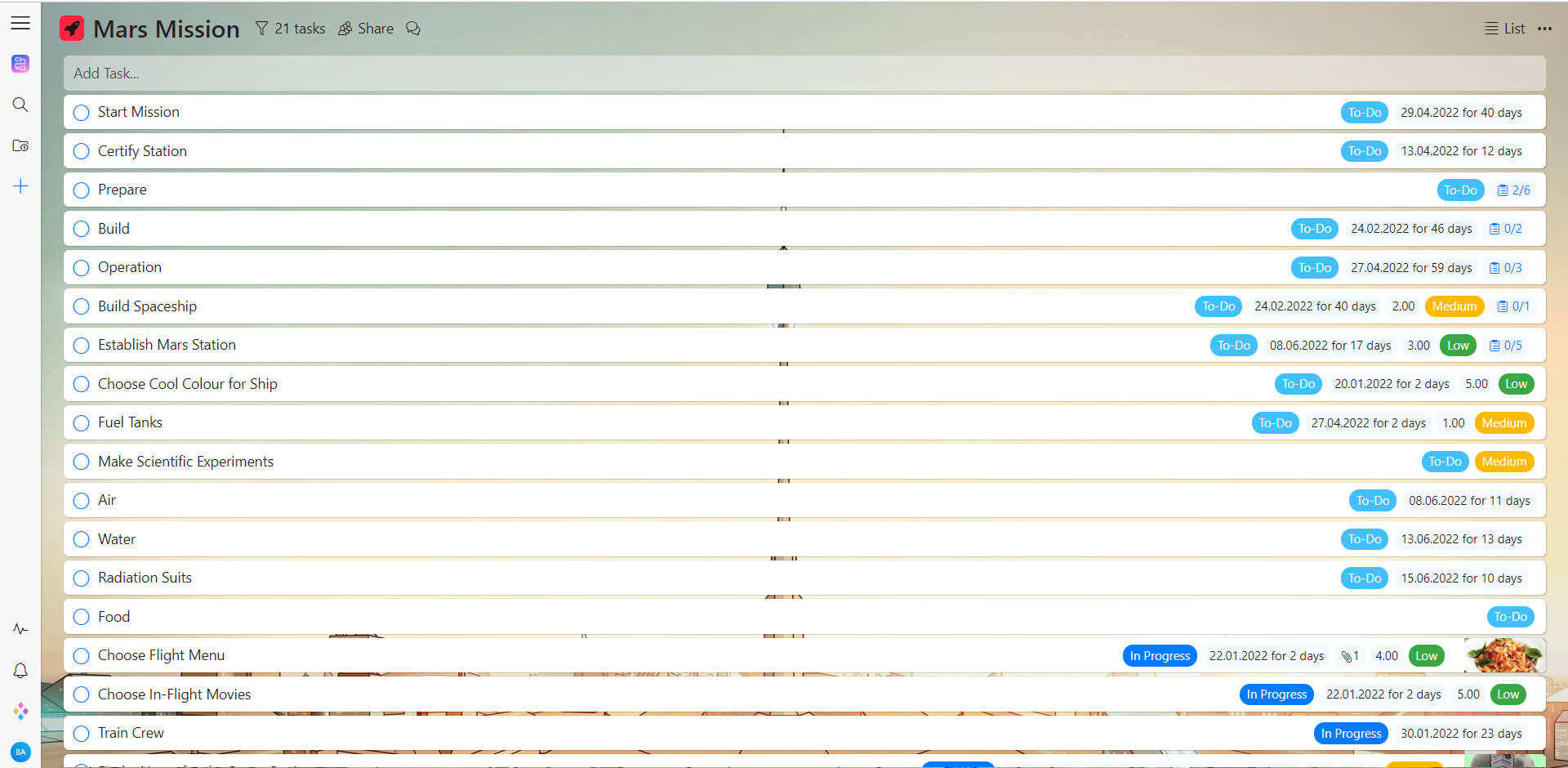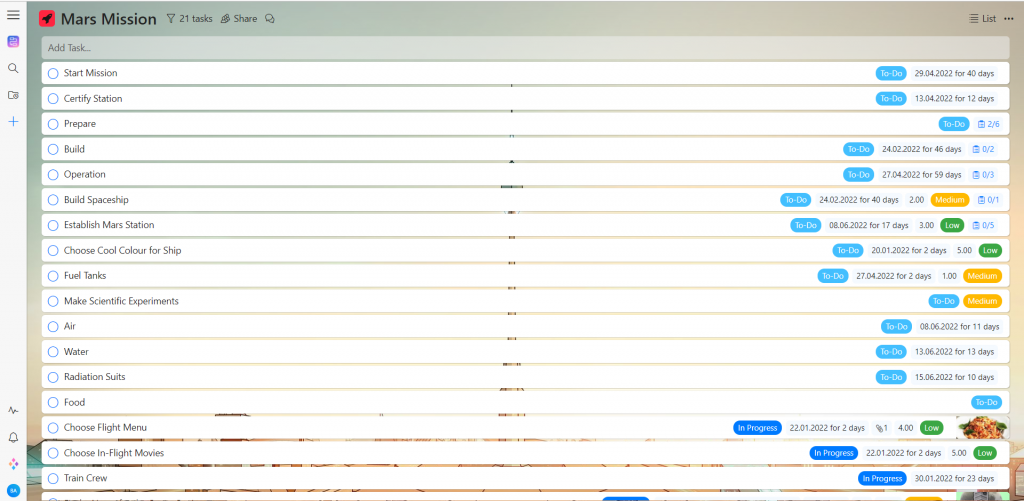 The Importance of the List View
The List view displays an itemised list of the tasks that must be completed, allowing you to easily track, organise, & prioritise your project work.
This view can assist you in remaining focused & productive by providing a chronological & linear view of the tasks required to meet your project's overarching objectives.
It's ideal for projects that require tasks to be completed in chronological order or those that have a clear hierarchy. 
The List view aids in the prioritisation of work & makes it easier for team members to plan & complete multiple tasks at the same time.
With this perspective, you can prioritise your tasks & work your way down the list in a systematic manner. As you complete each item on your list, you become more motivated to continue as you near its end!
Some Key Benefits of the List View
Simple visualisation of tasks & any specific task details
Increased productivity & organisation
Easily track what needs doing & what's already been done
Heightened sense of motivation
Improved level of focus & memory
Increased flexibility & strategic planning
---
A Guide to the Mind Map View
Mind maps are fantastic tools for mapping the way your brain makes connections. They assist you in visualising the relative importance of ideas, clarifying connections between thoughts, thinking more creatively, & quickly generating new solutions.
Mind maps can help you unlock the potential of your project, especially during the preliminary stages.
Zenkit's Mind Map view is a simple tool that allows you to create mind maps from existing data or start from scratch. This view is closely linked with the Subtask field where changes to the subtask field are immediately reflected in the mind map, & vice versa.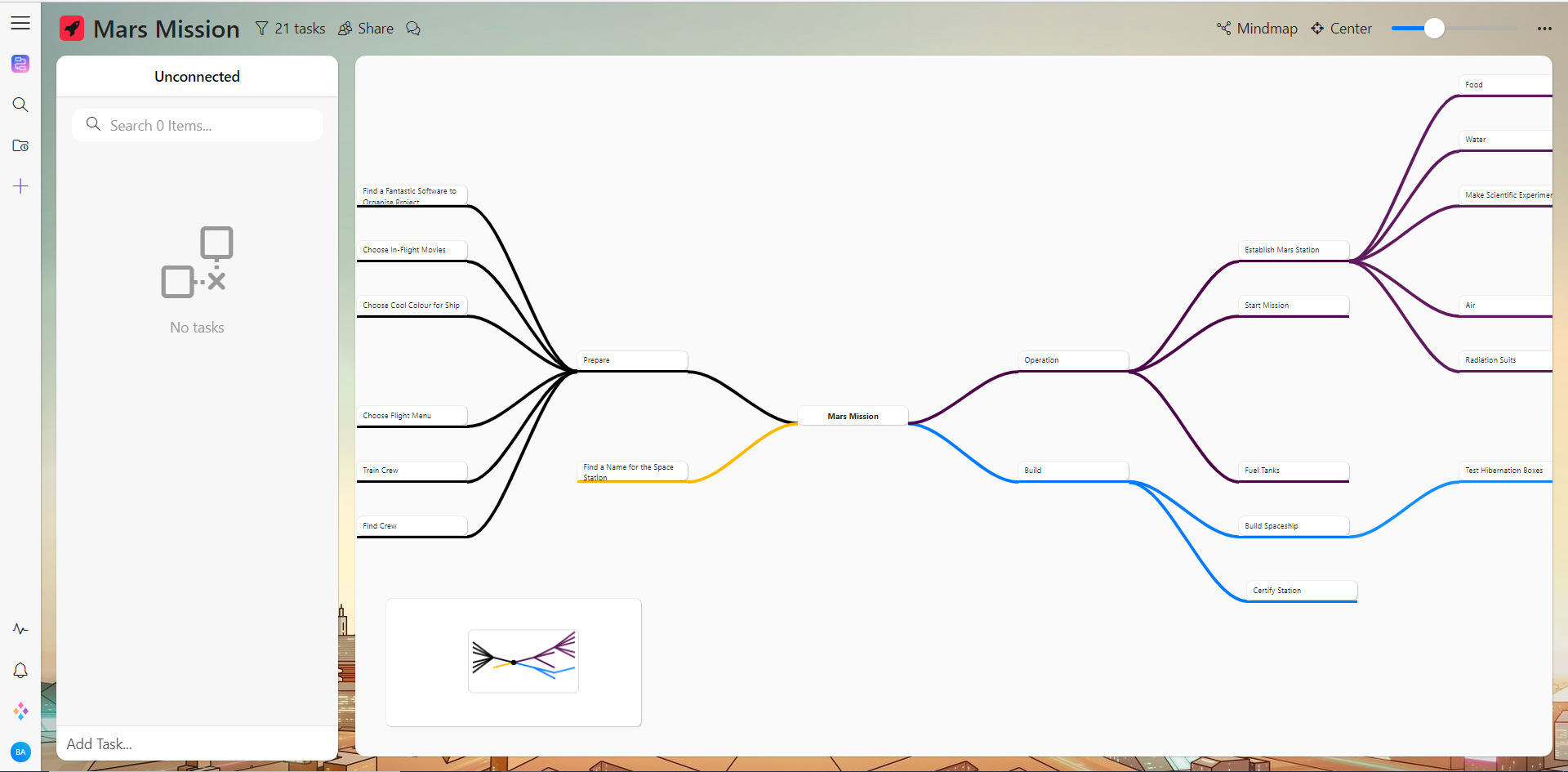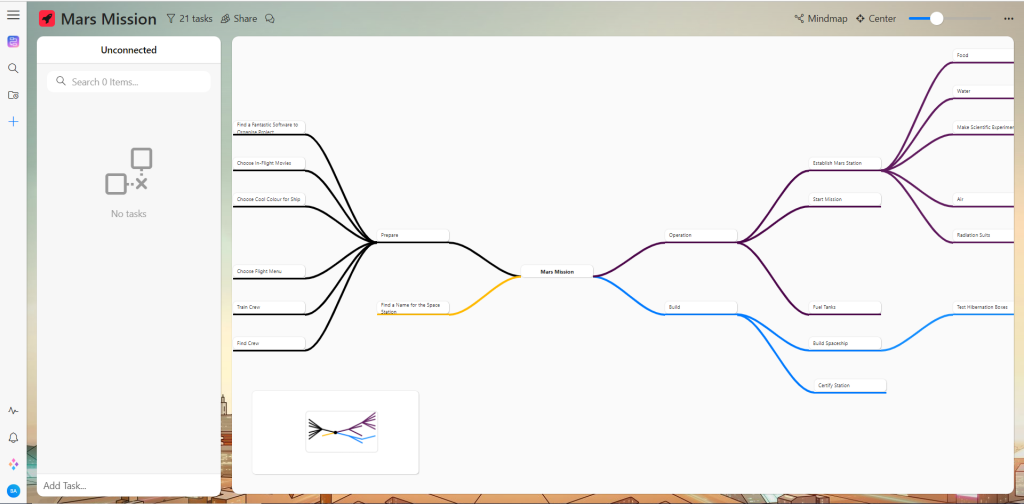 The Importance of the Mind Map View
A mind map is an information & data visualisation tool. It promotes clear information recording, improved learning, illustration of the links between facts & ideas, as well as creative problem-solving.
Mind maps have a variety of applications. As such, they can be easily tailored to your specific requirements. They can be used to generate new ideas, summarise information, clearly present concepts, think through complex problems, & so on.
The Mind Map view is of great benefit to project work thanks to its structure. It highlights the important facts within your project as well as the relative importance of individual parts & processes. Plus, when you memorise the shape & structure of your mind map, you can often recall important information with a quick glance.
This view also allows you to be very creative in how you present your relevant information. With so many colour variations & other customisable features, you can create a mind map that's both unique to you & easy to understand to others.
Some Key Benefits of the Mind Map View
Customisable for easy navigation & information plotting
Promotes creative learning
Seamless thought tracking
Easy to connect ideas
Helps with memorisation & information retention
Engaged form of learning
Helps to break down complex issues into more understandable steps
Boosts productivity
---
A Guide to the Table View
The Table view is very similar to the tables found in Excel or Google Docs. It is divided into columns & rows, with the headings being located at the top of each column.
The difference, however, between Zenkit & other models is that columns, fields, & rows represent tasks.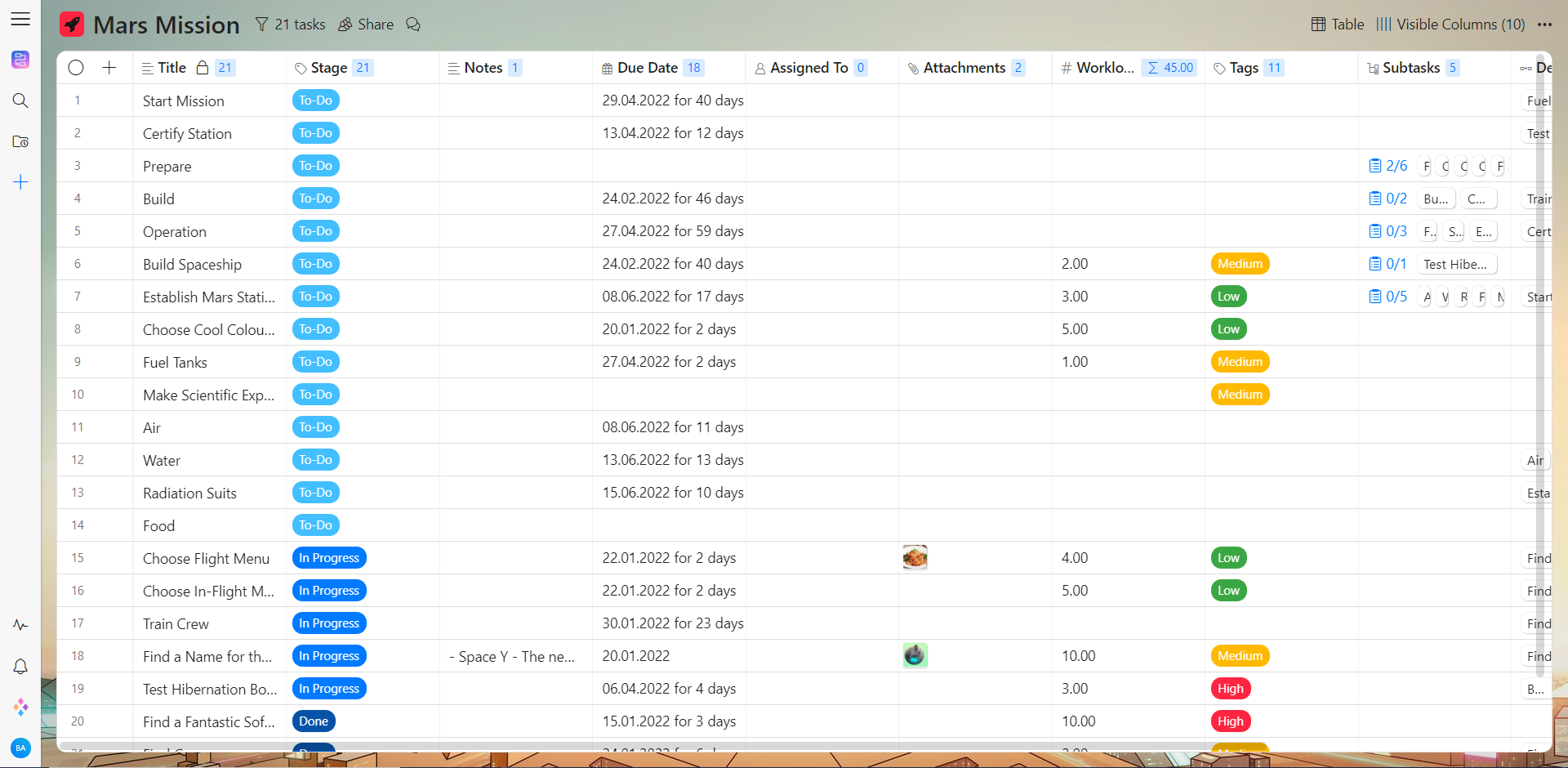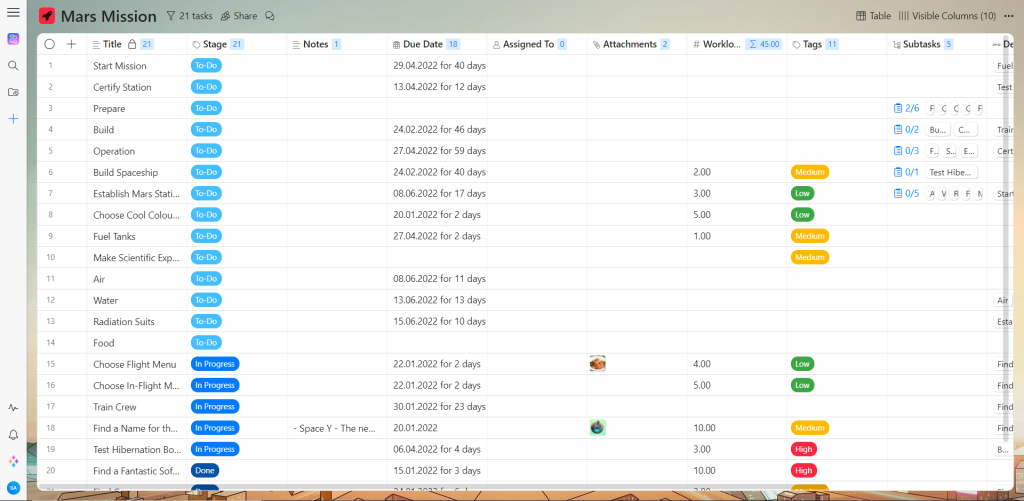 The Importance of the Table View
The Table view is a simple yet effective project management tool that provides detailed visibility of all project components. This, together with Zenkit's enhanced customisation options, ensures that your project is easily trackable & scalable.
The layout of this particular view also allows for greater flexibility in performing advanced task management. This is because each component is easily tracked, configured, & edited to meet the changing needs of your project.
Furthermore, the filter feature allows you to easily filter through specific task attributes, such as all tasks labelled "In Progress." This is especially useful if your project has a lot going on & you want to break it down into manageable steps!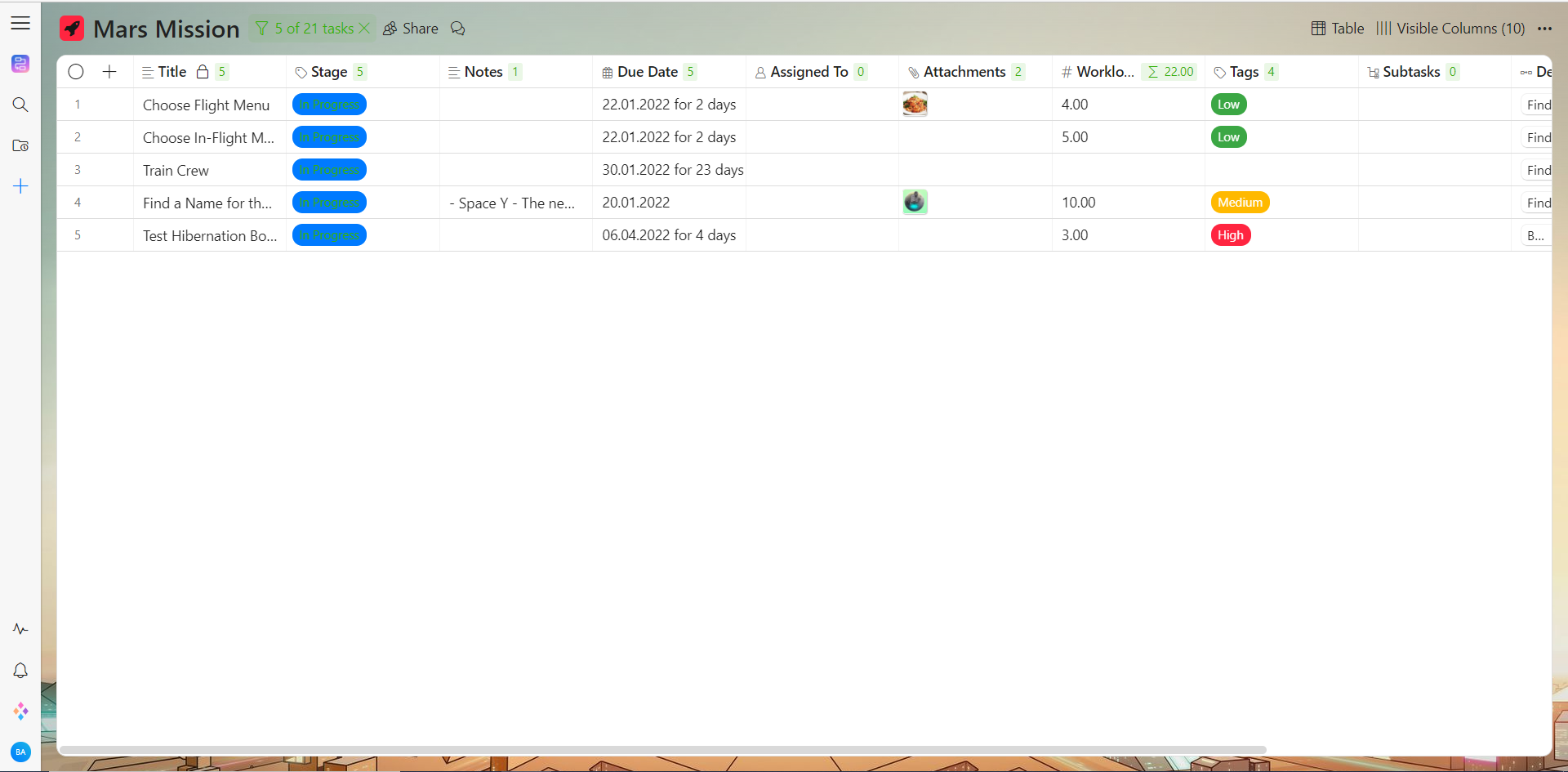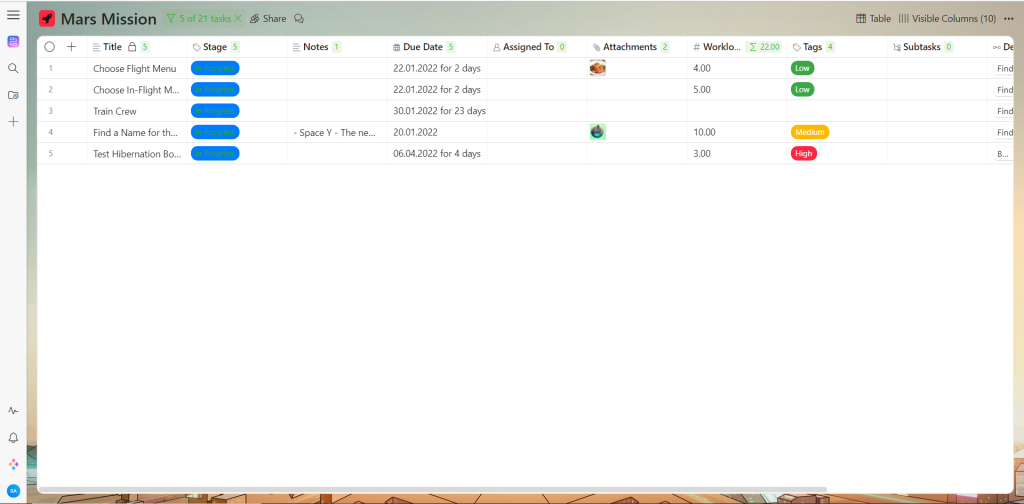 Some Key Benefits of the Table View
Gives an in-depth view of your project's different components
Easy to navigate & edit
Filtering makes task management & completion more manageable
Several customisation options to tailor to your project's specific needs
---
Final Thoughts
So, we hope you find this guide to Zenkit Projects' different project views insightful & useful for developing your own project work!
Needless to say, its various project views make it simple to match the needs of your specific project. For example, presenting to stakeholders or working with someone whose role is better suited to a specific project view.
Furthermore, the ability to switch between these views without losing data broadens the scope of your project's development. This means that regardless of whether you use Agile, Hyper Agile, Kanban, Waterfall, or another methodology, you'll always have the right tool at your disposal. Plus, switching between them seamlessly ensures that you reap the benefits of each view with ease.
---
Want to Transfer from Base to Projects?
If you're currently using Base & want to switch to Projects, all you have to do is connect it to Projects via the Suite. 
Furthermore, if you already have a subscription to Base, we will happily transfer your subscription to Projects for free! If you'd like us to do this, please contact our billing department (billing@zenkit.com).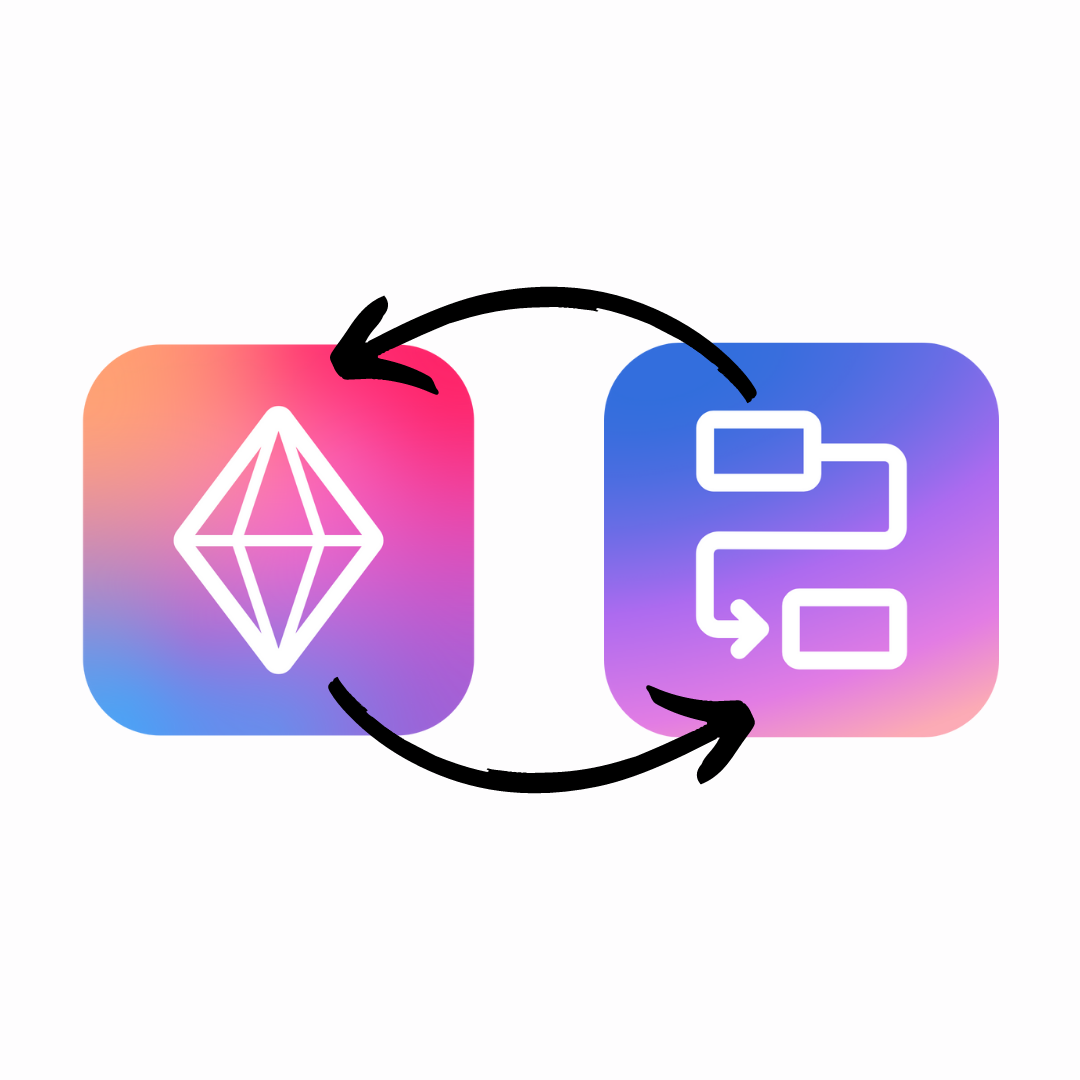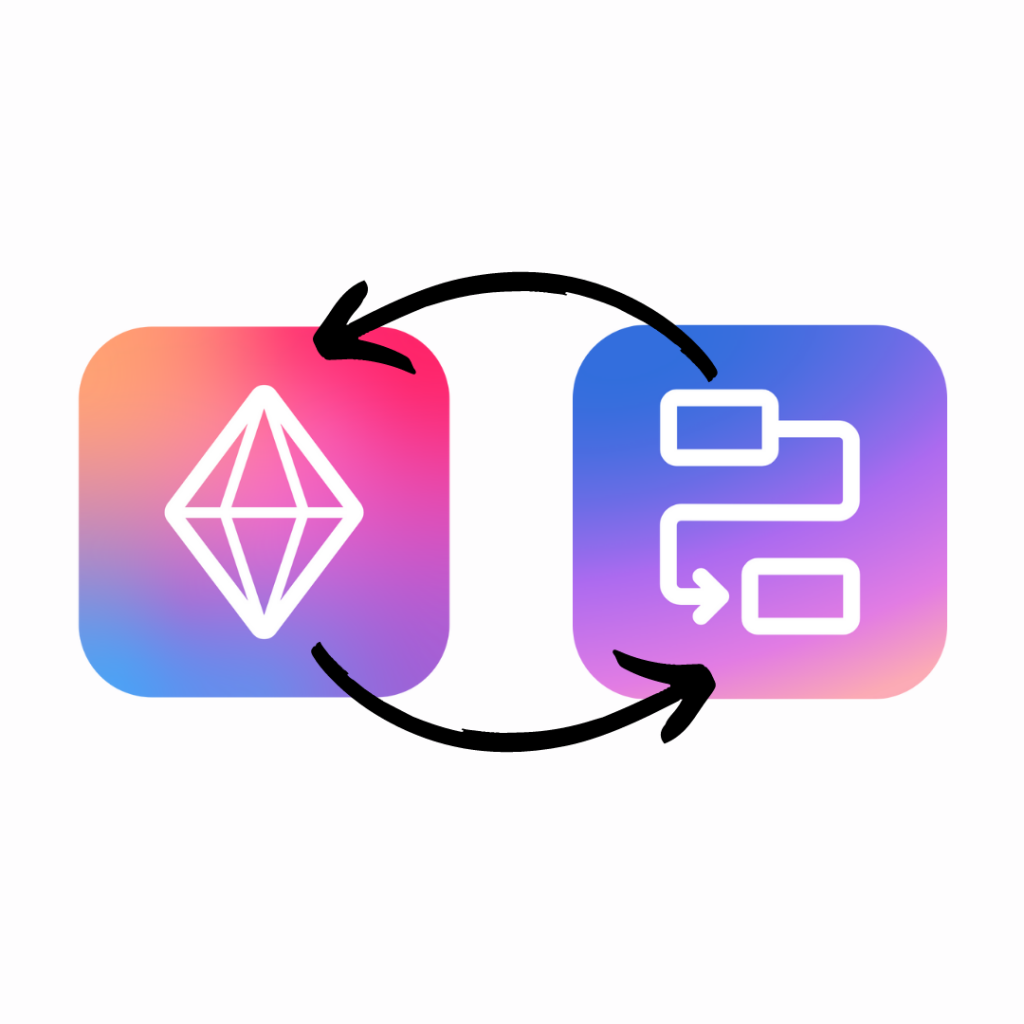 ---
You can learn even more about Zenkit Projects by visiting our Knowledge Base!
FREE 20 MIN. CONSULTATION WITH A PROJECT MANAGEMENT EXPERT
Wanna see how to simplify your workflow with Zenkit in less than a day?
Book a free demo